You will encounter many different series when shopping for a J.A. Henckels knife set. Each series is different, with slight variations in the products included. Let's take a look at some Henckel knife sets from different series. Then, we'll outline some of the more popular Henckels knife series and how they are defined so that you can compare the best kitchen knife sets.
What is the difference between Henckels knife sets?
In general, Zwilling knives have forged blades, are more expensive and are made in Germany and Japan. Knives made by Henckels have stamped blades, are affordable, and are made in India, China, Thailand, and Spain.
---
---
Our Top Henckel Knife Set Picks
The following knife sets are some of the best across the many different Henckels knife series.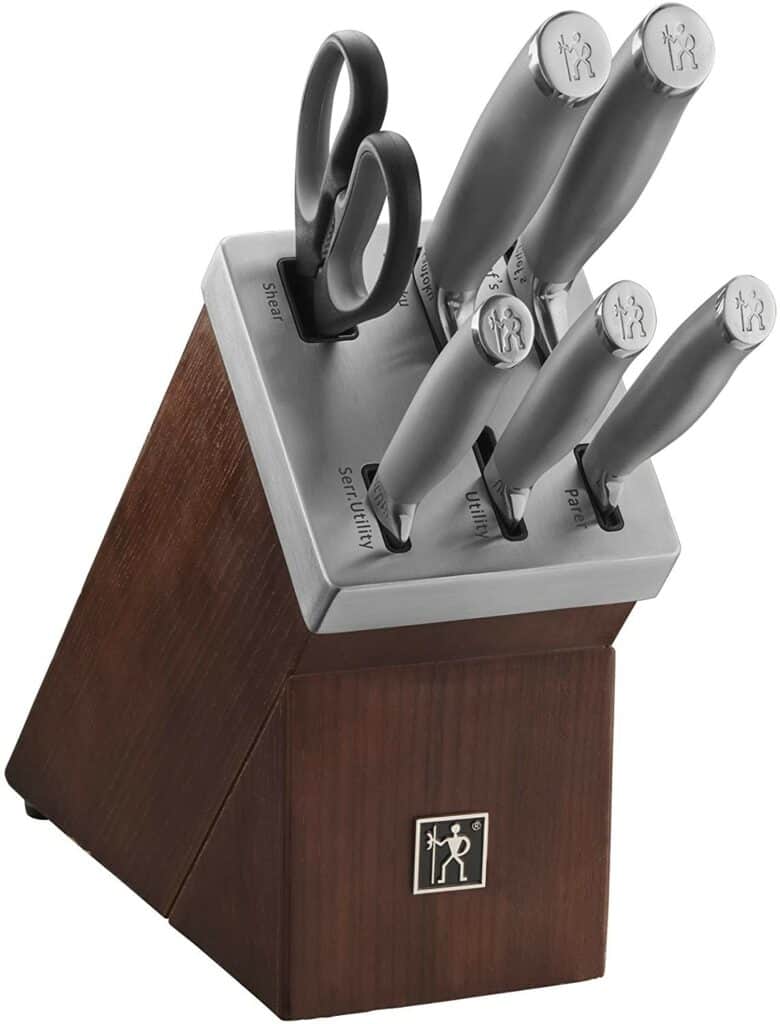 Buy: Henckels Modernist 7-pc Self-Sharpening Block Set on Amazon
This Henckels knife set comes from their Modernist line. You'll receive a knife block with a paring knife, serrated utility knife, straight edge utility knife, santoku knife, chef knife, and kitchen shears.
What makes this best for beginners is the handiness of the knife block. This knife block is self-sharpening, so your modernist blades will always stay sharp. It also has conveniently labeled slots so new cooks can better learn about the kinds of knives they're working with.
Henckel Modernist knives are made of high-quality German steel with a single fully forged piece. They are solid metal from blade to handle, with gorgeous silver caps on their handle ends.
If you want a set where you'll get a high-quality forged knife that is easy to care for, this is the one!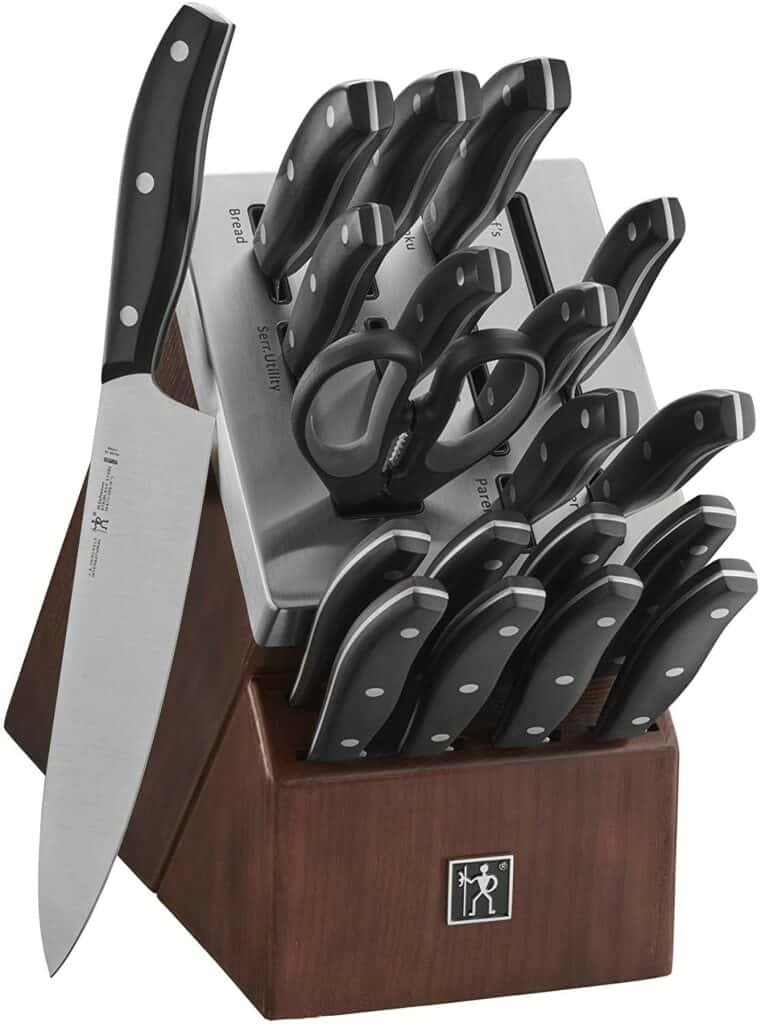 Buy: Henckels J.A. International Definition, 20-pc Self-Sharpening Block Set on Amazon.
This Henckels set is excellent if you want a knife set that truly has it all. All 20 of the knives included here come from the Henckels Definition line. These are stamped stainless steel knives with ergonomic handles for easier use.
This set is perfect for the cook who wants to do it all. In this set, you'll receive a paring knife, serrated utility knife, utility knife, prep knife, boning knife, santoku knife, bread knife, carving knife, chef knife, kitchen shears, and a set of 8 serrated steak knives. These knives are stored in a labeled, self-sharpening knife block with an ash wood base.
Those looking for a complete set of knives have everything they need. These are high-quality knives at an accessible price point that will accomplish whatever you need.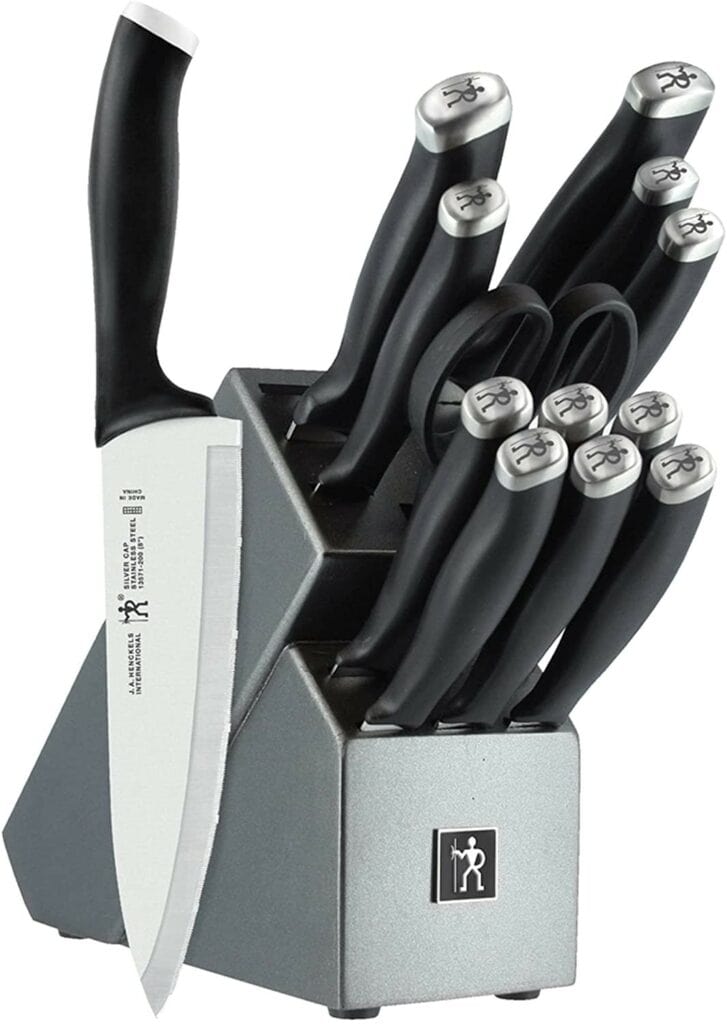 Buy: Henckels Silvercap 14-pc Kitchen Knife Set with Block Set on Amazon
With this Henkel knife set, you're getting high-quality Henckels knives and a set that will look truly gorgeous on your counter. The appeal of the silvercap collection is their signature silver ends, featuring the classic Henckels logo. These knives come stored in a narrow black hardwood block, providing a sleek, modern design.
If you want a knife set that looks as good as it works, this is a Henckels collection to consider. This set includes two parer knives, a serrated utility knife, a santoku knife, a chef knife, kitchen shears, and 5 steak knives. These knives are also fitted with micro-serrated edges, so they will never need sharpening.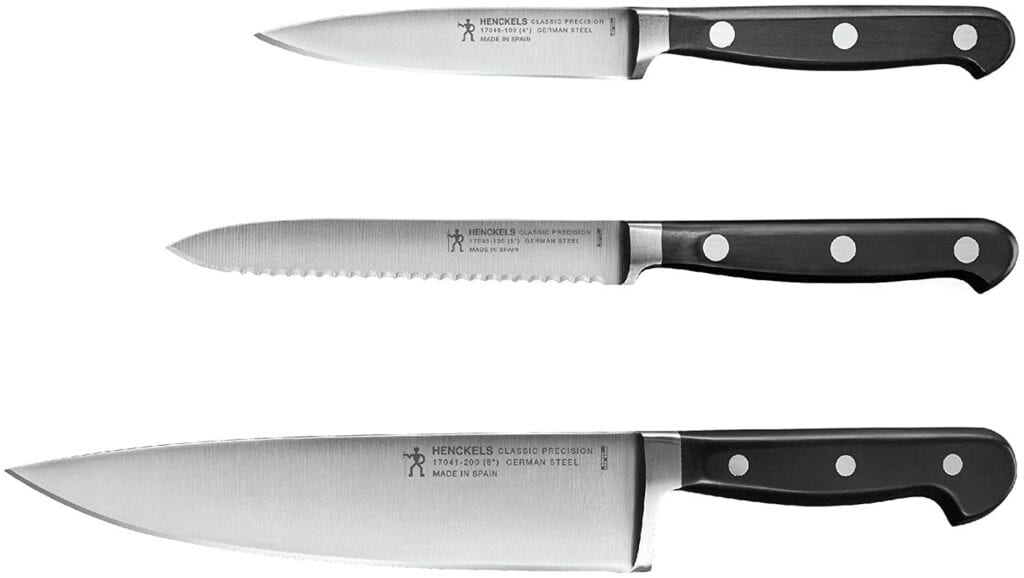 Buy: Henckels Classic Precision 3-pc Starter Knife Set on Amazon
It would be best if you looked into this three-piece set for those who want to experience a classic Henckels knife. As this is not a whole knife block but a smaller set, this is perfect for the person building a custom knife collection who wants to add Henckels blades to their kitchen.
Any cook can use three great knives to cover many kitchen works. These knives are fully forged with the German steel the Classic line is known for. This set comes with a Chef knife, serrated knife, and small paring knife.
Those looking for a sturdy knife set that will last a lifetime should consider these. This small set is an excellent addition to an existing knife collection or for those looking to introduce themselves slowly to the Henckels Classic line.
Different Henckels Knife Series
Henckels Classic: This is Henckel's signature series, offering a range of knife block sets and individual knives. These knives are fully forged, with their classic triple-rivet handle and German steel blades.
Henckels Dynamic: This series is made for home cooks and features high-quality stamped knives with fine-edge blades for superior sharpness.
Henckels Definition: The Henckels Definition line has combined the look of the classic collection with easier handling. These are lighter stamped knives with an ergonomic handle designed for easier use.
Henckels Modernist: These are fully forged knives made with a single piece of metal, from the blade to the handle, for superior balance and durability.
Henckels Silvercap: This is a series of stamped knives with different silver ends on the handle for an elegant look. They also have micro-serrated edges on the blade, removing the need to sharpen them.
Best Henckels Knife Set: Which Henckels Knife Series is Best?
Now that we know more about Henckels knives, we have to figure out which of these series stands out.
The good thing about Henckels knife sets is that you will get a good knife no matter your choice. Any line from the brand will deliver on quality, as this brand is known for.
The winner will come down to personal preferences and how the buyer intends to use them. For example, the best Henckels knives set, a professional chef might enjoy the classic series thanks to the durability of their forged design. However, a new home cook might like the Silvercap knives better, as their micro-serrated blade means less user maintenance.
If you want the absolute highest quality blades possible, we have to give it to the classic. Nothing beats the stability and durability of a fully forged blade. There's a reason these knives are found in professional kitchens everywhere. They can be a dream to work with and last a lifetime.
No matter what you choose, be sure to do your research, and go with what feels best for you!