A good kitchen knife set is one of the most critical parts of any well-stocked kitchen. They're an essential utility in cooking; you could probably get by with an excellent chef's knife, but having a set of dedicated knives at your disposal is the best way to know you're going to make clean, precise cuts with the slightest chance of injury. (Also see What Knives Does Hell's Kitchen Star Gordon Ramsay Use)
There are hundreds, if not thousands, of the best kitchen knife sets on the market today, ranging in price from cheap budget bulk sets to specialty knives that go for thousands of dollars each. Because of this, it might be hard for a chef to know where to turn for practical, high-quality, long-wearing equipment.
Wusthof and German company Zwilling J. A. Henckels knife sets are the best german knives you could ever own. Gordon Ramsay uses Henckels Zwilling brand on his TV series FOX Hell's Kitchen and Wusthof knives in his online cooking course MasterClass. (Learn more about Wusthof vs. Zwilling J.A. Henckels Comparison)
Our Top Knife Set Picks for Home Cooks
I've used and recommend both knife block sets, Henckels Zwilling Pro 7-pc Knife Block Set or Classic 15-piece Walnut Knife Block Set, both available on Amazon.
The 10 Best Kitchen Knife Sets by Price
Because everyone works from a different budget, this list incorporates the best kitchen knives set across the price spectrum, from the cheapest sets for those who want good knives on a budget to the truly dedicated chefs who can invest in expensive, professional-level pieces. (Find out about Cutco vs. Wusthof Knives – Who Reigns Supreme)
Wusthof Classic 9-Piece Knife Block Set
At the absolute top of the line is the Wusthof Classic 9-Piece Set. These Wusthof knives German-made set rated the Best Knife Set Overall for 2020 by Business Insider. High carbon stainless steel with a silver finish, complemented by black, synthetic polypropylene handles, is solid and resistant to damage from heat or sunlight. 
The simple imprinted walnut is compact and sleek to complement the knives.
The set comes with the following:
3.5″ paring knife, 
4.5″ Utility Knife, 
5″ Serrated Utility Knife,
6″ Kiritsuke Prep Knife
8″ Bread Knife,
8″ Chef's Knife,
9″ Triple Rivet Honing Steel,
Come-Apart Kitchen Shears
It finishes out with 9″ honing steel and a set of kitchen scissors. They're all covered by a lifetime warranty. These are branded as Solingen knives (so named after the region they're produced: Solingen, Germany). According to the brand, this designation is a mark of honor only applied to knives that meet the strictest quality standards.
With this set, you're not only paying for the highest quality knives (advertised as having a 20% sharper edge than their previous models), you're paying for the Wusthof name, which boasts more than 200 years of German knifemaking knowledge passed down through the family-owned business for seven generations.
Wusthof Knife Set is the best of the best.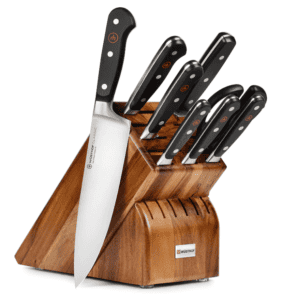 Zwilling J.A. Henckels Professional S Knife Block Set, 7 Piece
For over 288 years, NO STAIN steel has been perfected using a unique proprietary formula honed and hand-finished by the most skilled artisans. Manufactured in Germany, ZWILLING Professional S knives are precision-forged from a single piece of solid steel. They offer excellent edge retention thanks to their 57 Rockwell Hardness.
The set features:
3-inch paper, 5-inch serrated utility
5-inch hollow edge santoku
8-inch chef's
Kitchen shears,
9-inch steel, hardwood block
Lifetime warranty against defects
Easy To Care For – Dishwasher Safe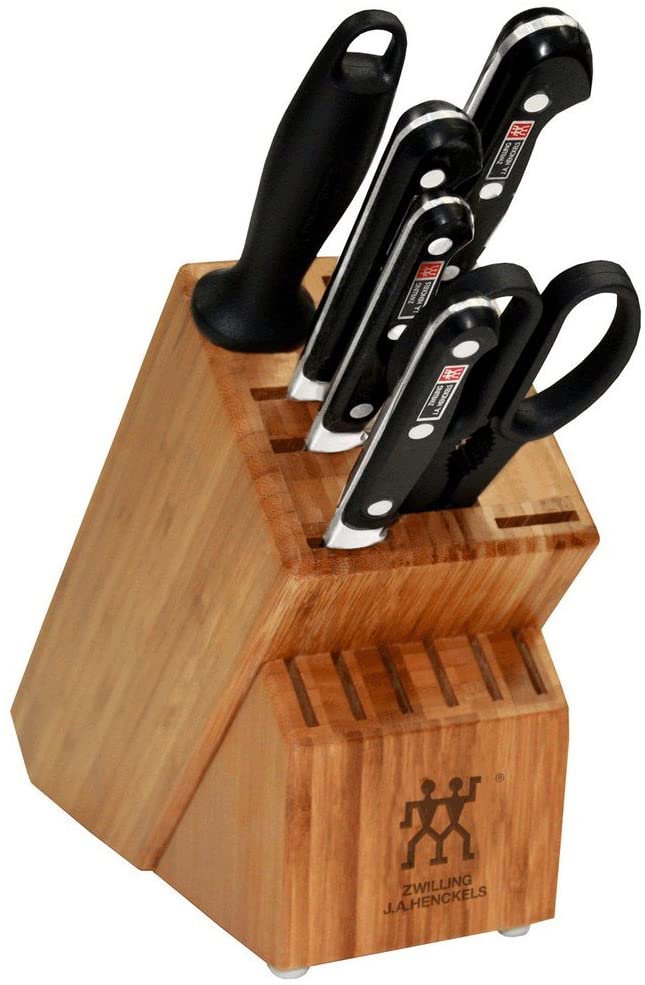 Shun Premier Knife Set 6-Piece Block
Our pick for a classic collection of restaurant-quality chef's knives is the Shun Classic 6-Piece Slim Knife Block Set. Designed with ebony PakkaWood handles, the knives in this set are made from stainless Damascus with 34 layers sharpened to a Japanese double-bevel with a 16-degree angle on each side.
The set comes with the following:
A 3.5″ paring knife 
A 7″ Santoku knife  
An 8″ chef's knife
The set also includes 9″ honing steel and a set of kitchen shears. All the pieces are individually hand-crafted in Seki, Japan, with a lifetime warranty.
This set is an artisan piece and, as such, comes with a high price tag.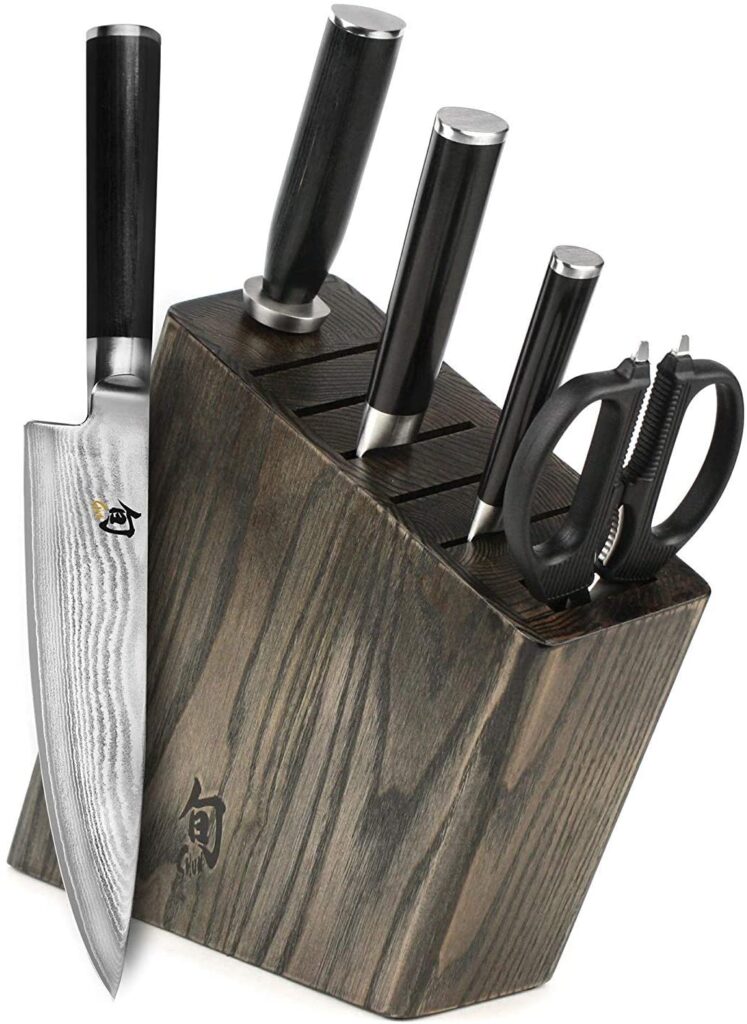 Calphalon Self-Sharpening Knife Set Stainless Steel 15-Piece
In a thoughtful, all-silver design, Calphalon Classic Self-Sharpening Stainless Steel 15-Piece Knife Block Set is the first set on our list of forged knives and the only one whose block has built-in sharpeners for each knife.
The set includes:
A chef's knife
A bread knife 
A utility knife 
A paring knife
It comes with eight steak knives. Interestingly, the blades are all labeled with an imprint on the handle that lists their purpose and length so that you know exactly what you're grabbing every time.
Good quality of construction and the extra features included.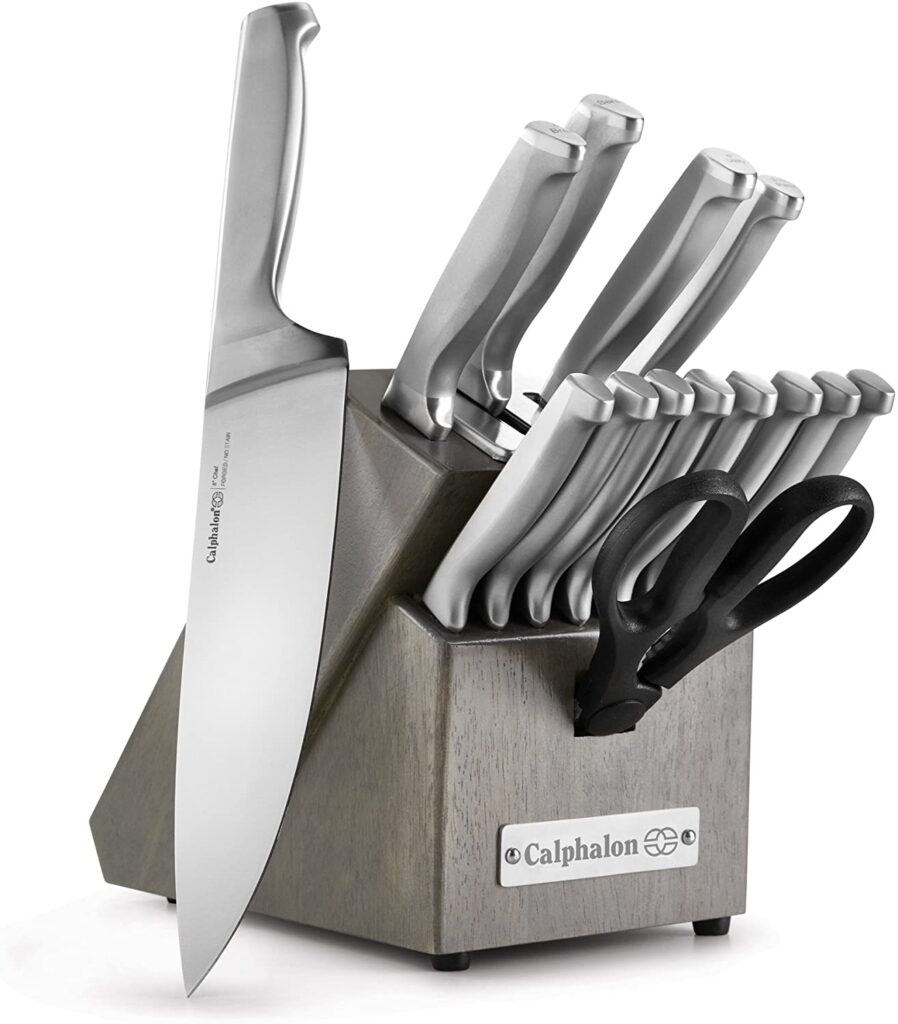 Chicago Cutlery 17 Piece Knife Block Set
If you're looking for a fuller utility set in this price range, the Chicago Cutlery Fusion 17-Piece Block Set has you covered. Stainless steel blades, a black comfort grip handle, and a classic look without any extra bulk.
The set includes:
A 7.75″ chef's knife, 
An 8″ slicing knife, 
A 7.75″ bread knife, 
A 7″ Santoku, 
A 3.25″ paring knife, 
A 3.0″ peeler
A 5.0″ utility knife
The set rounds out with eight 4.25-inch steak knives and sharpening steel. The knives are high carbon, making them more resistant to stains, rust, and pitting.
Farberware 15-Piece Stamped Stainless Steel Knife Block Set
Another solid choice a beginner cook should consider is the Farber 15-Piece Stamped Stainless Steel Knife Block Set, also available in various block colors. Its block is available in black, graphite metal, acacia, or bamboo wooden finishes. However, there are fewer options for handling coloration than the Oster Lindbergh set.
This set comes with the following:
An 8″ chef's knife
A 6″ bread knife 
A 6″ slicing knife 
A 5″ serrated utility knife 
A 4.5″ Santoku knife, and 
A 3″ paring knife
The set also features six 4.5″ table steak knives and a set of kitchen shears. As a bonus, the block has a sharpener built-in, so you won't have to buy that separately.
Amazon Knife Block Set Premium 18-Piece Knives
If you're looking for a functional, classic set of knives, why not return to basics? The Amazon Basics Premium 18-Piece Knife Block Set has a simple hardwood block and black-handled stainless-steel knives.
 Again, the exact lengths and types of knives are not listed, but the image provided shows off the following:
A chef's knife
A bread knife
A fish knife
A paring knife
A utility knife
It also includes eight steak knives, a set of shears, and a sharpener.
An Amazon Basics item, it's frequently featured in sales, so you're almost guaranteed to get a good deal on a set of solid, quality knives.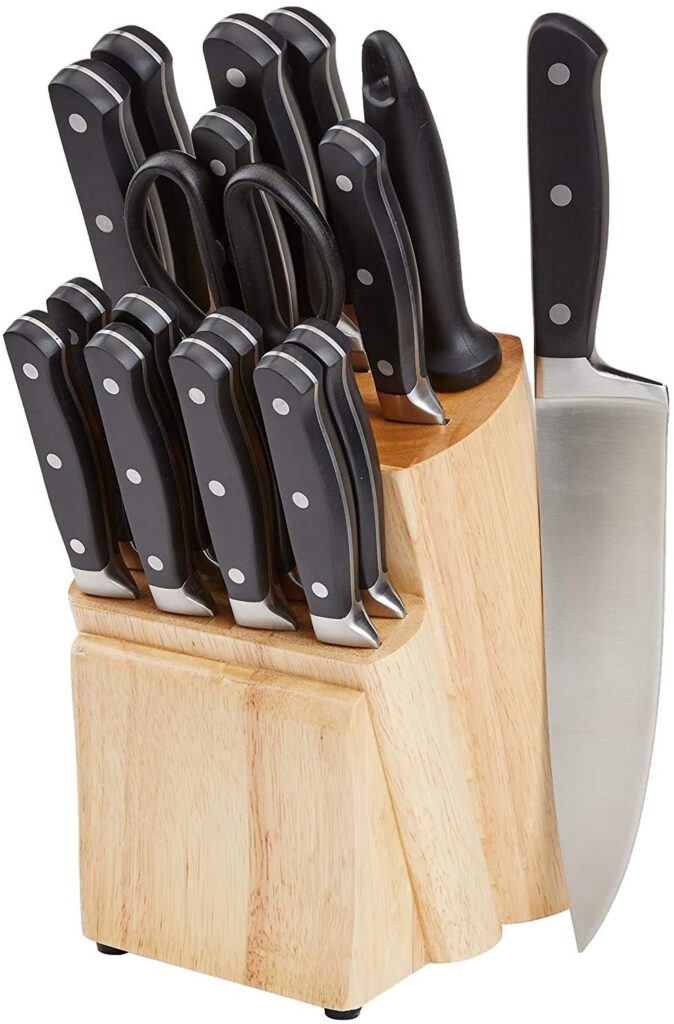 Cuisinart Cutlery Block Set 15-Piece Stainless Steel Knives
Simple and sleek, the Cuisinart 15-Piece Stainless Steel Handle Block Set only comes in one finish, stainless steel with a black block, but it's such a classic design that it would fit in most modern kitchens without much of a problem. Its knives feature a one-piece hollow handle designed to be lightweight and ergonomic.
This set does not list the exact knives and knife lengths included but does picture:
A chef's knife, 
A serrated knife (whether this is a utility knife is unclear)
A paring knife
It also features six a pair of kitchen shears. This simple, basic set was rated the Best Budget-Friendly Knife Set by Food and Wine in January 2020.
You can expect solid quality from these knives in the lower mid-range for knife sets in general, coming from a trusted brand like Cuisinart.
Home Hero Stainless Steel Knife Block Set
The Home Hero Stainless Steel Knife Set with Block is aesthetically wildly different from most sets on this list. It features a clear acrylic knife block that shows its pure black 17-piece set. 
This set includes:
A Chef's knife
A paring knife
A serrated bread knife
A utility knife
A carving knife
A cheese knife
A pizza knife
It also has six steak knives, making this the most diverse set with the most specific-use knives. The knives have a non-stick, non-scratch coating and are built thick to last. The set also includes a bonus sharpener, a set of shears, and a peeler.
With all of the extras included and the sheer versatility of the knives
Oster Lindbergh Teal Knife set 14-Piece Stainless Steel Cutlery Set
Available in various colors and finishes, the Oster Lindbergh 14-Piece Stainless Steel Cutlery Set is an excellent beginner's knife block. It's a tight black or wooden block of stamped knives in teal, red, turquoise, or classic black.
The set comes complete with the following:
An 8″ carving knife, 
A 7.5″ bread knife, 
A 5″ utility knife, 
A 6″ boning knife, and 
A 3″ paring knife
It also comes with kitchen scissors and six 4.5″ serrated steak knives. These knives are rust-resistant and well-balanced for easier handling and more precise cuts. 
The Strategist named the Oster Lindbergh 14-Piece set the best kitchen knife set for beginners in their October 2020 lists of the best-reviewed knife sets. At $25 for the set, it's a fantastic way to stock your kitchen without emptying your wallet.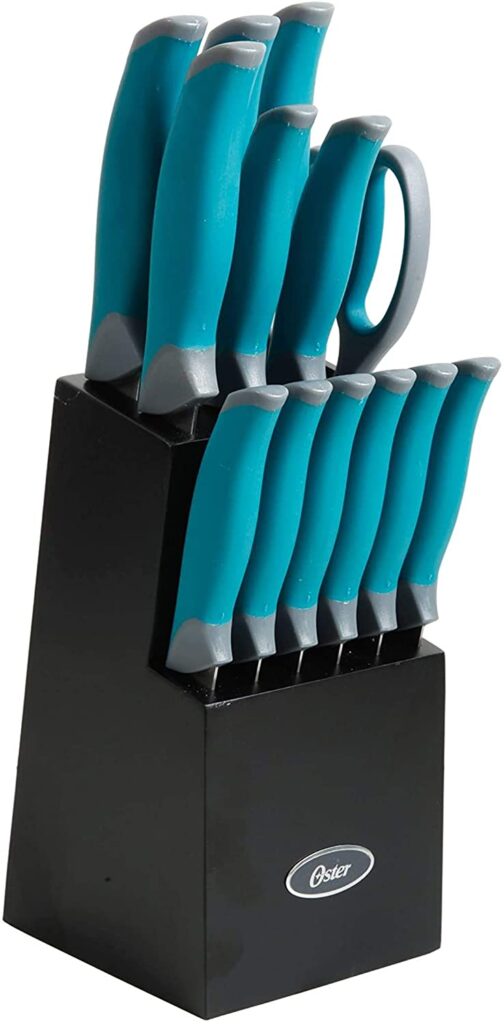 Things to Think About Before Buying a Knife Set
Before diving into the best knife sets available, it would be wise to break down your individual needs regarding how the set will be used. Consider: 
How often do you plan to use the set? If you always cook and need a set that can stand up to wear, you might want to invest in a higher-end set.
How the set will be used. Basic cooking only requires a chef's knife for most work and detailed work and a serrated knife for bread and delicate fruits. If that's all you're looking for, you might choose a smaller set with fewer frills to pay for. Kitchen shears can also be handy for cutting herbs or breaking down poultry, so they are worth considering.
Who will sharpen the knives? If you plan to hone your knives at home, consider a set with a built-in sharpener or purchasing a quality sharpener on the side. You can skip this step if you plan to leave that to a professional.
It's always best to make a fundamental decision with a solid grasp of exactly what you want and why to know what qualities to value over exciting but not strictly necessary special features.
The Care and Keeping of Your Knives
If you're investing in a quality set of knives, you will want to maintain that investment by keeping them in top condition. You don't need to be a professional chef to do this; there are just a few basic rules of thumb to remember.
Cleaning Your Knives
Here are a few more tips:
Use gentle swipes along the blade away from you to clean without pulling back. 
Always hold the knives by the handle with the blade away while cleaning them. 
After they've been washed, your knives should be allowed time to air dry completely before returning to the block or drawer or be carefully and thoroughly dried with a clean cloth towel or paper towel.
Sharpening Your Knives
You'll also need to keep them sharp. This means honing and sharpening them regularly. These are two separate processes; honing a knife means straightening and redefining the edge on an already sharp knife, while sharpening is filing away at layers of steel to get that sharp edge.
Honing is done with a few quick passes before you cut on a homer, usually made of ceramic or similar material. Sharpening is done with a whetstone and takes a bit longer. You'll want to ensure you're using even, symmetrical strokes with the knife held at the blade angle for a consistent, smooth edge. 
Although Forbes recommends getting your knives professionally sharpened every one to two years, there's no specific timeframe for shaping them up at home. It needs to be done when you notice your knife dulling down and not cutting as smoothly.  
Dull knives are significantly more dangerous to handle than sharp knives, as they take more effort to cut with and are more prone to slipping. 
Where to Use Your Knives 
Finally, you'll want to invest in a quality cutting board with your new knives. While synthetics and softer woods are acceptable if they are all you can afford, glass is one material to avoid at all costs. Though it might be aesthetically pleasing, it's one of the worst materials to cut on and can damage your blade or seriously injure yourself. The same goes for granite countertops.
The best cutting boards are end-grain hardwoods, which take slicing better than synthetics, meaning they won't dull your blade. Those slices will also naturally close up, keeping your cutting surface clean and making disinfecting easier than softer woods like bamboo or synthetics. 
However, synthetic cutting boards can still be decent, using one made from food-safe plastic. We also recommend having one cutting board for meat and another for produce and bread, which gives you peace of mind. 
Knives Are an Investment 
As we said at the beginning of the article, a good set of kitchen knives is essential to a properly stocked kitchen. The quality of a set can be a huge factor not only in the quality and professionalism of your cooking but in your safety; a weak or brittle knife can lead to a severe injury. It's worth the peace of mind to take the time to get a set you know you'll be safe using. 
After that, you're good to go! If your knives are high quality (like those on this list), well maintained, and used with suitable supplemental materials, they should serve you well in preparing thousands of meals for many years.