When you eat a steak, you want to know you have a good steak knife that will make the perfect cut. Investing in a high-quality steak knife set ensures you'll have a good experience every time.
A JA Henckels knife set is one of the best brands to look for in high-quality knives. But which knife set from JA Henckel is truly the best? Let's review some of the best sets they offer and see how they compare to buying the best steak knives for you.
Is Zwilling a Good Steak Knife?
Overall, the Zwilling Henckels Gourmet 8-Piece Steak Knife Set is the best. This straight-edged knife was our favorite. It is neither too heavy nor too light; it easily fits in both large and small hands; and it has a very long, 4 1/2-inch super-sharp blade that easily cuts through all the meat on our plate.
Our Top 7 J.A. Henckels Steak Knife Recommendations
If you're a steak lover looking for a high-quality steak knife, look no further than these sets:
Buy: J.A. Henckels International 8-Piece Steak Knife Set, 4.5″, Original Version on Amazon
If investing in your first-ever steak knife, you should go for this classic steak knife set. This set of eight serrated steak knives with a triple rivet handle is the perfect number for most families or couples hosting the occasional dinner party. The serrated edge on this knife blade will keep it sharper longer, which means less user maintenance. This set is also at a great price point for the number of knives included.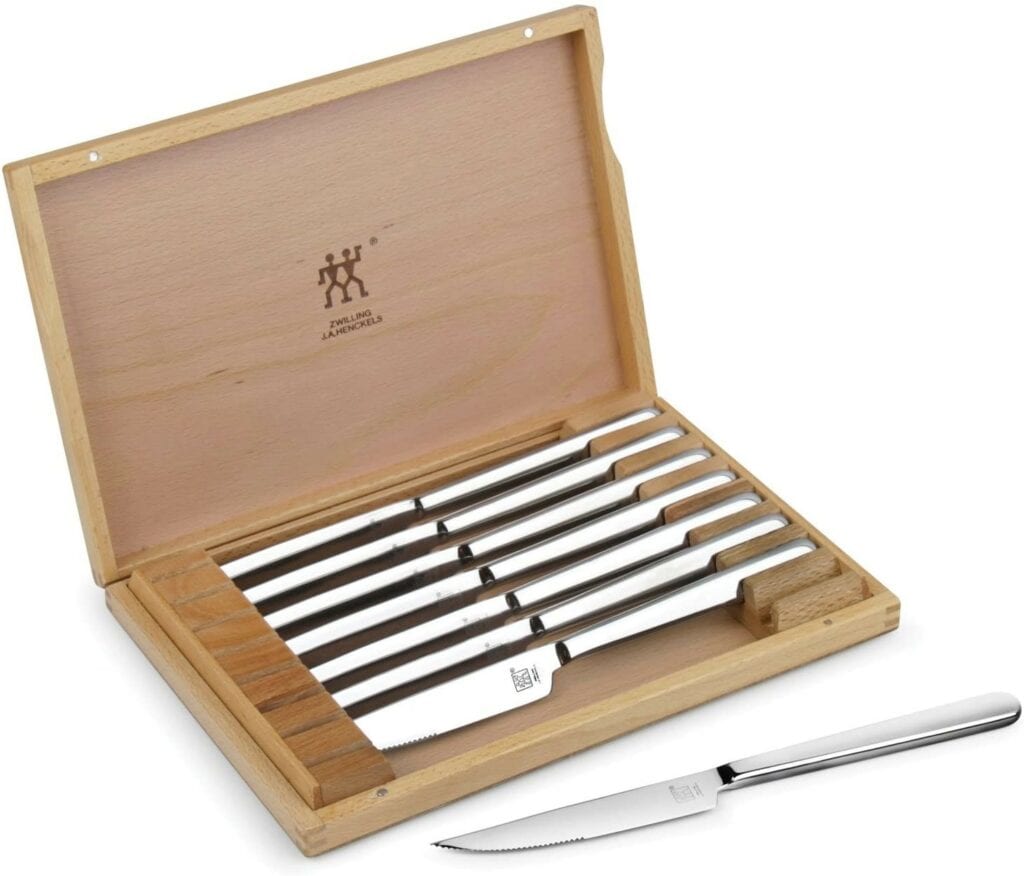 Buy: Zwilling J.A. Henckels Stainless Steel Steak Knife Set with Wood Presentation Box on Amazon
We recommend this set here if you want to give someone some steak knives! This is a set of eight stainless steel knives with serrated edges stored in a gorgeous wooden box. The box makes an excellent gift presentation and makes storage easy.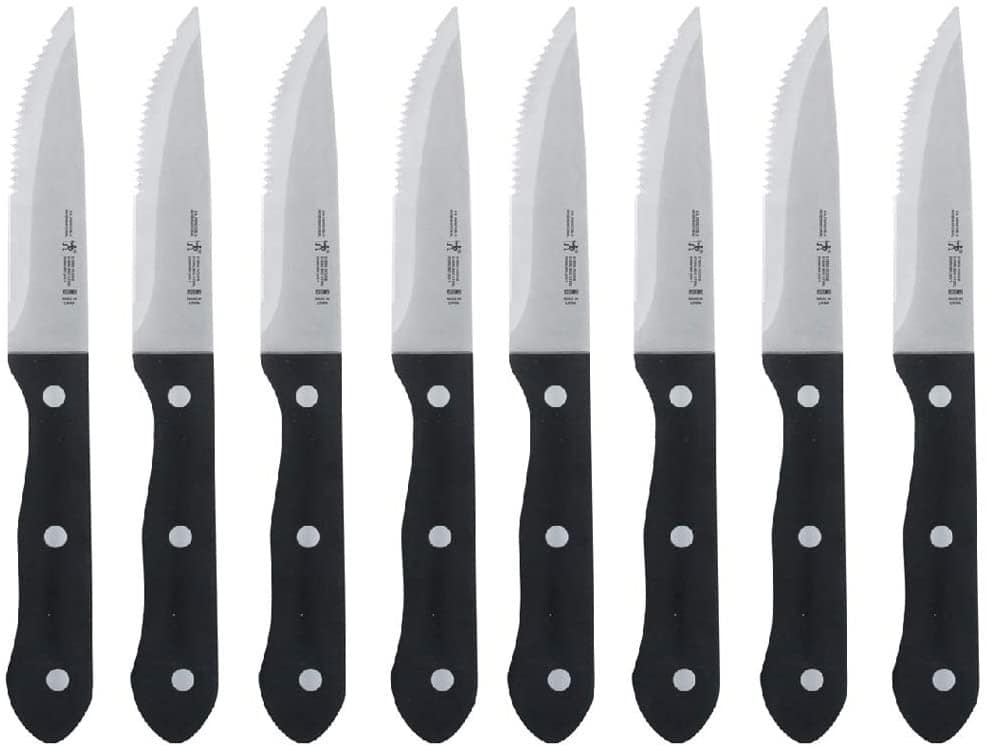 Buy: J.A. Henckels International 8-pc JUMBO Steak Knife Set on Amazon
These are perfect if you want a steak knife that prioritizes overall strength. This is a set of eight serrated steak knives with classic styling fitted with an alloy steel blade. These knives' handles and blade designs are thicker and sturdier than average for improved cutting strength.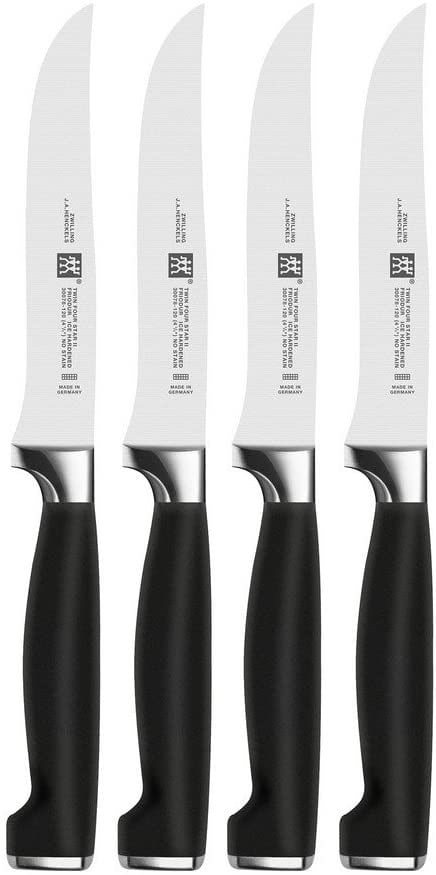 Buy: Zwilling J.A. Henckels 4-pc Steak Knife Set on Amazon
Those looking for a steak knife that is easy to use and hold will love this set. It's all thanks to the unique blade shape these knives have. The curve supports a professional pinch grip for safer handling and a better feel in hand.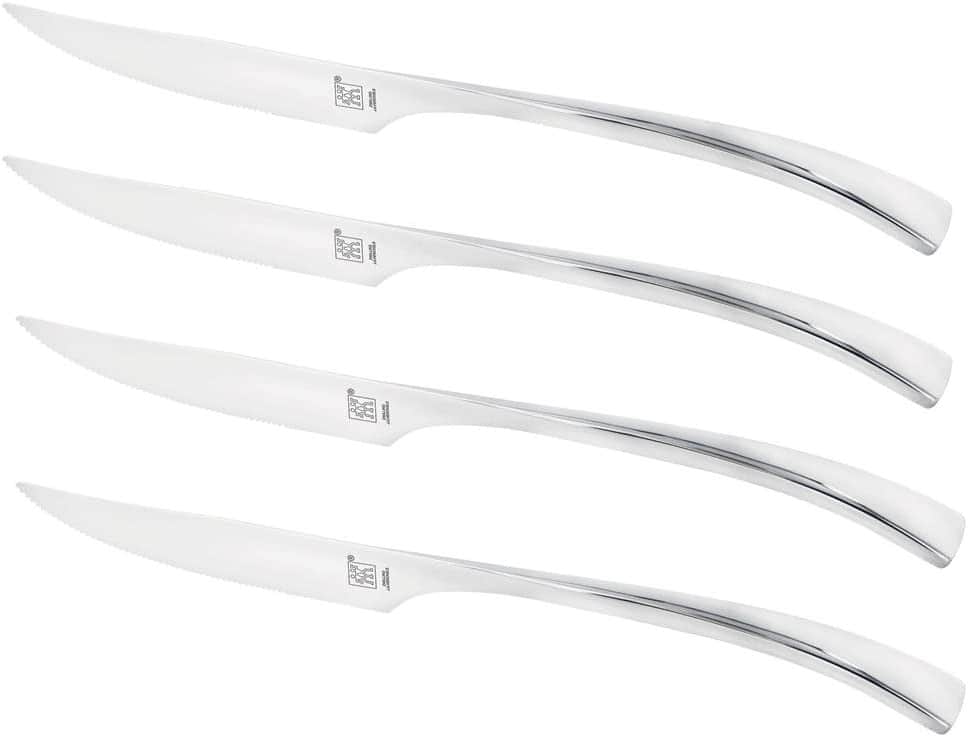 Buy: Zwilling JA Henckels Bellasera 4-pc Stainless Steel Steak Knife Set on Amazon
This steak knife set is one of the more beautiful on our list, perfect for those looking to set a gorgeous table. We love that these knives are made of solid stainless steel down to the handle, with a unique curved handle that lets them sit upright when lying on the table.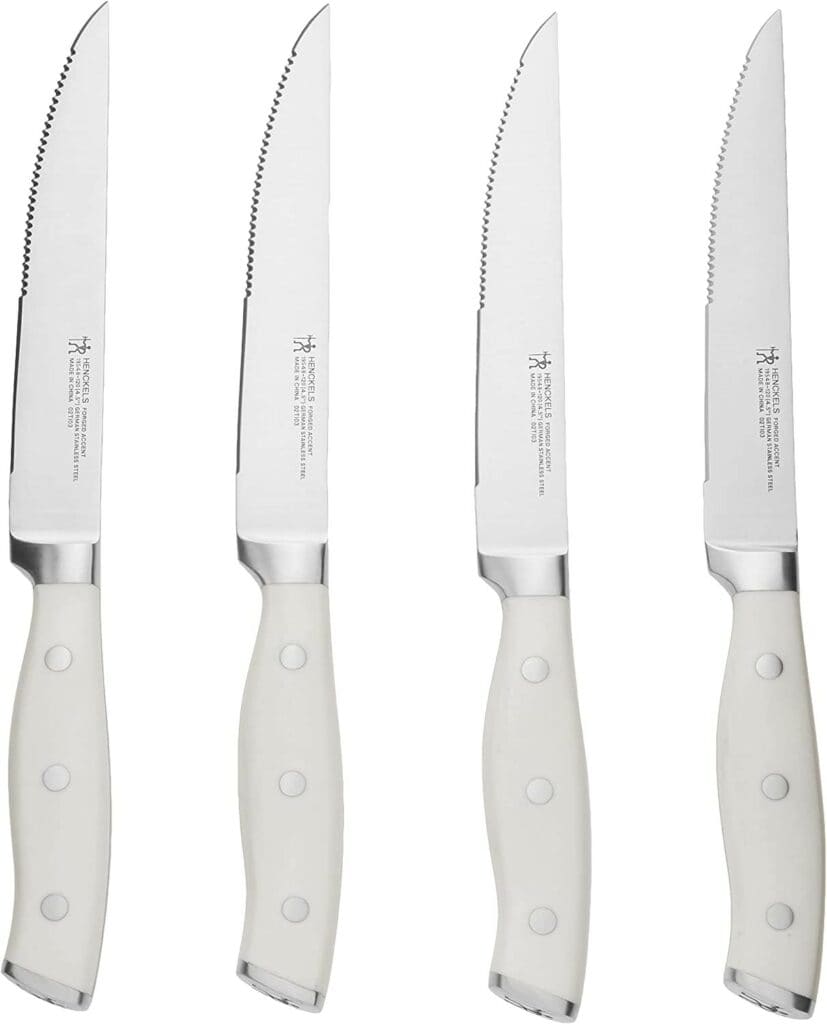 Buy: Henckels International Forged Accent 4-pc Steak Knife Set on Amazon
We love these if you want a steak knife set that stands out! This is a set of four serrated steak knives with gorgeous white handles. They will stand out on your table or knife block while delivering the high-performance quality that JA Henckel is known for.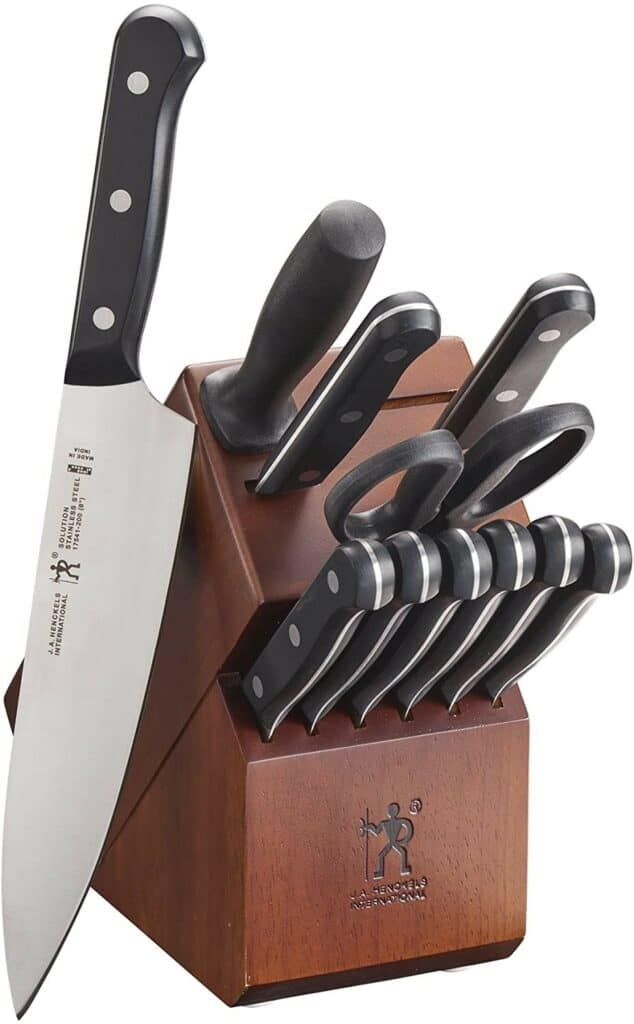 Buy: Henckels Solution 12-PC Knife Set with Block on Amazon
Those looking to have a complete knife set in their home will love this. This is a knife block with great beginner kitchen knives (paring knife, utility knife, chef knife), kitchen shears, and six serrated steak knives. This way, you're not only investing in steak knives but a new set of knives for your entire kitchen.
J.A. Henckels Steak Knife Comparison Guide
So which of these knife sets should you invest in? Let's compare the features you'll find across these knives, so you can select one that works best for you.
The J.A. Henckel Brand
When looking at the J.A. Henckel brand for steak knives, you'll see two names most often: J.A. Henckels and Zwilling. These brands exist under the same parent company, but both have some differences in their product lines.
ZWILLING knives are higher-end products made in Germany. They mainly produce forged knives, using special high-carbon German steel exclusive to the brand.
J.A. Henckels also produces knives at a lower price point, making them accessible to a larger audience. These are still high-quality knives, but Zwilling sources manufacturers from across the globe, hence the name Henckels International. They make both forged and stamped knives, depending on the collection.
What is a Steak Knife?
A steak knife is a sharp table knife used to cut steak during eating, usually with a serrated edge. It replaces the typical dinner knife with more substantial cutting power.
Steak Knife Features
When comparing steak knives, keep these features in mind:
Steak Knife Edges
The most significant difference between different kinds of steak knives is the blades. You will typically find either straight-edged or serrated knives.
Like a typical kitchen knife, a straight-edge steak knife will be free of serrated teeth. These knives can easily cut through meat thanks to their extra sharp edge. However, you will have to sharpen them yourself over time.
The benefit of a serrated knife is that the design helps keep them sharper and longer, so there isn't a need for regular sharpening. H.A. serrated steak knife will have a jagged edge that easily tears and shreds through meat while cutting. However, they don't cut as clean as a straight edge, creating some wear and tear.
Steak Knife Handle
When comparing steak knives, you should also consider the handle's material. These are the materials you'll find most often:
Most J.A. Henckel knives with the classic black rivet handle are made of a high-quality synthetic resin. This material is solid and durable, won't become water damaged, and resists holding onto bacteria.
Wood: Other knives may come with wooden handles. These handles are gorgeous, but wood is much more prone to water damage. Also, as a porous material, it can hold on to germs. However, if properly sealed, you can avoid these issues.
Stainless Steel: Finally, you may encounter stainless steel handles. A stainless steel handle will have a good weight, be super strong, and resist bacteria and water damage. However, steel can be slippery in the hand.
Steak Knife Blade Construction
Another big difference you'll find in these knives are differences in how they are made. The two main types you'll see are forged knives and stamped knives.
A forged knife is made of a single piece of metal, from the blade itself to the handle. They will fit the metal on the handle end with a wood or resin casing, secured with rivets for a comfortable hold. Or, they might have a solid steel handle with no separation between the handle and the blade. Because of this design, these knives tend to be of higher quality and longer-lasting.
The stamped knife, in comparison, will have its blade cut from a sheet of metal with a stamping machine and then fitted to a separate handle. As no metal connects the blade to the handle, these knives can sometimes be more breakable.
Which J.A. Henckel Steak Knife Set is Best?
Now that you know some factors to look out for, it's time to determine which knife set is best for you.
Selecting any J.A. Henckel knife set will be a good investment for most shoppers. These knives are known for their superior quality and long life spans, which is why cooks and foodies love them.
You can determine which set will suit you best by comparing the features we listed above across the different knife sets. If you want a high-quality steak knife as possible, we recommend looking for a set with forged stainless steel blades, a high-quality resin or steel handle, and a serrated edge for long-lasting sharpness. These knives will be the most user-friendly right out of the box and last the longest over time.
All of the recommendations on our list would make great pieces! Just be sure you're researching and picking the set you think will suit your kitchen and food style best. Our best overall set ticks all the outlined boxes and will make for a significant investment.
---