Hey there, fellow food lover! Let's talk about a game-changer in the kitchen. Japanese kitchen knives.
Believe me, once you get your hands on one of these bad boys, you'll wonder how you managed without it. These knives are like the ninjas of the culinary world, slicing and dicing with precision and finesse.
You know those moments when you're trying to slice a tomato? And it ends up squashed and mangled. Well, Say goodbye to that kitchen catastrophe!
You'll glide through tomatoes like soft butter with a Japanese knife in your arsenal. The sharpness and craftsmanship of these blades are on a whole new level. Making your chopping tasks a breeze.
Not only are Japanese knives razor-sharp, but they're also lightweight and elegant. Imagine wielding a knife that feels like an extension of your hand. It's like having a culinary superpower.
Whether chopping veggies for a stir-fry or delicately slicing sashimi. These knives will make you feel like a master chef in your kitchen. These knives are your perfect kitchen companions.
Add your favorite Shun knives to the Bamboo Block. And create a personalized set that meets your needs. Or opt for the Shun Classic 6-piece Knife Set for a comprehensive knife collection that easily covers all your cutting tasks.
Our Top Best Japanese Knives Picks
You can easily find a knife to meet your needs with high-quality options. Shun, Global, Miyabi, and Masamoto.
These knives are expertly crafted with traditional Japanese forging techniques and high-quality materials, offering superior sharpness and durability.
(Also see 9 Best Damascus Kitchen Knives)
Top Japanese Knife Brands Review
Our best Japanese Knife Brands review features Shun, Global, Miyabi, and Masamoto expert picks.
With a wide range of knives that cater to different cooking needs. These brands offer high-quality knife serials and traditional Japanese forging techniques.
Our review also highlights these knives' ergonomic designs and comfortable grips, making them easy and efficient.
(Learn more about Santoku vs. Chef Knife – What Are the Differences)
Get your hands on the game-changing Shun 8′ Chef's Knife – the secret weapon every culinary enthusiast dreams of!
Shun is another reputable Japanese knife brand under the Kai Group which might be relatively new.
But its pedigree dates back to 113 years ago when Saijiro Endo set up the first Kai shop in Seki. It started as a project of a direct descendant of Saijiro Endo, Kai chairman and CEO, Koji Endo.
He sought to introduce high-quality "Japanese cutlery to the United States and European markets.
Koji designed the logo the brand used to date and named it 'Shun,' about the Japanese tradition of fresh seasonal eating. Get insights into Shun Knife vs. Zwilling.
The brand is now famous in kitchen cutlery circles all over the world. They have incorporated modern materials and state-of-the-art technology to improve the designs.
They still maintain the handcrafting tradition, and each Shun knife goes through at least 100 handcrafting processes in Japan to complete.
(Read about German vs. Japanese Knives: Similarities, Differences, Pros & Cons)
Shun knives bear the lightweight precision of Japanese cutlery, featuring thinner blades with sharper edges that can maintain. Heavier knives are unable to match these performance standards.
Shun is one of the best Japanese knife manufacturers because it has products for all classes. The Sora and Kanso series is at the entry-level level, whose knives are under $200.
Then we have the Classics and the Premiers, between $200 and $300 and finally, the Dual Core series, with prices above $400.
The Sora series have unique composite blades with Japanese San Mai VG-10 steel cutting edges.
With exceptional cutting power and endurance, their uppers, going all the way to the spine, are polished 420J stainless steel. The Kanso series focuses on the essentials; high-performance steel and razor-sharp edges for precision cutting.
The Classic series comes with 69-layer Damascus-clad blades that are exceptionally sharp and lightweight.
The Premier blades have the Tsuchime finish, a mirror polish, and an intricately layered Damascus.
The end product is rustic and sophisticated without losing Japanese performance and agility. (According to Good Housekeeping, "From the finest blades to the sturdiest knives for every food." Best Japanese Knives, Reviewed by Kitchen Pros)
Their dual-core series is a high-end installment with 71 alternating layers of high-carbon stainless steel that extend to the blade.
They are the most rugged lot, but you can't tell by looking at the brand's finishing.

Best Powerhouse: Global
This successful world-renowned Japanese knife brand's first knives were designed by the visionary designer Komin Yamada in 1985.
Yoshikin commissioned him to develop revolutionary kitchen knives that would appeal to both a professional chef and an at-home cook. The knives were fashioned using the latest technology and the best materials available.
Komin did not disappoint; his unique design is the signature look for global knives to date, more than 35 years later.
The iconic dot pattern on the handle he introduced to make buyers curious is still applied. The knives have received numerous awards over the years as they continue to use YoshYoshikin'serials while improving the designs.
Global knives are still crafted by hand in Yoshikin's factory in Niigata, Japan.
Applying the age-old expertise they used to make sharp and solid blades for the feared Japanese Samurai. There are incredibly high standards for precision. They are weighed to confirm they balance optimally in your hand.
The cutting edge is the feature that stands out besides their handles and the optimal balance.
Unlike most traditional Japanese knives, Global knives are sharpened on both sides of the blade like Western-style knives. The sharpening style is unique to Global; while Western knives have a beveled edge, they are sharpened straight to a steep, acute angle.
(Read more about Gordon Ramsay Tested HexClad Japanese Knives – Damascus Steel Knives)
This creates a sharper knife that retains its sharpness longer yet still has the thickness of the blade to absorb shock and provide tensile strength.
The significant edge of a Global knife extends up to a quarter of an inch from the tip.
Consequently, they stay sharp even when the edge starts to dull. The blades also have molybdenum and vanadium, enhancing their strength and ability to retain an edge.
They have the classic series with the most significant number of knives, the Sai and Ukon collections. The Ukon and Classbra are typically under $200. Groups are below $300.
(From The Manual, The 10 best Japanese knives: Upgrade your cooking tools "A good Japanese knife can elevate your cooking and bring more joy to the kitchen. Here are the best options.")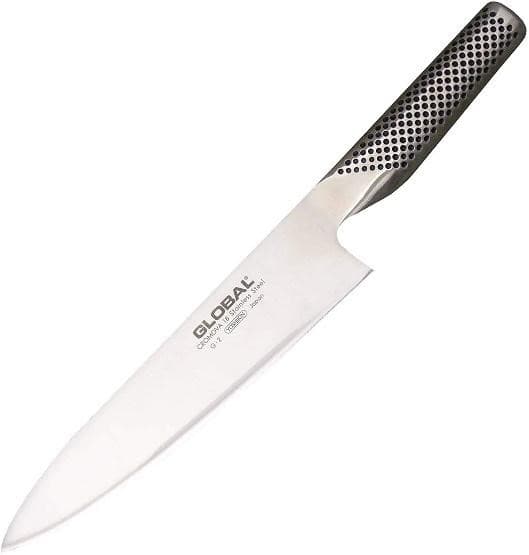 Best Damascus: Miyabi
This brand's story begins with the ZWILLING Group's acquisition of a knife factory in Seki in 2004.
They have since been able to infuse German engineering excellence brands perfected in their workshops in Solingen, Germany. With the best santoku knife brands' craftsmanship to create a formidable Japanese knife brand.
ZWILLING FraFrance'smany ItaItaly'sium brands woBelBelgium'sluding the flagship ZWILLING IN Germany, France's STAUB, Italy's BALLARINI, and Belgium's DEMEYERE.
Each has its unique traditions.
But quality control cuts across them. They are reputed for superior construction, which spares no effort, so you should be ready to part with a few extra bucks to acquire the quality.
(Check it out Getting Your First Japanese Kitchen Knife Set? Read This First)
Miyabi knives merge the exceptional sharpness of Japanese traditions and contemporary kitchen knife designs.
The precise cutting ability will help retain the taste and texture of delicate dishes like raw fish, while the contemporary designs enhance their durability by strengthening the blades.
They are exclusively handcrafted in Seki, Japan, using quality Japanese materials.
Every blade under the Miyabi brand is taken through more than 100 stages of production and takes at least forty-two days to complete. This gives more than sufficient room for quality control.
Other installments of Miyabi knives include the Artisan, Mizu, Koh, Evolution, Fusion, Kaizen, Black, and Birchwood. This video overviews the different series of Miyabi knives and how they differ.

The knife-making foundation of this brand goes way back to 1866, before the name was even conceived.
This is when the founder, Minosuke Matsuzawa.
Started making cooking knives in Osawa, Bushu (in present-day Tokyo). He had just returned home from learning the secrets of genuine knife forging from the company's artisans of Osaka.
The brand is a registered trademark of Masamoto Sohonten, the company's current identity.
They are based in Azuma-Bashi in Tokyo, Japan. And produce Japanese and Western-style Flay's guide alongside other kitchen tools like whetstones and vegetable cutters.
(Also see Bobby Flay's Favorite Chefs Knife for Everyday Cooking)
More than 155 years later.
They have perfected high-level hardening, so Masamoto knives are durable and can maintain sharp edges. The blades are tempered to add strength and polish to make sharpening easier.
It is a premier brand for professional-quality Japanese knives.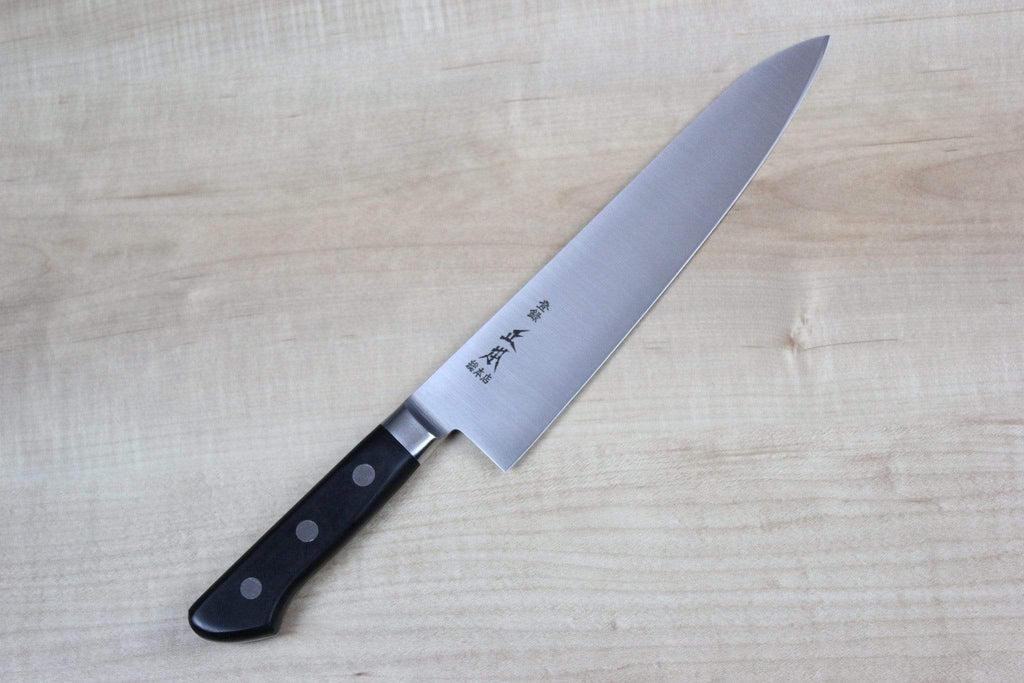 The Kai brand is world-renowned for its experience and prowess in Japanese knife-making craft.
JapaJapan'sy was founded in 1908 in the City of Seki, Japan.
Seki has been at the center of Japan's rich blade-making culture for more than eight hundred years, so we can safely conclude Kai has had at least 113 years of refining their craft.
Its portfolio has over 10,000 products worldwide, including fine cutlery, pocket knives, beauty care, and medical products.
They acquired Kershaw Knives, a famous sporting knife brand in the United States in the 1970s, and established Kai USA Limited, which saw them introduce their products to the US market.
Kai houseware products are produced worldwide.
But its Shun knife line is handcrafted exclusively in Japan, where the craft has been passed down through generations. They introduced the Shun classic cutlery brand to the US in 2002, along with knife designs that North Americans were unfamiliar with.
Famous Kai products include the Pure Komachi and Pure Komachi 2 series and the Wasabi line, combining Western blade shapes.
Americans use Japanese blade shapes in traditional Japanese styling. They introduced ultra-sharp knives whose blade edges were sharpened at 16°, making them thin and lightweight.
( Also see The Best Kitchen Knives for Every Task: Cut Above the Rest)
They also introduced the traditional Japanese Tsuchime blade finish.
Which involves hammering the blade so that food releases easily and there is minimal drag. This came with the Luna and Inspired series of knives. All Kai knives use high-carbon stainless steel.
Their latest series is the Kai PRO, designed for professional-level performance for professionKai'Kai'sor cooking at home. They feature a rugged yet comfortable ergonomic POM handle and Kai's razor-sharp cutting edge on a lightweight blade.
They are even NSF-certified for professional use.

Yoshihiro has been a powerhouse in handcrafted premium Japanese knives for over 100 years.
And professional chefs have affirmed its performance numerous times. It expanded its operations from Japan to the rest of the world in 2008 and is based in Beverly Hills, California.
Artisans handcraft all Yoshihiro knives with knife-making lineages spanning centuries. They remain true to their Japanese knife-making traditions with over 600 premium Japanese knives.
Their wide selection of knives can be overwhelming. So we'll stick to an overview in this forum.
Yoshihiro knives are broken down into four categories.
Double-edged stainless steel, single-edged stainless steel, double-edge high-carbon bond stainless steel, and single-high-carbon bond stainless steel. While there may be variances in construction, materials used, and prices within the categories, their price tags generally increase in the same order.
(Check it out The 10 Best Kitchen Knife Sets For Home Cooks)
Their prices also have an incredible range, so you must be clear about where you draw the line between functionality and class.
The 29.5-inch Yoshihiro Heisei Hongasumi Aoko blue steel is single-edged. Maguro Bocho knife is worth the chef's investment of $15,000.
The Yoshihiro Kasumi white steel Funayuki Deba fish fillet chef's knife, which is also single-edged high carbon stainless steel, is offered for under $250 on the other hand.
Their entry-level stainless-steel double-edged knives will generally cost below $500.
They still incur doesn'doesn't and are made from quality stainless steel. They have an optimum hardness level that doesn't veer far away from 60 HRC. This allows them to retain their razor-sharp edges for long years.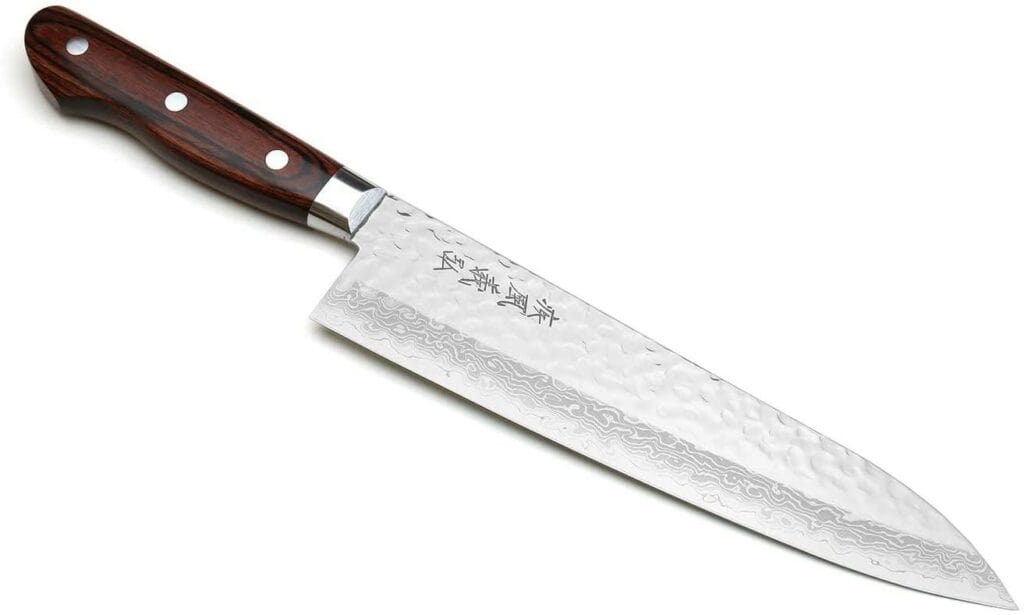 Best Value: Korin
Korin is based in the heart of lower Manhattan and serves New York's culinary community.
It makes professional-quality Japanese knives, tableware, kitchen appliances, tools, and barware. This brand started in the world's gained prominence over the last forty years.
Their Tribeca showroom has one of the world's most extensive collections of Japanese knives (Japan included). They showcase a combination of time-tested favorites and cutting-edge designs.
Korin branded knives offer a variety of designs, not limited to layered Damascus steel with different types of colorful handles.
Smaller paring knives for training and specialized knives for different purposes. All the knives are crafted in Japan by master artisans who haveKoKorin'sills handed down through generations.
The crafting process is closely monitored by Korin's founder Saori Kawano who has extensive knowledge of the Japanese knife crafting tradition to ensure they are refined and in tune with professional kitchen requirements.
(Also see 9 Best Damascus Kitchen Knives: Review and Buying Guide)
They have something for all skill levels. Including the Korin Inox child knives for teaching children how to cook in a safe environment.
So they can nurture their hand-eye coordination.
You can get these for under $100. Their mahogany series will retail at less than $200; the Tsuchime hammered Damascus between $100 and $200, and the nickel Damascus between $100 and $300.
They also have high-end knives where they partnered with other knife makers like the Korin X Masamoto, who partnered with Masamoto Sohonten. You will part with upwards of $1,000 for this blade.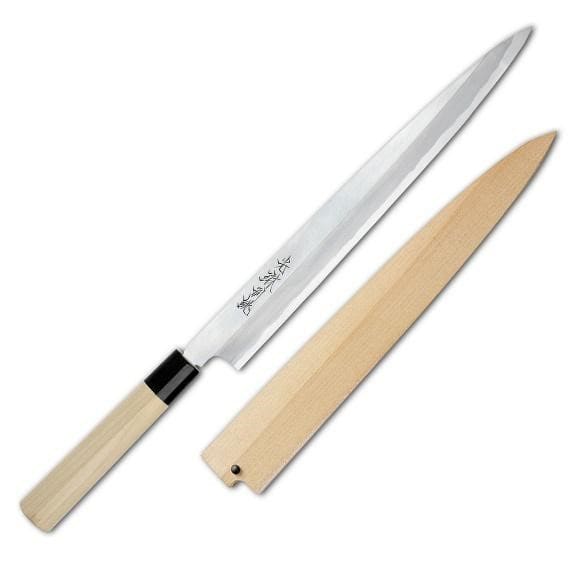 These knives are products of the Tojiro Company, established in 1953.
It was not until 1955 that they produced their first stainless steel fruit knife.
At the time. The notion was that stainless steel blades were not as sharp as carbon steel blades, so they had to improve and innovate companies to keep up with the market demands.
This originated the knife companies' culture of looking beyond sharpness to other ways of improving the knife's functionality. It also focuses on comfort and balance to produce versatile knives everyone can use.
Their knives are produced in its factory in Tsubame, Niigata, Japan.
The region is famous for producing metal products, so its metal processing technology has dramatically improved in nearly seven decades. They can produce sharper knives with enhanced efficiency.
Modern machines are clad in tough and durable steel.
But they still rely on their artisans' skill and instincts, which they consider the foundation of all the best Japanese knife manufacturers.
Tojiro also produces Western knife styles, Chinese knives, knife sharpeners, and other kitchen tools. Their knives are distributed all over the world through partnerships with online stores.
The Tojiro brand has nearly 150 Japanese knives under its wing, specializing in different areas. They are relatively affordable, generally below $200 for most knives.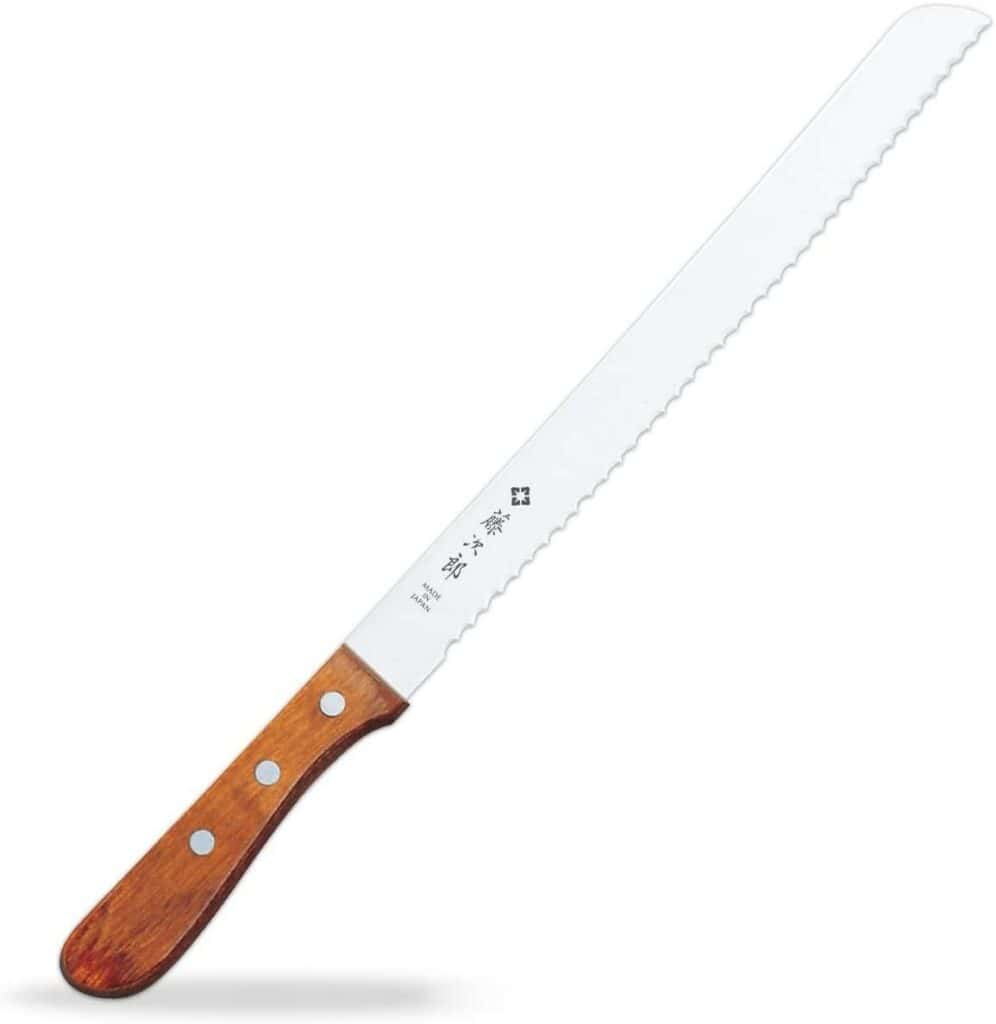 While the company is based in Sacramento City, California.
The knife-making process uses Japanese products, including shaping, assembly, polishing, and sharpening in Seki, Japan. They make use of professional Japanese craftsmen to retain that Japanese authenticity.
They have provided Japanese knives since 1964 and sold more than 25 million.
Their fame and popularity can be attributed to their razor-sharp edges, comfortable handles, and elaborate balancing. Numerous positive reviews from MAC knife owners online corroborate their position as one of the best Japanese knife brands.
The blades are forged from rust-resistant high-carbon steel fused with molybdenum to add hardness and tensile strength.
They are then hand-ground and hand-sharpened on water-cooled stones, making the finished blade smooth and sharp. This increases efficiency by reducing drag as you cut and preventing the ingredients from sticking to the knife.
The cutting-edge design (pun intended) fuses.
The traditional Japanese single-sided blade and the Western edge are sharpened on both sides. It is slightly off-center, enabling versatility in application. You can cut thin slices and straight cuts with ease.
Their Rockwell hardness, which ranges between 57 and 61 HRC, means they are just hard enough to maintain a sharp edge without being hard to sharpen. They will also spare your cutting board without compromising their cutting ability.
( Check out Santoku vs. Chef Knife – What Are the Differences)
They have four Japanese knife series; the molybdenum steel series, the sub-zero tempered steel series, the HO series, and the SE series. Their prices are typically below the $200 mark.
The molybdenum steel series is the entry-level knife featuring the high-carbon molybdenum-fused steel we mentioned earlier. The sub-zero tempered steel goes through an extra production process.
Enhancing its ability to retain its edge without making it harder to sharpen.
HO series features Japanese magnolia wood handles and a laminated white steel (Yasuki Shirogami) blade supported by softer steel. Yasuki Shirogami is reputed for its exceptional edge-holding capacity.
Knives in the SE series come with black ebony handles featuring silver accent rings. And a buffalo horn cap. Their Honyaki-style blades use single pieces of Yasuki Shirogami, which allow their edges to be sharper than most other knives.

Experienced artisans make Keisuke knives spread throughout Japan.
Collaborating with Japanny, who owns the brand. Japanny is an online platform promoting traditional and high-spec handmade Japanese kitchen knives worldwide.
(Learn how to How to Use Your Japanese Steak Knives Like a Pro)
They currently promote numerous other brands, Although Seisuke was their original brand.
It has numerous knives with varying blades, handles, and designs. They range from affordable workhorses to unique art pieces and can be used at home or for professional culinary applications.
We will not commit the injustice of lumping all Seisuke knives together because of the artisans.
They are spread all over Japan in cities like Toyama, Miki, Takefu, Sakai, Seki, and Sanjou. They SeisukeSeisuke'snique contributions to the Seisuke brand.
They have successfully maintained Seisuke's reputation as one of the good Japanese knife brands.
Besides the brand. The other thing they have in common is they craft knives by hand in Japan using the best Japanese santoku knife brands materials.
Seisuke opened a store in NE Alberta, Portland, Oregon in 2016.
Where they display a variety of knives from renowned Japanese artisans, they host many events where customers meet tal artisans involved in knife making.
How To Identify The Best Japanese Knife Brands
Investing in good knives is essential.
Try holding them before buying them to get a feel for them, if possible. They should feel like an extension of your hand. Ultimately, personal preference matters.
What feels too big and heavy for one person might feel too light for another.
Consider the following details:
Blade length: Chef's knives often come in eight-inch sizes. But a six-inch version might be better for those with smaller hands to ensure a comfortable grip.
Handle material and style: Handles can be made of wood, metal, or plastic. While aesthetics are important, prioritize functionality.

Look for handles that fit your hand shape and provide a secure grip. Choose a knife that suits your needs and lifestyle.

Blade material: Different steels affect durability and sharpening frequency. Carbon steel is easier to sharpen but requires more maintenance to prevent rust.

Damascus blades involve a complex forging process with layered steel, offering both beauty and performance, but check the specific types of steel used.

Stainless steel blades are durable, corrosion-resistant, affordable, and low maintenance. However, lower grades may be challenging to sharpen.

Tang: Full-tang knives extend through the handle, providing strength and balance. Concealed tangs are entirely enclosed within the handle.

While partial tangs, though more affordable, may impact balance and durability.

Type of Knife: Knives can be forged or stamped. Forged knives are thicker and heavier. At the same time, stamped knives are thinner, lighter, and more flexible.

Stamped knives also tend to be less expensive.
Remember to choose a comfortable knife that suits your needs, as it will become an essential tool in your kitchen.
Conclusion
In conclusion. investing in a high-quality Japanese knife can greatly enhance your culinary experience. The top Japanese knife brands include Shun, Global, and Miyabi.
Offer exceptional craftsmanship, durability, and precision whether you are a professional chef or a home cook. These knives will elevate your cooking skills and make meal preparation a joy. So why settle for subpar knives?
Experience the precision and power of the Shun 8′ Chef's Knife – the ultimate kitchen companion for those who demand perfection.