As a humble home cook, my culinary journey took a turn for the better when I brought home a set of Zwilling knives. They say the wand chooses the wizard; I'd argue the knife chooses the chef.
These German beauties made cooking easier and made it quite an enjoyable affair!
The Zwilling Pro became my trusted companion. Slicing and dicing veggies with effortless precision. Remember the magical sword from the Arthurian legend?
Yeah. The Pro is the Excalibur of my kitchen realm, conquering stubborn bread loaves and meat cuts. Smile, folks; cooking with Zwilling is like being in a romantic comedy, you, the cook, and the knife, the charming lover.
Discover the magic of precision cutting! Get your Zwilling Pro or Twin Signature block set today and elevate your culinary skills to new heights.
Our Best Zwilling Knives Pick
Hone in on Zwilling Knives
According to Reviewed.usatoday.com, J.A. Henckels is one of the most recognizable names in the knife-making industry. The name on everyone's lips? Zwilling.
This stellar German kitchen brand, famous for manufacturing some of the best kitchen knives in the world, has been around for over 300 years.
For context, that's older than the United States of America! Countless years of experience and expertise are mirrored in its broad range of knife collections, each offering unique qualities.
So Many to Master: Zwilling Knife Collections
There's no point in beating around the bush. Zwilling offers a vast array of collections with unique charm, strengths, and shortfalls.
The choices range from uber-luxe Japanese forged knives crafted in partnership with Master Bladesmith Bob Kramer to sturdy, best-selling German-forged knives and budget-friendly German-stamped knives.
As dazzling as this might sound, the drudgery lies in figuring out the perfect match for you—no pressure, huh?
The Big Shot: Zwilling Pro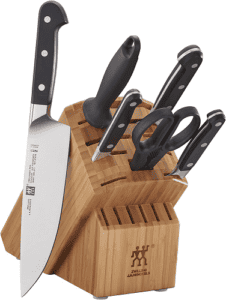 If you're a fan of "go big or go home," the Zwilling Pro collection will knock your socks off. It's the brand's most extensive line, boasting a whopping 92 individual knives and sets.
Pro's many feathers in its cap include a rounded belly that enhances the rocking motion during cutting and a half bolster perfect for a comfy pinch grip – fancy terminology for holding your knife like a pro.
But, like a supermodel with a craving for junk food, it comes with its quirks. Its curved edge might give you Rocking-Roll dreams, but straight cuts? Not so much.
Also, you might find the handle slightly chunky if you have petite hands.
The Underrated Hero: Zwilling Professional S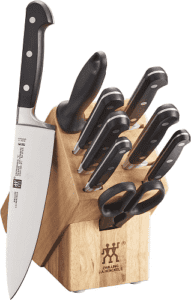 Next in line is the Zwilling Professional S. Much like the high school nerd everyone underestimates, this collection is sturdy, reliable, and doesn't make a fuss.
You'll love the hand protection and balance the full bolster provides; the traditional blade profile is crowned for all cutting techniques.
The much-loved full bolster can also be a party pooper, as it curbs you from utilizing the whole blade. Now, isn't that a pickle?
The Dark Horse: Zwilling Four Star
Coming up next, we have Zwilling's best-seller worldwide, the Four Star collection. Like a bestselling mystery novel, it's always on your mind. These knives wield a black ergonomic handle, a full bolster, and concealed rivets, adding an enigmatic dark charm.
But don't be fooled by its allure. Like the plot twist, you didn't see coming, the heavy-handed full bolster could lead to structural issues in your knife over time. Quite the thriller.
The Graceful Swan: Zwilling Twin Four Star II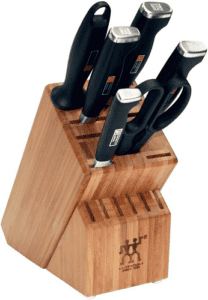 How about a bit of elegance with the Zwilling TWIN Four Star II? This collection is like the graceful swan of the Zwilling Lake – elegant, sleek, and with hush-hush charm. It mirrors the Four Star collection in handing out several benefits.
Plus, an exquisite steel end cap adds an extra dash of refinement. Now, isn't this enough to win in a knife beauty pageant?
The Frugal Fox: Zwilling Twin Signature
Budget shoppers, come hither! The Zwilling Twin Signature rides in to save your day. It's the Robin Hood of Zwilling's kingdom – affordable, reliable, and oh-so-lovable. That said, it carries a stamped blade that's less durable and also happens to be a bit lightweight.
Perfect for a casual date night, but for a significant culinary event? Think again!
The Unsung Star: Zwilling Gourmet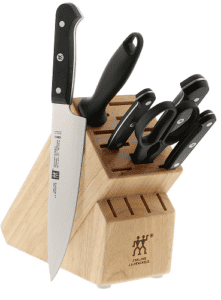 Now, meet the quiet kid on the block, Zwilling Gourmet. This collection is like an unsung pop song—catchy but often overlooked. With its pocket-friendly price tag and notably lightweight design, it slides seamlessly into budget and low-intensity cooking scenarios.
However, lacking a bolster leaves a bitter aftertaste, making adventuresome cooking a risky play.
The Elite Samurai: Zwilling Kramer Meiji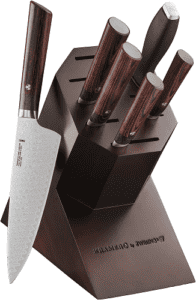 As we leave the land of affordable knives, it's time to bow down to the absolute elites—the Japanese-forged knives. Starting with the Zwilling Kramer Meiji. Artistic, flamboyant, with a wallet-wrenching price tag, this collection rivals a Picasso masterpiece.
The fine carbide stainless steel blade lends superior edge retention, while the Japanese style adds a touch of Eastern mystique to your kitchen. Put on an elegant kimono and get ready to cook with class!
The Noble Warlord: Zwilling Kramer Carbon
Last but undoubtedly not least, we have the Zwilling Kramer Carbon. This top-tier collection stands as Zwilling's priciest. Much like a noble warlord, it commands respect (and a sizeable portion of your wallet).
Its high-carbon steel blades can challenge the sharpest samurai sword while demanding extra maintenance and skill. These knives are the culinary equivalent of driving a Ferrari—bold, exciting, and exuding luxury.
Strike the Perfect Balance
It's not rocket science, folks! When selecting the perfect Zwilling collection, it's all about striking a balance! Zwilling knives are like flavors of your favorite gelato—each constitutes a world of its tastes and experiences.
So, whether you're a budget buyer or a splurge-worthy culinary enthusiast, remember to take a playful, light-hearted look at your options.
The right knife will be the one that fits snugly in your hand, makes chopping feel like child's play, and brings a wide grin to your face each time you wield it. Happy cooking, everyone!
Experience the joy of effortless chopping and slicing! Why wait? Grab your Zwilling Pro or Twin Signature block set now and let the cooking do the talking.