What Knives Does Hell's Kitchen Star "Gordon Ramsay" Use? (Gordon Ramsay Knives 2022)
Gordon Ramsay knife set recommendations are a Chef's knife, paring, carving and serrated. Most knives are made of stainless steel. French steel is softer, so easier to sharpen, but more vulnerable to wear. German steel is harder, so takes more skill to sharpen, but it will maintain its sharp edge for longer.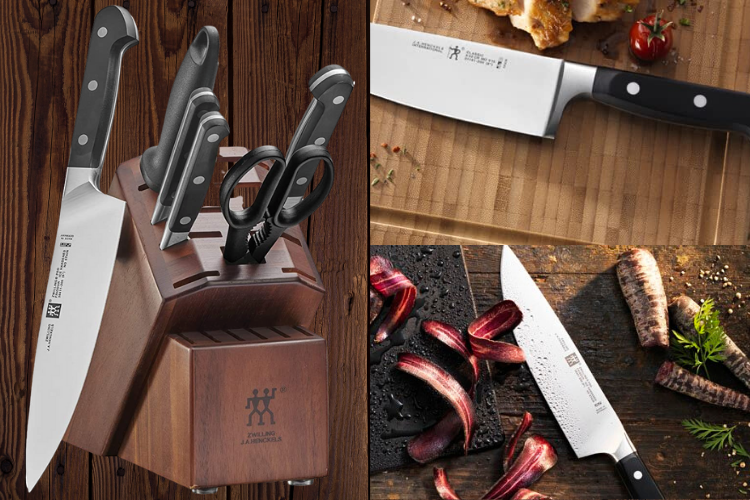 Whether you aspire to become a master chef or simply a solid home cook, learning basic knife skills and practicing them often is a must. Purchasing a high-quality Wusthof knife set that fits perfectly into both your budget and the size and shape of your hand is step one. Chef's knife is the backbone of every professional chef and will speed up a chef's progress.
Gordon Ramsay uses both Wüsthof and Henckels branded knives; the brands are known for quality products, and they are two of the best knife manufacturers in the world. Wüstoff has been making knives since 1814, and Henckels has been around since 1895.
Gordon Ramsay's Fox TV series Hell's Kitchen, the contestants, uses Henckels knives, and on his online cooking course, Gordon uses Wüsthof. Both are two of the top knife manufacturers globally, and they're known for quality products.
What Knives Do Chefs Recommend: A Few Select Knives Meet Most Kitchen Needs.
While the chef's knife is indispensable, you will find a full set of knives in any good professional kitchen. Purchase the best high-end knife set for those that meet your needs and add to your collection as you build up your kitchen skills and continue to learn.
Gordon Ramsay Gordon Ramsay recommend knives are;
Chef's knife for chopping.
Paring knife for peeling cutting small vegetables and fruit.
Boning knife with a flexible blade to cut around meat and bone.
Serrated or bread knife.
I've used and recommend both knife block sets, Henckels Zwilling Pro 7-pc Knife Block Set or Classic 16-piece Walnut Knife Block Set, both available on Amazon.
Both brands are manufactured with a high-carbon steel alloy, a blend of iron, carbon, chromium, and other rust-resistant metals, easy to sharpen and hold an edge. They are good high-carbon knives that will last you a lifetime.
Does Gordon Ramsay Have a Knife Set?
Yes, for everyday use, the Royal Doulton collection of kitchen knives designed by Gordon Ramsay features knives that are most useful in the kitchen. A complete range of knives enables even an inexperienced cook to chop, slice, mince, or dice just like Gordon Ramsay himself in the kitchen.
What are the Top 3 Knife Brands Professional Chefs Prefer?
The top knife brands preferred by most professionals include Wüsthof Classic, J.A. Henckels International Classic, and MAC MTH-80 Professional Chef's Knife. But Selecting a chef's knife has a lot to do with personal preference, considering the knife's sharpness, balance, and versatility.
Best Chef Knives for Home Chefs
Knives are understandably the most valuable tools a cook has; consider them as extensions of your hands. When buying the best kitchen knives set, be certain to choose ones constructed from high-carbon stainless steel, hard metal that, once sharpened, tends to stay that way. Some purists favor carbon steel knives, which may take a sharper edge originally but won't hold it for as long.
Unique ceramic blades are ultrasharp but very delicate. When it comes to handles, I favor wood over-molded plastic. A simple shape and a smooth texture rather than a pebbled finish. When buying a knife, always make certain that it feels comfortable in your hand; otherwise, even the minutest amount of knife work will become a daunting chore
Buy: Henckels Zwilling Pro 7-pc Knife Block Set, at Amazon
Buy: Wusthof Gourmet 18-pc Cherry Wood Block Set, at Amazon
Gordon Ramsay Professional Chef'S Knife For Thinly Slicing, Dicing

A chef's knife is used for thinly slicing, dicing, separating large cuts of meat, and mashing garlic cloves with the blade's side. When buying a chef's knife, you need to look for a handle that fits y our hand and isn't overly heavy. The knife should feel balanced and weighty enough to divide meat from the bone.
An 8-inch blade: This length provides plenty of power without being unwieldy. A good chef's knife's edge should have a long, gently sloping curve suited to the rocking motion of mincing and chopping.
The knife should be substantial but lightweight: The knife should have enough heft to get the job done but not be so heavy that it becomes tiring to use. Keep in mind that forged, meaning it was molded from hot steel, are weightier than stamped, punched out of a sheet of steel. Also, the handle should help to balance the knife weight.
Buy: Henckels Zwilling Pro 8″ Chef's Knife, at Amazon
Buy: Wusthof Classic 8 Inch Chef's Knife, at Amazon
Best Paring Knife For Peeling, Slicing, and Coring
A paring knife is used for peeling, slicing, and coring and fine work such as removing vanilla beans out of the pod. When buying a paring knife, you need to look for a thin edge that's also spear pointed, or, for fast, exact cuts, is flat so it's flush with the cutting board.
A 3- to 3 ½-inch blade: This size is just right for various cutlery tasks.
Choose a blade with agility: A sharp, agile edge, which can fit into tight corners and can handle tight curves when peeling and paring, is much more important than weight and balance. A paring knife's edge should be somewhat flexible for easy maneuvering into tight spots (such as tomato cores) and handling curves when peeling and paring.
Buy: Henckels Zwilling Pro 4″ Paring Knife, at Amazon
Buy: Wusthof Classic 4″ Paring Knife, at Amazon
Carving Knife Used for Making Thin Cuts of Meat From A Larger Cut

A carving knife is used for making thin cuts of meat from a larger cut. When buying a carving knife, you need to look for a long, thin, very sharp cutting edge with a pointed tip. It should have less curvature than the chef's knife as it's for slicing rather than rocking.
Buy: Henckels Zwilling Pro 8″ Carving Knife, at Amazon
Buy: Wusthof Classic 8 " Carving Knife, at Amazon
A 12-inch blade with a rounded tip: About 12 inches long and 1 ½ inch wide allows for a single stroke to cut through even large cuts of beef. A rounded tip is vital for easy slicing because it won't get snagged on meat the way a pointed tip would cut down.
Get a grant-edged knife: These knives have elliptical scallops carved into both sides of the blade, creating a thinner knife without losing the weight or rigidity carried by the top perfect for creating thinner slices with slight effort.
Serrated Knife Used With Foods That Have A Coarse Crust or Smooth, Soft Skin

A serrated knife is used for foods with a coarse crust or smooth, gentle skin, such as cake, bread,   or large tomatoes where accuracy isn't needed. When buying a carving knife, you need to look for a long edge, a comfortable handle, and deep, pointed serrations.
A 10- to 12-inch blade: Knives shorter than 10 inches lead to catching their tips on larger loaves. The knife should also be slightly flexible for better maneuverability, however firm enough to allow for proper control.
A curved knife makes cutting easier: A somewhat curved blade helps a rocking motion keep knuckles from rubbing on the cutting board.
Buy: Henckels Zwilling Pro 8″ Serrated Knife, at Amazon
Buy: Wusthof Classic 8 " Serrated Knife, at Amazon
How Knives are Constructed
Knives are either stamped or forged. The most widely sold are stamped lightweight blades; they're made by cutting a hole out of a sheet of steel. Forged are made by heating, hammer, and then cooling metal, which forces metal atoms together into miniature crystal bunches, producing a more resilient "fine-grained" metal. The following is a basic knife guide that every home cook should know.
Buy: Henckels Zwilling Pro 7-pc Knife Block Set, at Amazon
Buy: Wusthof Gourmet 18-pc Cherry Wood Block Set, at Amazon
Knives Made from Carbon Steel
This metal is a basic blend of iron and carbon different other steels that have additional elements combined. A well-maintained knife will stay sharp much longer than one made from stainless steel, but it is prone to rust when it comes to carbon steel, so careful maintenance is required on all knives, a good cleaning, drying, and oiling after daily use.
Knives Made from Stainless Steel
Chromium is added to the iron-carbon blend to yield more flexible and rust-resistant steel. Good superiority stainless steel has an exceptional grain for sharpness, and it can be made alloyed with other metals to make it durable. Simple to sharpen and sturdy, often most practical for the home cooks are knives made of stainless steel.
Knives Made from Stainless Ceramic
A perfect choice for cutting through meat are ceramic blade; they are very sharp, light, and hard. The blades are typically made of zirconium oxide, then ground to a straight razor-sharp. The blades are rust-resistant but don't flex like steel are hard to sharpen, so they can definitely break or chip if they strike bone or are dropped.
Related:
The 10 Best Kitchen Knife Sets For Home Cooks
Additional Resources:
https://www.google.com/books/edition/Gordon_Ramsay_s_Home_Cooking/IGSwLLETenMC?hl=en&gbpv=1&bsq=knife
https://www.google.com/books/edition/Gordon_Ramsay_s_Home_Cooking/IGSwLLETenMC?hl=en&gbpv=1&bsq=W%C3%BCsthof