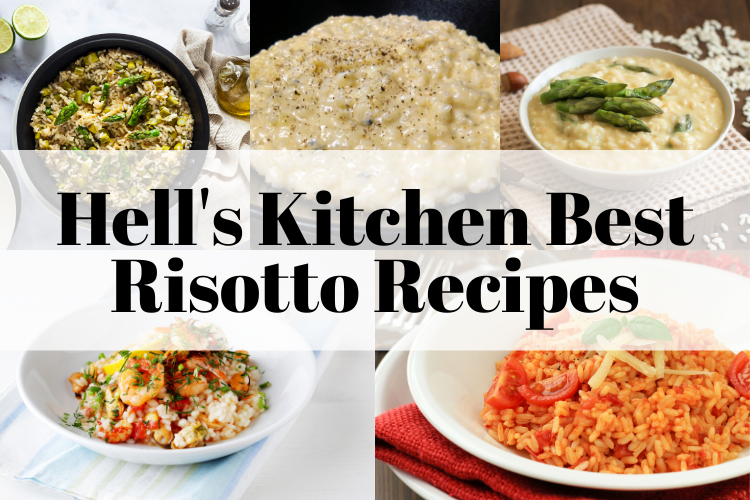 Risotto is the greatest thing to come out of Italy since pasta. Riso is "rice" in Italian and risotto is rice that has been cooked in broth until it is creamy. Although risotto is primarily a dish from Northern Italy, there are many modern variations of this tasty dish.
How to Make Gordon Ramsay Top 5 Risotto Recipes
1. Lobster Risotto
This is a simple, yet luxury meal. Using Lobster Shells is much better than a bouillon stock. I had some leftover steamed asparagus spears, cut them up, and tossed them in at the end.
How to Make Gordon Ramsay Lobster Risotto
2. Mushroom Risotto with Parmesan Cheese
This Hell's Kitchen Mushroom Risotto recipe is so delightful it one of the most easiest variants of all risotto recipes. The real secret comes from using portobello mushrooms and white mushrooms with chicken stock, but you can substitute vegetable stock if you like.
How to make Gordon Ramsay Mushroom Risotto
3. Creamy Asparagus Risotto with Lemon and Mascarpone
This green-hue arborio rice dish that often catches the camera as served as an app to Hell's Kitchen diners. It's a spring asparagus, brightened with lemon and enriched with a dollop of mascarpone. Serve your risotto as soon as done, as it continues to cook after it's removed from the heat and can start to dry out and become soft.
How to Make Gordon Ramsay Green Asparagus Risotto
4. Lobster Butternut Squash Risotto
After watching Chef Christina make Lobster Butternut Squash Risotto, I couldn't wait to start making it myself. The recipe combines sweet, buttery butternut squash and creamy risotto with herbs and Parmesan cheese, with butternut squash bursting with a truly gourmet flavor.
How to Make Gordon Ramsay Lobster Butternut Squash Risotto
5. Shrimp and Scallop Risotto
Risotto can every so often be an overwhelming dish to make, but this Shrimp and Scallop risotto recipe, adapted from Hell's Kitchen by Gordon Ramsay doesn't have to be. It works, even if you don't prepare any of the elements in advance. Stirring continuously because so risotto recipes demand it.
How to Make Gordon Ramsay Seafood Risotto
Related:
Gordon Ramsay's Top 5 Fish Recipes
Best 10 Hell's Kitchen Chicken Recipes
Best 10 Hell's Kitchen Fish Recipes
Best 3 Hell's Kitchen Mashed Potato Recipes