As one of the world's most renowned chefs, Gordon Ramsay has built an empire around his culinary expertise. From his many restaurants to his television shows and cookbooks, Ramsay is known for his passion for cooking and dedication to using only the best tools and ingredients. With that in mind, it's natural to wonder what brands of cookware does Gordon Ramsay use and recommend? (Learn more about Are Gordon Ramsay's Pans Good)
Gordon uses ScanPan in his first MasterClass Cooking Classes, but he uses HexClad Brand at Home and in some of his restaurants worldwide. The unique hybrid technology of Hexclad combines stainless steel and nonstick functionality for browning, searing, and deglazing with little oil.
You'll be pleased to know that HexClad and ScanPan are available on Amazon. You can have your own durable, versatile, and environmentally friendly cookware delivered to your doorstep. Don't wait any longer to upgrade your kitchen and take your cooking to the next level.
The Versatility and Durability of HexClad Cookware
According to Gordon Ramsay, HexClad cookware's unique combination of stainless steel and nonstick functionality is what caught his eye. This hybrid technology allows cooking with little to no oil, making it healthier. Additionally, the cookware is versatile and can be used for browning, braising, searing, and deglazing, which are important techniques used in professional cooking.
The HexClad cookware line is reportedly environmentally friendly and free of PFOA, a harmful chemical commonly used in nonstick coatings. However, it is worth noting that HexClad cookware does contain some PTFE, another material commonly used in nonstick cookware.
While HexClad cookware is expensive, it is also built to last, and Gordon Ramsay estimates that it could last for 20 to 30 years. This durability makes it a worthwhile investment for those who cook frequently and want a cookware set that will stand the test of time. (Check this out Gordon Ramsay Cookware: What Pots and Pans Does He Use)
HexClad cookware has gained popularity among home cooks and professional chefs, with Gordon Ramsay even using it in his restaurants. The cookware is also featured in his cookbook and television show.
HexClad's unique hybrid technology has won over some chefs and home cooks due to its versatility and ease of use. While nonstick cookware is generally not used by professional chefs. But you must note that Hexclad cookware is PFOA-free but contains some PTFE. PTFE is in over 95% of all nonstick cookware, including ceramic-based nonstick.
What brand of cookware does Gordon Ramsay use?
According to HexClad's official website, Ramsay says, "HexClad stands up to my demands at home and in the studio. They are beautiful pans, and their hybrid technology perfectly cooks."
What is the best cookware, according to Gordon Ramsay?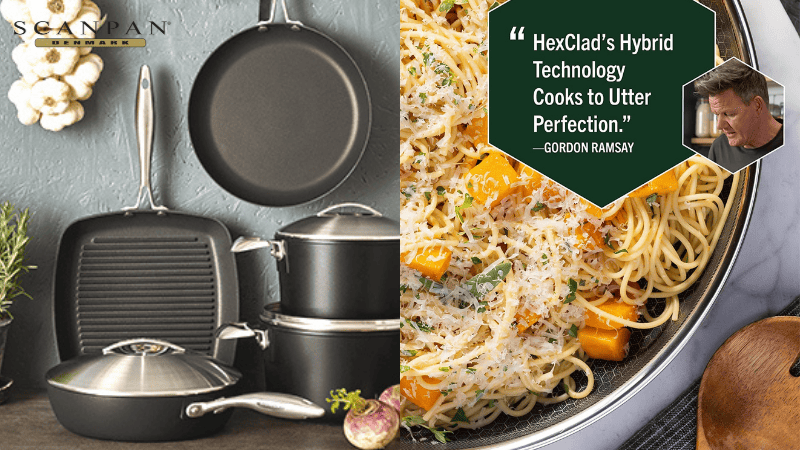 You may have seen HexClad mentioned on Gordon Ramsay's show Next Level Chef on FOX. At Yahoo.com, it was said, "HexClad, the hybrid cookware brand, does. And they're the pans that professional chef Gordon Ramsay uses at home. After using and liking them, he became a partner of the brands."
Does Gordon Ramsay have his cookware?
It was noted that at Royal Doulton  it was said that "His award-winning kitchen products produce some of the finest dishes in the world, and now with dishes, plates, knives and more from the Gordon Ramsay cookware, dinnerware and crockery by Royal Doulton collections, you can re-create these for yourself."
Is HexClad really that good?
According to Taste of Home, "HexClad's pots, pans and woks have hundreds of five-star Amazon reviews. HexClad cookware is designed to feature all the positives of cast iron, stainless steel and nonstick pans with none of the negatives. Like cast iron, it's sturdy, resilient, and retains tremendous heat."
Why does Gordon Ramsay like HexClad?
At the HexClad official website, "That's why HexClad stepped up the cooking game with the revolution in technology that cookware needed. It performs like nothing you've used before. Plus, it's versatile, safe, and cooks like a dream. No wonder Gordon Ramsay can't get enough."
Preview
Hybrid Stainless Steel
Induction Compatible
Oven Safe 600F
Hard Anodized Nonstick
Title
HexClad 6 Piece Hybrid Stainless Steel Cookware Pan Set 8″, 10″, 12″ with Glass Lids, Stay Cool Handle, Non-Stick, Dishwasher, Oven Safe, Works on Induction, Ceramic and Gas Cooktops
ScanPan CTX Stainless Steel-Aluminum 8 and 10.25 Inch 2-Piece Fry Pan Set – 65202600
All-Clad D3 3-Ply Stainless Steel Cookware Set 10 Piece Induction Oven Broil Safe 600F Pots and Pans
Viking Culinary Hard Anodized Nonstick Cookware Set, 10 Piece, Dishwasher, Oven Safe, Works on All Cooktops including Induction