Gordon Ramsay's asparagus is a delicious, easy-to-make side dish that can elevate any meal. This dish features tender asparagus spears that are quickly blanched, seared in a hot skillet until blistered and crispy, and finished with a simple salt, pepper, and lemon juice seasoning. That can transform any ordinary meal into a culinary masterpiece. (Also see Gordon Ramsay's Best Mashed Potato Recipes: A Collection of Creamy and Flavorful Side Dishes)
Delicious and incredibly easy to make, requiring only a few simple ingredients and minimal equipment. With just a few simple ingredients and minimal equipment, this dish is a must-try for anyone looking to add a touch of gourmet flair to their home-cooked meals. (Find more great Recipes here Gordon Ramsay's Hell's Kitchen Best Recipes)
Equipment Needed for Gordon Ramsay Blistered Pan-Seared Asparagus
To make Gordon Ramsay's blistered pan-seared asparagus, you will need the following equipment:
A large skillet or frying pan
Tongs or a spatula for flipping the asparagus
A sharp knife for trimming the asparagus ends
A peeler (optional) for peeling the asparagus stalks
A bowl of ice water for blanching the asparagus
Paper towels for drying the asparagus
Olive oil or cooking spray for greasing the skillet
Salt and pepper for seasoning the asparagus
Lemon juice (optional) for finishing the dish
It's a simple recipe that requires minimal equipment, and most of these items are likely already in your kitchen.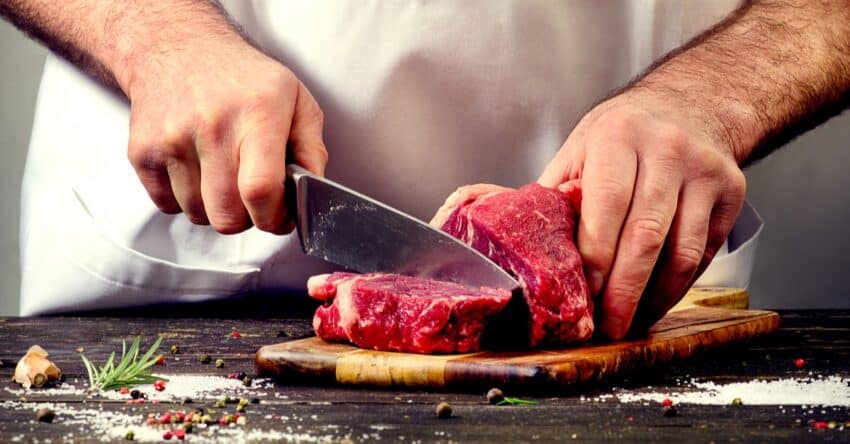 Our Favorite Products in One Convenient Place
Visit the Hell's Kitchen Reviews Amazon shop to browse a handpicked selection of our favorite cookware, kitchen knives, appliances, and more.
How to Make Gordon Ramsay Sauteed Asparagus
White asparagus has a shorter season, about 2 months between April and June. If you can't find white, you can use green asparagus. Gordon Ramsay likes this recipe's color contrast between white and green asparagus. The white is naturally sweet with a rich texture, and the green is more earthy with vivid green color. (Need to see Homemade Orecchiette Pasta)
Start By taking both white and green asparagus and trimming the woody ends off; you can set them aside to use them for stock. They trim the green and white asparagus spears until they reach about 5 inches long. Ow beginning from the asparagus trimmed end cut about ½ inches off the remaining asparagus. ( Everyone raving about Healthy Sautéed Spinach Recipe for Any Meal)
Now on medium-high heat in a large cast-iron skillet. Liberally Season the asparagus spears with lemon salt and black pepper. Now add ex-virgin olive oil into the hot cast-iron skillet until it smokes. Place the asparagus spears into a cast-iron skillet layered evenly and any remaining seasoning left in the tray.
Sauté until the white begins to char and the green of the asparagus brightens about 90 seconds. Turn the asparagus spears; now you can add the butter, shake the skillet and the butter with begin to melt to the bottom of the pan. Let asparagus spears char the butter brown and the for about 90 more seconds.
Add vegetable stock to Deglaze the skillet. Remove heat the place piece of foil on the top of the asparagus spares, letting them steam for 2 to 5 minutes. Now with the edge of your knife, Check if it cooked the way you like. If they feel firm to your likeness, let them simmer on low heat for 2 more minutes. If your knife cuts through the asparagus spare somewhat simply, you can take them off the heat and put them to one side until you are ready to plate them with your main.