Some of the best German knife brands include Wusthof and Zwilling. Wusthof is a family-owned business that specializes in producing high-quality knives. On the other hand, Zwilling is a coalition that owns several companies, including Staub cast iron and Demeyere cookware, in addition to the renowned Zwilling brand.
Whether you're a professional chef or a home cook, investing in a quality German knife can make a big difference in the ease and effectiveness of your food prep. Renowned for their craftsmanship and consistently producing top-tier products. Indeed, the world's best blades are manufactured in Germany, making several German knife brands become staples in the culinary world internationally.
Let's take a look at the eight best German knife brands.
WÜSTHOF German Knives
Based in Solingen, Germany (home to many other popular German kitchen knife brands), for many, Wüsthof has remained the world's premier knife brand for over 200 years. Established in 1814, this family-owned company prides itself on staying true to its roots, maintaining product quality, and advancing crafting techniques.
Wüsthof has maintained its popularity because it continued developing its knives based on the progressing needs of the market and providing new features that perfectly serve even its most demanding clients. In short, the Wüsthof experts have been able to think ahead and create knives that redefine what a premier product is. Therefore, several renowned chefs, such as Gordon Ramsey, have selected Wüsthof as their primary chef knife brand of choice, which has led to the company gaining worldwide recognition.
Even though they make many knives, Wüsthof is mainly known for producing robust forged knives and is considered an expert in their manufacturing. Forged knives are considered to be the most durable and long-lasting.
Specifically, Wusthof knives contain quality stainless steel from Germany, among other metals, ensuring their hardness and making them corrosion-resistant. Their blades go through multiple levels of testing to ensure that the final product will be on par with the company's reputation.
Under Wüsthof, several other knife lines have various designs based on their intended use. The original series of knives that Wüsthof produced was the Classic line of forged knives, which gave the company its reputation for making durable, long-lasting kitchen knives.
Others include the Amici and the Amici 1814 series, which incorporate Italian design styles, the Aeon knives made with black Diamond-Like Carbon (DLC) coating for more hardness; Classic Ikon, Ikon, Crafter, Gourmet, their laser-cut knives; and Performer.
You can last many years without practicing extensive maintenance by purchasing a Wusthof chef knife or Wusthof Classic Ikon set. Rusting, which often happens to many kitchen knives, should not be a problem with a Wüsthof due to its high quality. Of course, this doesn't mean you should significantly keep your kitchen tools under extreme conditions if you have invested a certain amount of money.
Wüsthof also offers various types of knife sets for all sorts of purposes. Besides a professional chef knife, you also get most of the essential tools you need, such as a paring knife, a utility knife, a carving knife, kitchen shears, and much more, based on the knife block you choose.
Zwilling
Another Solingen-based German knife brand, Zwilling JA Henckels, is perhaps the oldest company, founded in 1731. Due to its long presence in the market, Zwilling knives have a long-established reputation based on their value.
Henckels produces various kitchen knives with diverse designs, functions, and price points. While these multiple lines can be very different, they tend to have similar names. For example, a Zwilling knife is produced under Zwilling J.A. Henckels and is considered a premium forged knife made in Germany. These are the knives that, much like Wüsthof, chefs prefer.
On the other hand, a Henckels knife is produced under Henckels International and manufactured in China, Spain, and Thailand. While both blades are made based on the company's standard quality practices, Henckels knives come at more affordable prices and are usually stamped instead of forged.
Both Zwilling and Wüsthof knives are reliable because they are made with materials specifically selected to maximize their endurance in time. They are mainly made with high-quality stainless steel and forged, ensuring their strength and preventing them from bending, chipping, etc.
Zwilling is also known for the large variety of its quality knife sets. Sets can include paring knives, serrated knives, santoku knives (best for slicing), chef's knives, steak knives, kitchen shears, and more. Other tools can be boning knives, cheese knives, and kitchen shears.
The main advantage of purchasing a kitchen knife from Zwilling JA Henckels is that you get a product made with the signature German craftsmanship but at a more affordable price, which can be a dealmaker for people on a budget.
Messermeister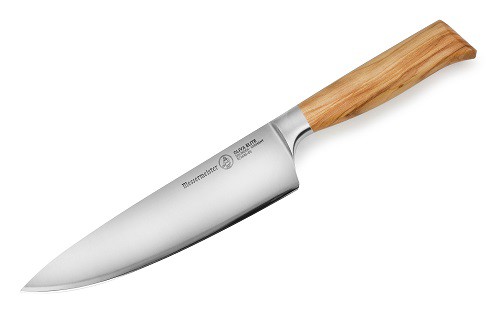 Messermeister is also known for using the traditional forging techniques that have made German knife brands famous. Founded in 1981 by German-born Bernd Dressler, Messermeister is now based in California and led by Dressler's daughters, Chelcea and Kirsten, who continue running the company by highlighting its German roots.
Messermeister knives blend innovative Western design with traditional European engineering. They are made from famously German solid steel. These high-value knives are also famous for their durability and sharp blade, resulting from hand-finishing. They are also carefully hot-dropped and forged to create the best and most reliable kitchen knife possible.
Messermeister has not been on the market that long compared to the previous two entries on the list. For that reason, its prices might generally be more affordable. However, some models by Messermeister are indeed priced higher. Purchasing a Messermeister knife ensures a quality product that will last.
The brand has a great collection of knives to choose from. Some of the knives offered are paring knives, serrated knives, santoku knives, chef's knives, steak knives, carving knives, fillet knives, boning knives, utility knives, and cleavers. Customers have the option to purchase knives in sets or individually.
Mercer Culinary
Another American-based brand, Mercer, implements German methods to make quality knives. Mercer was founded relatively recently, in 1968, but it is still not the youngest company on the market. Their knives are manufactured in Taiwan with precision-forged German steel blades.
Although they may not be traditionally German or manufactured out of Germany, Mercer still models their design and construction to the traditional German style. Mercer uses a complete tang design of high-carbon German steel for its blades to make durable and balanced knives.
Mercer has quickly built up its reputation by being "ChefCentric," which focuses on the food service industry. The brand values the experiences and needs of culinary professionals and concentrates on building innovative and efficient cutlery to help solve the everyday challenges present in food service operations.
The brand includes an extensive line of products for various purposes (sets and individual knives). Its knife series include MX3, ZüM, Renaissance, Genesis, BPX, Millennia, Millennia White & Colors, Praxis, Ultimate White, and Asian Collections.
Customers get a lot of functions with a Mercer knife due to its well-thought and cleverly designed form. Moreover, the brand offers various blades that serve every chef's needs.
Güde
Another knife brand originated in Solingen, the "City of Blades," Güde, was founded in 1910. Güde is perhaps one of the most traditional German knife brands available.
Franz Güde, the company's second owner and son of its founder, invented the back-set serration method, which is still used in slicing machines today. He also invented the "Güde- serrated edge," a serrated edge with pointed teeth that allows easier cutting of more slippery textures.
To be made, Güde knives have to go through an over the 50-step process. The blades are meticulously created using top-quality German steel and other metals to meet the premium quality the brand's followers are accustomed to.
Güde has perhaps the most extensive collection of knives on this list. These collections are Synchros, Alpha, Damascus Steel Knife, Kappa, Delta, and Caminada. Moreover, knife styles are under the Alpha collection, such as Pear, Walnut, Olive, Barrel Oak, Mikarta, and Briccole Di Venezia. The "Güde- serrated edge" can be found in the brand's classic Güde Bread Shaw.
What is certain is that Güde has something for everyone, especially those looking for more stylized but still highly reliable blades.
Boker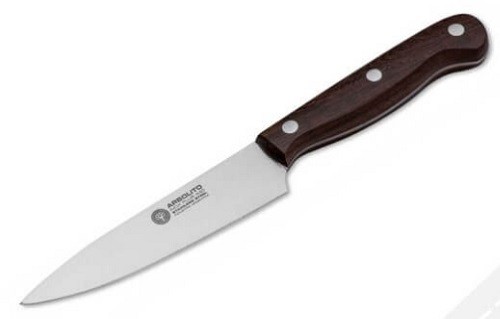 Another brand with a long history, Boker, started manufacturing goods as early as the 17th century and became one of the top-ranked companies in Germany and the neighboring countries. What distinguishes this brand and the Boker knife is that it produces many other types of knives and kitchen knives, such as pocket knives, fixed-blade knives, razors, axes, swords, and more.
The brand offers various kitchen knives, including all the staple items someone wants in their household. This includes professional chef knives, peeling knives, bread knives, santoku knives, utility knives, carving knives, filet knives, butcher's knives, and more. For those interested in practices beyond cooking, Boker also offers excellent hunting, fishing, and sailing knives.
While Boker is less popular than the brands at the top of the list, it offers some excellent alternatives for those looking for a good collection of knives.
Cangshan Cutlery
Chinese-born Henry Liu founded Cangshan, initially based in China, before expanding worldwide. Cangshan offers different styles, such as both Western and Japanese knives. In 2020, the company partnered with factories in Solingen and Seki, Japan, to start manufacturing new German and Japanese knives. However, most of the company's knives are made in Yangjiang, China, using high-quality steel.
Cangshan has a variety of collections, such as the Thomas Keller Signature Collection, Kita series, Prazision Series, TN1 Series, TC Series, TS Series, J Series, and many more. Cangshan offers both forged and stamped knives, with the majority being forged. Though the TG, W, and P2 Series are exclusively stamped, Cangshan guarantees top-quality kitchen tools.
Hen & Rooster
Hen & Rooster was founded in Solingen around 1845 by Carl Bertram. After several years of successful endeavors, the company changed many hands, and it is currently owned by Frost Cutlery, which distributes its products in the United States. However, Hen & Rooster knives are manufactured in Solingen, Germany. The company is known as the "World's Finest Since 1845."
Hen & Rooster produces pocket, fixed-blade, Swiss, and more. The brand offers several individual knives and knife sets in terms of kitchenware.
A Variety of Options for German Kitchen Knives
Based on the list above, there are several great selections for those that look for reliable, easy-to-use, and safe kitchen knives. Most of the options above are world-renowned brands with several decades (and sometimes centuries) of experience manufacturing excellent quality knives.
Most, if not all, brands originate in the "City of Blades," and some still make their knives there today. Even the brands that do not manufacture their products in Germany use German stainless steel to create durable knives with the sharpest blades.
Of all the previously mentioned brands, two are highlighted, Wüsthof and Zwilling, by being first on the list for their long-proven reputation and the fact that most top chefs select them for their work.