When dominating the kitchen, the right tools can make all the difference. For anyone who's ever gone head-to-head with a stubborn butternut squash or carefully sliced through juicy tomatoes, you know what I'm talking about.
Yes, I'm talking about the powerhouse of the kitchen – kitchen knives.
We all yearn for that dream kitchen knife that makes you feel like an "Iron Chef" in your kitchen, but the tireless debate is – Shun vs Zwilling (you're at the right URL!). Both are top contenders in the kitchen knife world.
They've been providing quality knives, so well-crafted, it feels like holding Excalibur in your hand (minus the whole "King of England" part, of course!)
Ready to transform your cooking experience with unparalleled precision and incredible ease? Don't wait! Click here to buy your Shun Classic or Zwilling Pro Chef's Knife on Amazon today and elevate your culinary skills to professional levels!
Shun vs Zwilling – What's the Big Deal?
These two brands hail from places known for their excellent craftsmanship of blades – Shun from Japan and Zwilling from Germany.
Shun's lightweight but sharp, awesomely built knife would make any sushi chef nod in approval, while Zwilling's German-engineered hefty and durable knives scream "Bring it on!" to any kitchen chore.
Are zwilling pro knives good Check it out!
Shun – The Nimble Warrior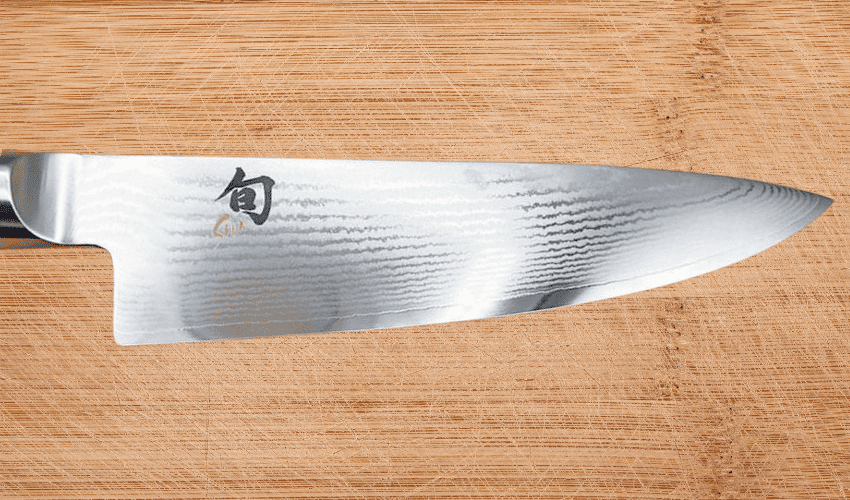 Shun knives bring the superior craftsmanship of samurai swords to your kitchen. Feel like a ninja slicing through your veggies with the Shun's thin, ultra-sharp blade, a result of the traditional Japanese style of knife-making.
Most of their ingredients are crafted from various steel types like VG10, AUS10A, AUS8A, dual-core VG10/VG2, and Shun's proprietary VG-MAX.
Check out the Top 10 Best Japanese Knife Brands.
Design and Collections
Shun offers nine distinct knife collections – Classic, Kanso, Premier, Dual Core, Premiere Blonde, Premiere Grey, Classic Blonde, Sora, and Seki Magoroku.
Each collection with its unique feature, like the "tsuchime finish" of Premier that prevents food from sticking, or the beautifully rustic look of the Kanso collection, adds style and substance to your kitchen.
Handle the Handle
Shun's handles are made from materials like Pakkawood or Tagayasan wood, providing a lightweight feel but a strong grip. Some collections, like the Sora, opt for PP/TPE for their handles, light and lasting polymer.
It's Sharpness, not Hardness.
Shun knives fall in the range of 60 to 62 on the Rockwell scale, denoting blade hardness. A larger scale means sharper knives but does come with the possibility of increased chipping. Shun ensures this duality is balanced, resulting in a blade that slices clean through your ingredients.
Zwilling – The Mighty Contender
Founded in 1731 (no kidding!), Zwilling brings the "City of Blades," Solingen's legacy, into every knife they craft. Their finely honed German-style knives feature a thick blade, contributing to a more substantial and versatile knife.
See for yourself, is Zwilling a good brand?
Design and Collections
Henckels Zwilling Knives offers an extensive range of 17 knife collections. The popular ones include the Pro, Four Star, and Professional S collections.
While many collections feature a corrosion-resistant blade and a substantial handle, some, like the Kramer collection, take it up a notch with an SG2 steel core surrounded by 101-layer Damascus steel.
Handle it like a Pro!
Most Zwilling knife handles are crafted from lasting, moisture- and heat-resistant plastic. However, a few of its high-end lines sport wood handles, and the Twin Fin II collection even brings in a stainless-steel handle.
The Hardness Game
Zwilling's knives, made of X50CrMoV15 steel, score a 57 on the Rockwell scale. This softer blade offers durability and edge retention while reducing the risk of chipping.
To Shun or Zwilling – What's best for my wallet?
Is Shun worth the money? Is Zwilling too mass-produced? There's no denying that Shun sits in the premium range segment with their high-end Japanese craftsmanship.
On the other hand, Zwilling accommodates both the amateur home cook and the culinary master, offering budget-friendly options to more high-end, premium collections.
Bottom Line: Shun or Zwilling – Decisions, Decisions!
Now, the big question – Shun or Zwilling? Here's a quick recap:
If you're looking for lightweight, precise, and uniquely designed knives (and you don't mind the price), sign up for Team Shun.
If you're after durable, versatile heavy-duty knives that provide a range of price points, Team Zwilling is the way to go.
So, it ultimately comes down to your kitchen ninja style! Check out Gordon Ramsay's Knives
Whether you're after the skill of Shun or want to plunge into action with the sturdiness of Zwilling, one thing is for sure – your meals are about to get a whole lot tastier!
Remember, while both are finalists in the kitchen knife game, it's not about which brand is better. It's about what feels better in your hand and your cooking style. So, may the best knife win! I mean in your kitchen, of course!
Happy chopping! Now get out there and create your culinary masterpiece!
Who said professional cutting tools are just for chefs? Unleash your inner culinary master with the Shun Classic or Zwilling Pro Chef's Knife. Buy on Amazon now, slice dice, and chop your way to gourmet meals!