Introducing the most delicious and nutritious way to enjoy a meat-free meal, the recipe for cauliflower steaks! This recipe is made from fresh and natural ingredients and is perfect for a healthy and satisfying meal. (Must Try Best Mexican Shrimp Tostadas Ceviche)
Cauliflower steaks are easy to make and offer various nutritional benefits. With each bite, you'll enjoy the unique flavor profile that makes cauliflower steaks so unique. This recipe is a true culinary masterpiece, from the crispy, caramelized exterior to the tender, juicy interior.
So what are you waiting for? With just a few simple ingredients and a little bit of preparation, you'll be on your way to enjoying a flavorful and satisfying meal that's both tasty and nutritious.
(also see Easy and Simple Homemade Ricotta Gnocchi)
How to Make Cauliflower Steaks with Almonds and Green Sauce
Ingredients:
1 cauliflower
40g (⅓ stick) butter
1 bay leaf
2 garlic cloves, peeled and crushed with the blade of a chef's knife
30g (⅓ cup) flaked (sliced) or chopped almonds
1 tsp cumin seeds
1 banana shallot (exhalation) or 2 regular shallots
3 tbsp flat-leaf parsley leaves
For the Green Sauce:
2 tbsp mint leaves
2 tbsp dill
1 tbsp oregano leaves or ½ tsp dried oregano
2 tbsp red wine vinegar
2 tsp dark brown sugar
2 tsp Dijon mustard
80ml (scant ⅓ cup) olive oil
Sea salt and freshly ground black pepper
Instructions:
Start by cutting two thick steaks from the center of the cauliflower. Save the remaining florets for recipes like Bacon Cauliflower Cheese on Toast or Bang Bang Cauliflower. (Need to try Vegetarian Carbonara Recipe: Delicious and Easy to Make)
Place the cauliflower steaks in a shallow frying pan with a lid. Add half of the butter, the bay leaf, crushed garlic, and 100ml (scant ½ cup) of water. Cover the pan and cook over high heat for 6-7 minutes until the steaks are soft.
In the meantime, put the almonds into a separate saucepan with the remaining butter and cumin seeds. Cook over medium heat, stirring occasionally, for 2-3 minutes until the almonds turn golden brown.
Peel the shallot and slice it into rings. Set them aside for later.
Remove the lid from the cauliflower pan to allow the liquid to reduce slightly.
Once the almonds are golden brown, set them aside in the pan. Flip the cauliflower steaks and let the liquid in the pan reduce further.
Meanwhile, prepare the green sauce. Place all the ingredients for the green sauce into a blender and blitz until smooth.
Mix the parsley leaves and shallot rings, then stir in 2 tablespoons of the green sauce.
Once the cauliflower steaks are cooked and tender, place them on two plates. Spoon the almonds in butter, along with any remaining butter from the cauliflower pan, over the top of the steaks. Divide the parsley and shallot mixture between the two plates. Drizzle the steaks with the remaining green sauce.
Kitchen Equipment Needed
Shallow frying pan with a lid
Blender
Saucepan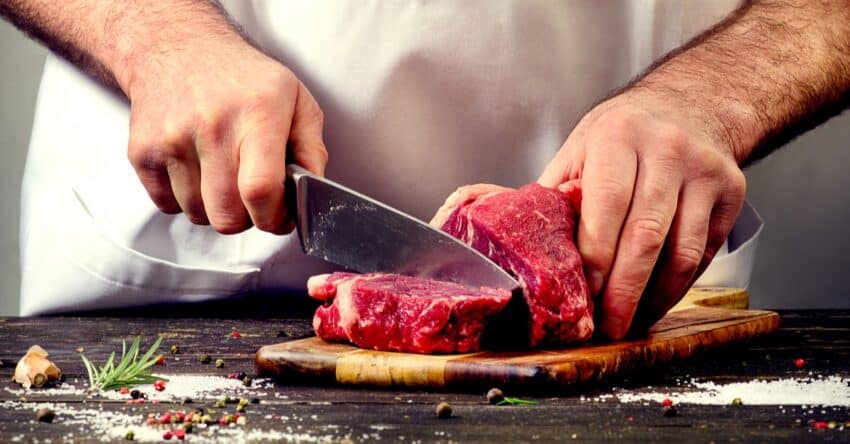 Our Favorite Products in One Convenient Place
Visit the Hell's Kitchen Reviews Amazon shop to browse a handpicked selection of our favorite cookware, kitchen knives, appliances, and more.
Storage and Leftovers
These cauliflower steaks are best enjoyed immediately while still warm and flavorful. Reheat them gently in preheated Oven-roasted cauliflower steaks until warmed through. However, if you have any leftovers, store them in an airtight container in the refrigerator for up to 2 days.
Food and Drink Pairings
These Cauliflower Steaks with Almonds and Green Sauce are already bursting with flavor, but you can enhance the meal with some complementary pairings:
Quinoa Salad: Serve the cauliflower steaks alongside a refreshing quinoa salad with diced cucumbers, cherry tomatoes, and a lemon vinaigrette.
Roasted Potatoes: Crispy roasted potatoes make a fantastic side dish to accompany the cauliflower steaks. Toss baby potatoes with olive oil, salt, pepper, and your favorite herbs, then roast them in the oven until golden brown and crispy.
White Wine: Pair this dish with a glass of crisp white wine, such as Sauvignon Blanc or Chardonnay. The wine's bright acidity and citrus notes will complement the cauliflower and green sauce flavors.
Recipe Variations and Tips
Add Lemon Zest: For an extra burst of freshness, grate some lemon zest over the roasted cauliflower steaks before serving. The bright citrus flavor will elevate the dish.
Spicy Kick: If you enjoy some heat, sprinkle a pinch of red pepper flakes or drizzle hot sauce over the cauliflower steaks before serving.
Nut-Free Option: If you have a nut allergy or prefer to omit the almonds, you can replace them with toasted pumpkin or sunflower seeds for a similar crunchy texture.
Grilled cauliflower steak: Instead of cooking the cauliflower steaks in a frying pan, you can grill them for a delicious smoky flavor. Brush the steaks with olive oil, season with salt and pepper, and grill over medium-high heat for 5-6 minutes per side or until tender.
Double the Green Sauce: If you like the vibrant green sauce, double the recipe. It's versatile and can be used as a salad dressing or a sauce for roasted vegetables.
FAQs (Frequently Asked Questions):
Can I make the green sauce ahead of time?
Absolutely! The green sauce can be prepared in advance and stored in the refrigerator for up to 3 days. Just give it a good stir before serving.
Can I use other nuts instead of almonds?
Yes, you can experiment with different nuts, such as walnuts or cashews. Toast them until golden brown and use them as a substitute for the almonds.
Can I make this recipe vegan?
You can make this recipe for Vegan cauliflower steak by substituting the butter with a plant-based alternative, such as vegan margarine or coconut oil.
What can I do with the leftover cauliflower florets?
The leftover cauliflower florets can be used in various dishes. Add them to soups, stir-fries, or even roast them alongside the steaks for extra cauliflower goodness.
With its combination of tender cauliflower steaks, crunchy almonds, and flavorful green sauce, this recipe is a standout dish that will impress your family and guests. Give this recipe a try, and let the flavors speak for themselves! The versatility of cauliflower makes it an excellent choice for vegetarians and meat-eaters.
Remember to share this recipe with your friends and family, and don't forget to subscribe to our blog for more exciting recipes and cooking inspiration. Happy cooking!