The contents of your pantry change occasionally, but your kitchen equipment remains constant.
In other words, you might research dry sea scallops or veal ossobuco to recreate some of your favorite MasterChef recipes. It would be best to hold off on doing so until you have equipped your kitchen with the necessary tools. It's easier than you think.
The essential items you need are some high-quality pots and pans. Heavy-weight stainless steel cookware with an aluminum core is ideal for home cooks.
The aluminum sealed into the base ensures that the heat will spread evenly underneath the pans but does not meet the food. So, what brand of cookware is used in the MasterChef TV series?
There are several MasterChef TV series worldwide. On the FOX TV series MasterChef America, the Viking brand is used; on MasterChef Australia, ScanPan CTX is used; and on MasterChef UK, the Circulon brand is used.
All the brands have a nonstick coating surface free of PFOA and PFOS, with a heavy-weight steel-clad aluminum core that works on induction cooktops.
I've used and recommended the best pots and pans. ScanPan CTX Stainless Steel and Viking Culinary Hard-Anodized Nonstick; visit the ScanPan or Viking Brand on Amazon.
Viking Stainless Steel Cookware MasterChef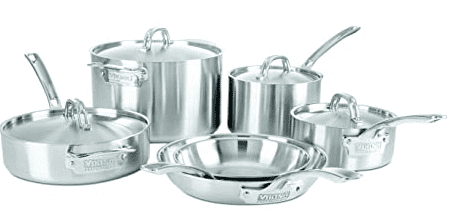 Viking Culinary has various cookware options for home chefs and various cookware options for home chefs.
You can find stainless steel, aluminum, nonstick, cast iron, and carbon steel. There are many products and materials to choose from.
With all prices, ensure you can fulfill Vikings' promise of professional-grade quality in your home.
Buy Viking Professional 5-Ply Stainless Steel Cookware Set or Viking Culinary Hard-Anodized Nonstick Cookware Set on Amazon.
ScanPan CTX 10-Piece Nonstick Cookware Set: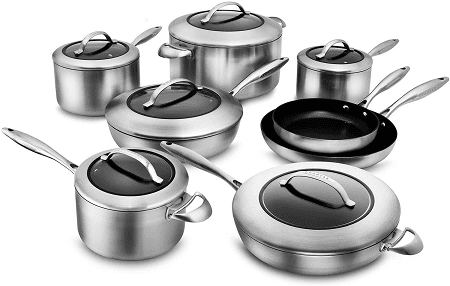 SCANPAN spent over two years developing the STRATANIUM nonstick technology from scratch.
STRATANIUM is made up of five layers. Hard particles and wave-like layers are interlocked to strengthen the nonstick layer.
STRATANIUM products are 50% more durable than previous surfaces.
Buy: ScanPan CTX Stainless Steel with Stratanium Nonstick Coating Cookware Set on Amazon
Circulon Stainless Steel Hard Anodized Cookware Set: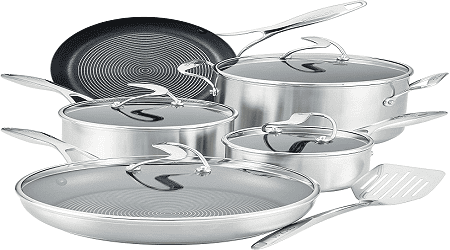 Creating delicious, healthy meals is quick and easy. With the Circulon Total Hard-Anodized Nonstick Cookware Set.
This convenient set includes all the kitchen essentials, from saucepans and French skillets to cookie pans.
And even a handy brush to help from prep through the final cleanup.
Buy: Circulon SteelShield C-Series Tri-Ply Clad Nonstick Stainless-Steel Cookware Set on Amazon
Thanks to the TOTAL Food Release System, enjoy great food release without adding oils. The cookware's heavy-duty hard-anodized construction provides even heating to help reduce hot spots that can burn food.
DuPont's Autograph 3-layer nonstick coating on raised circles also reduces surface abrasion. It lasts up to 15x longer* than other brands.
Home cooks can benefit from stainless steel cookware with a heavy-weight and versatile aluminum core.
The aluminum is sealed into the base of the pans so that heat spreads evenly underneath the pans but does not come into contact with the food. Aluminum reacts when exposed to acidic foods like tomatoes or wine.
It is recommended at least a one-quart, two-quart, and 4-quart saucepan. a Dutch oven of eight quarts, and a 10 or 12″ sauté pan with a lid. These are other valuable pans that you should have in your kitchen:
Pots and Pans Used on MasterChef Professionals TV Series
CAST-IRON SKILLET: Cast-iron pans are durable and highly functional cooking tools.
The oil is poured into the micro-peaks and valleys of the cast steel to create a smooth surface for cooking.
This pan is suitable for almost all types of cooking, but aluminum cannot be used for any acid-based foods like tomatoes and wine.
The heat helps drive the oil into the iron, creating a durable finish. It also protects the surface from rust. The bottom of the pan is shellacked with a nonstick, smooth coating.
WOK: A wok should be hand-beaten carbon steel, at least 14 inches in diameter.
A brand-new Wok must be scrubbed with a gentle cleanser or baking soda to remove the oil from manufacturing, dry thoroughly, and never rewashed with soap.
Once the WOK is scrubbed the first time, dry it and set it over a low flame on the stove. Pour in 2 tablespoons of vegetable oil and rub it all over the inside of the wok with a paper towel.
Continue heating for about 10 minutes, then wipe it out with a paper towel, which will be black. Repeat this process several times until the paper towel is clean.
The WOK will become further darkened and seasoned with each use. Wash it in plain water, and don't scrub with anything rougher than a plastic scrubber.
GRILL PAN: These cast-iron pans can be round, square, deep, or flat.
But their distinguishing marks are the raised ridges on the bottom. The ridges allow the fat to drain away from the cooking meat and make black grill marks on the meat.
STOCKPOT: A stockpot is a large, deep, straight-sided pot with a lid to make stock or boil large quantities of liquid. They range in size from 6 quarts.
GRATIN DISH: This shallow, flat casserole leaves a wide surface area for baking a browned crust on dishes with cheese or breadcrumbs.
CLAY POT: An unglazed clay dish in many Asian or Middle Eastern markets. The clay pot is soaked in water and sealed with a lid for slow cooking.
ROASTING PAN: Avast, deep, lidded pan, generally rectangular or oval. The roasting pan is used for cooking vast cuts of meat and poultry, such as turkeys.
TERRINE: The terrine is a narrow, tall-sided loaf pan, usually made of glazed earthenware. with a lid for cooking pâtés and terrines.
OMELET PAN: A small, slope-sided omelet pan must be well seasoned (see cast-iron skillet at left) before cooking omelets over high heat.
SPRINGFORM PAN: A round pan with a metal clasp that locks the base of the pan into the sides. When unlocked, it allows easy removal of baked goods such as flans or, more critically, cheesecakes.
Conclusion
Different regions have preferred brands regarding the cookware used in the MasterChef TV series. Viking cookware takes the stage in America, while ScanPan CTX steals the spotlight in Australia.
And in the UK, Circulon cookware helps create culinary masterpieces. These brands offer high-quality pots and pans with nonstick coatings and heavy-duty construction.
Perfect for home cooks looking to elevate their kitchen game with the best pots and pans. Whether you choose stainless steel, nonstick, or cast iron, having the right cookware can significantly impact your cooking experience.
So, channel your inner MasterChef and equip your kitchen with the right tools. to create delicious meals that impress even the toughest critics. Happy cooking!