While the jury is still out on whether Damascus steel knives are better than other knives, there is a consensus that these pieces are beautiful. Their aesthetic value is probably to blame for the time and effort spent making Damascus steel. This translates to a higher purchase cost, so you must only buy the best when investing.
Today we review the best Damascus kitchen knives, including our top pick, the Zeolite Infinity Alpha-Royal Japanese knives Series 7-Inch Santoku Chef's Knife. Please keep reading to expand your knowledge about them. We have also compiled a buyer's guide to elaborate on how our topic experts came up with this list.
The Best Damascus Kitchen Knives Review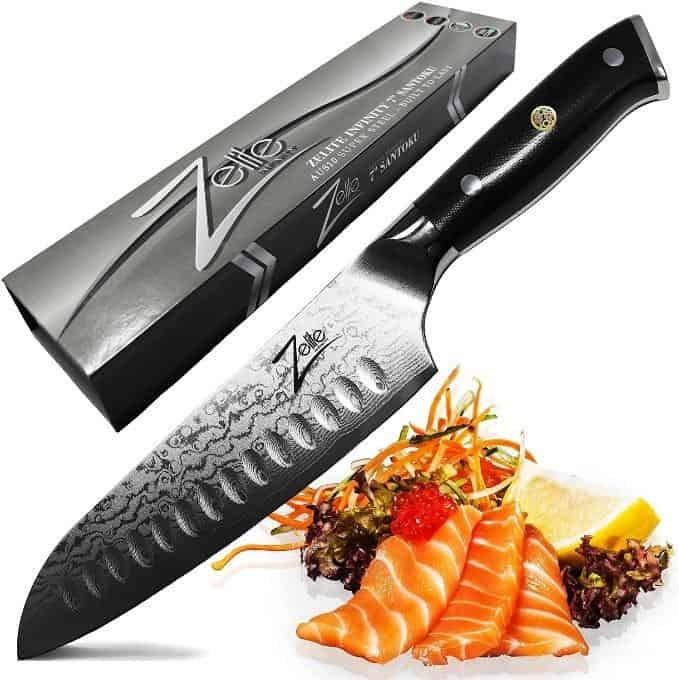 Buy Zelite Infinity Alpha-Royal Japanese Series 7-Inch Santoku Chef's Knife on Amazon.
Specifications
Overall Length: 12.5 inches
Blade Length: 7 inches
Layers: 67
Hardness: 61 ±1 HRC                  
Weight: 9.4oz
This is the ultimate workhorse of Zelite's Alpha-Royal Japanese knives series. It leads the pack of Damascus kitchen knives because it balances versatility and endurance.
You can use the sheep's foot blade with a straight edge to chop, mince, or dice with minimal effort.
You can alternate between the rocking motion and moving this chef knife up and down because the cutting edge can simultaneously be on the cutting board.
It has dimpling on both sides, preventing food from sticking and reducing drag as you cut. The cuts are, therefore, neater and more accurate.
The 67-layer AUS 10 Damascus steel chef knife is tough, corrosion-resistant, and durable. It will grant you many years of service.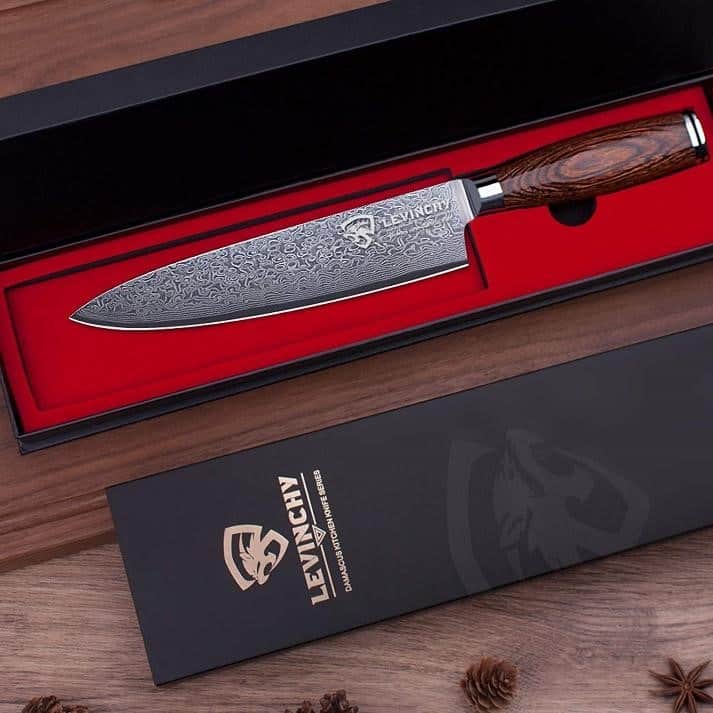 Buy: LEVINCHY 8-Inch Professional Damascus Chef's Knife on Amazon
Specifications
Overall Length: 12.5 inches
Blade Length: 7.5 inches
Layers:  67
Hardness: 60 ± 2 HRC
Weight: 7.8oz
These knives offer the sleek elegance of high-end quality at regular price points. The premium matte gift box it comes in gives you the first glimpse of what is in store; then, the frosted protective case opens to reveal a red suede interior where the Japanese Damascus knife is placed.
The blades have high carbon steel cores enforced by 67 alternating layers of steel forged to produce a strong blade with an aesthetically appealing Damascus steel pattern.
The handles are all high-quality pakka wood, which has undergone high-temperature treatment to boost durability. They are hand-polished to refine the finishing.
The cutting edge is also hand-finished, using the Japanese traditional honing method called honbazuke and 12 other steps. Honbazuke involves thinning the blades further to make them sharper.
The fair price tag does not indicate the amount of work that goes into this production.
Buy: Nanfang Brothers 9-Piece Damascus Kitchen Knives Set on Amazon
Specifications
Layers: 67
Hardness: 60 ± 2 HRC
Check the product link for the dimensions of each knife in the set
This package gives you six different types of Damascus kitchen knives to cover all your needs, plus kitchen shears, a knife sharpener, and a beechwood block to keep them in, all at less than 200 dollars.
It features an 8-inch chef's knife, a 7-inch santoku knife, an 8-inch bread knife, an 8-inch slicer knife, a 5.5-inch serrated utility knife, and a 3.5-inch paring knife.
You can handle all your cutting needs with a single purchase of quality knives whose attractive blades have an enduring VG-10 steel core forged with 33 homogeneous layers of Damascus steel on either side. This makes them tough and corrosion and stain-resistant, allowing them to serve you for a long time so you can get exceptional value on your investment.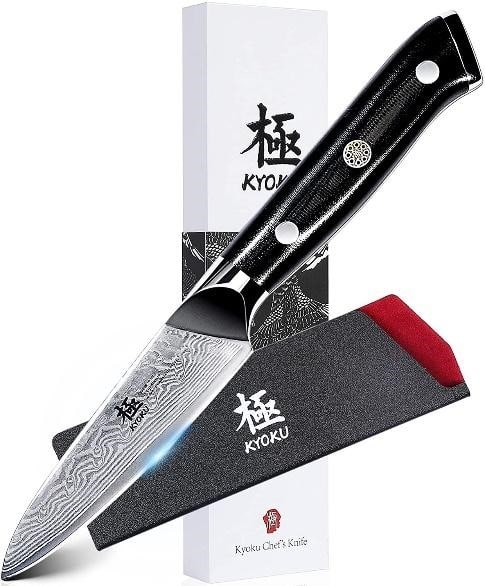 Buy: KYOKU Shogun Series 3.5-Inch Japanese Paring Knife on Amazon
Specifications
Overall Length: 6 inches
Blade Length: 3.5 inches
Layers: 67
Hardness: 58 to 60 HRC
Weight: 4oz
Many small knives are made without considering their ruggedness, and there's a misconception that tasks that involve small knives don't require a robust tool. These KYOKU Shogun shivs are an exception. With hardness ranging between 58 and 60 on a Rockwell scale, courtesy of 67 layers of stainless steel fused, they are just as rugged as the rest of the Damascus kitchen knives in this review.
They maintain a sharp edge, which is critical for the delicate cuts they are designed for.
The slim blades with pointed tips will have you peeling and hulling fruits and vegetables without wasting large chunks of the flesh. You can make impressive garnishes and cut creative designs for presentations.
They have full tangs, allowing you to feel the cuts as if the knife is an extension of your hand. This is not common in paring knives.
Buy: XINZUO He Series Damascus Super Steel 5-Piece Knife Set on Amazon
Specifications
Layers: 67
Hardness: 60 ± 2 HRC
Check the product link for the dimensions of each knife in the set
This is the second knife set we are featuring in our review. It has fewer knives and comes with a higher price tag than the 9-piece set by the Nanfang brothers. These knives are more heavy-duty and meant for someone who already has a working kitchen and wants to expand their collection.
The set includes an 8-inch chef's knife, a 7-inch santoku knife, a 6.7-inch Nakiri knife, a 5-inch utility knife, and a 3.4-inch paring knife. They all have 67 layers of hardcore Damascus steel forged together for strength and durability and are sufficiently hard to maintain an edge without becoming brittle.
They have premium pakka wood handles which add a classy, functional touch.
Buy: DALSTRONG Shogun Series 7-Inch Cleaver Knife on Amazon
Specifications
Overall Length: 11 inches
Blade Length: 7 inches
Layers: 67
Hardness: 62+ HRC
Weight: 12.8oz
This set is technically a Nakiri knife, meaning it was designed to work with giant, heavy vegetables, but it is sufficiently heavy and sharp enough to be used on meat. This versatility is why it made our list.
At 12.8 ounces, the knife's weight helps you exert force on the ingredients without committing all your elbow grease.
The full tang construction ensures the weight is balanced to hold it in the most natural position. Its handles are held in place by 3 rivets to maintain grip stability, even after years of service.
It comes with a sheath and the DALSTRONG packaging, so you can present it as a gift that will serve your loved ones for years.
Buy: DALSTRONG Shogun Series 6-Inch Fillet Knife on Amazon
Specifications
Overall Length: 10.7 inches
Blade Length: 6 inches
Layers: 67
Hardness: 62+ HRC
Weight: 6.5oz
This filleting knife has a long, narrow, slightly curved, and flexible blade that every chef needs for filleting, descaling, trimming, butterflying, and deboning fish and poultry.
It curves upwards towards the tip to work it around joints and bones and between the skin and flesh with minimal drag.
The edge is extra sharp and retains its edge thanks to its hardness of above 62 on a Rockwell scale. This sharpness is necessary for gliding through meat, fat, and skin for effortless separation.
The six-inch length is adequate to cut through large pieces of flesh.
Buy Zelite Infinity Alpha-Royal Japanese Series 8-Inch Bread Knife on Amazon.
Specifications
Overall Length: 13.4 inches
Blade Length: 8 inches
Layers: 67
Hardness: 61± 1 HRC
Weight: 8.9oz
This is the best Damascus kitchen bread knife in the Alpha-Royal Japanese series because the length of the serrated blade is sufficient to cut through a wide range of loaves and other baked goods.
The sharp serrated edge will cut through the hard exteriors of your pastries without compromising their structure.
You can also cut through big fruits like watermelons. It has a single 18° bevel, making it thin and extra sharp.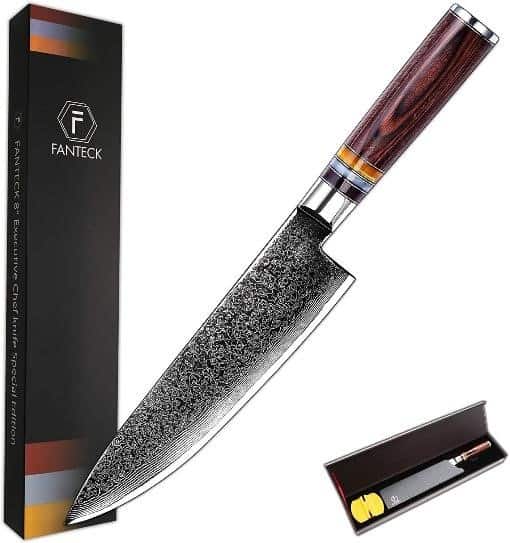 Buy: FANTECK 8-Inch Damascus Chef's Knife on Amazon
Specifications
Overall Length: 12.6 inches
Blade Length: 8 inches
Layers: 67
Hardness: 60 HRC
Weight: 8.2oz
This FANTECK chef's knife has an 8-inch blade rounded towards the tip to facilitate the rocking motion that cuts everything.
Thanks to all 67 of its forged stainless-steel layers, it maintains its sharpness, making it hardcore.
The sharp point allows it to pierce through skin and sever cartilage when you need to execute delicate cuts.
How To Pick The Best Damascus Kitchen Knives For Your Home Or Restaurant
Not all Damascus kitchen knives are the same. A few features can make a huge difference in your cutting experience. Here are some things to consider to picking suitable knives for your kitchen.
Identifying True Damascus Steel
Original Damascus steel was made by folding it several times to remove impurities, making it stronger. The folding process left a visible pattern, which is how you can distinguish Damascus steel from other metals.
Today, the term is brandished and is often just a marketing term thrown around to sell knives. Look for established brands that don't hide their manufacturing process, even though they will come at a premium price. There is a big difference between steel-clad metals and solid Damascus steel, which goes to the cutting edge. You should be aware of the process.
Traditional folding and layering are rarely applied; most modern Damascus steel uses pattern welding, which involves stacking layers of different steel and pressing them together under high heat. They are pounded out, cut, and re-layered to produce the desired Damascus pattern.
The layering makes the resulting steel stronger. The more layers there are, the stronger the knife is, to some extent, but after a certain point, the layers become redundant. The knives in our selection range between 65 and 67 layers, which is an ideal sweet spot by knife-making standards.
This video shows how accurately bladesmiths make Damascus knives are worth checking out to give you some perspective on the process.
What Type of Damascus Kitchen Knives Do You Need?
Different knives serve specific purposes. We tried to sample a variety in our selection to give you options for all your needs.
Suppose you want a general-purpose knife to cut all your ingredients. In that case, the FANTECK 8-Inch Damascus Chef's Knife, LEVINCHY 8-Inch Professional Damascus Chef's Knife, and Zelite Infinity Alpha-Royal Japanese Series 7-Inch Santoku Chef's Knife are great choices. They are not specialist knives, but they are big and robust enough to handle large ingredients but still sufficiently small for intricate cuts.
If you are stalking for a mighty butcher's knife for your meats that you can also use to chop your hard veggies, the DALSTRONG Shogun Series 7-Inch Cleaver Knife will get you there. It is sufficiently heavy with just the correct sharpness for effortless cuts.
Some tasks require smaller knives that are easy to manipulate in tight circumstances or to execute sharp cuts like tourné cuts, hulling, coring, or deveining. Besides the small profile, this knife should be slim, super sharp, and have somewhat pointed tips, just like the KYOKU Shogun Series 3.5-Inch Japanese Paring Knife.
The rest of the knives on our list are specialist Damascus kitchen knives for cutting bread, deboning, and filleting. Getting the right tool for the job considerably reduces the effort required to execute it and makes it safer for you and everyone using the kitchen.
You can also get a set of different Damascus kitchen knives at a bargain to cover all your bases if you don't want to get stuck or cannot prioritize your cutting needs.
Durability
There is no point in throwing all your research and resources down the drain by buying a kitchen knife if you have to keep replacing it instead of growing your collection. You can get quality without breaking the bank. You need to look at the kind of material used and the craftsmanship.
Even Damascus steel blades are prone to wear and tear against rigid cutting boards, harsh ingredients, and the elements. They should be corrosion, rust-resistant, and sufficiently hard to maintain the cutting edge without being brittle so that minor accidents don't lead to losses. A Rockwell rating of 60 is the sweet spot for a kitchen knife, so anything with a variance of less than three to five should be sufficient.
The handle material is just as important. Check out the handle material and how it connects to the blade. We prefer riveted handles, as they can endure more abuse than handles fixed with adhesives.
Ergonomic Designs
The weight should be evenly distributed throughout the knife so that it doesn't lean towards one side, forcing you to compensate with your wrist, which consumes more energy and can lead to complications if you are a regular cook.
The size and shape of the handle should also enable proper handling so that you can exert the right amount of force without using too much effort. You get to be more efficient in a safer environment.
We prefer full tang construction with the Damascus steel blade extending through the entire length of the handle. It helps to balance the weight and makes cutting and slicing efficient. Your hand and the knife move as a single unit, increasing accuracy.
If you pay attention to essential knife safety tips, you will realize a lot of them are pegged on the knife being ergonomically designed for successful execution. Both efficiency and safety start with appropriate knife selection.
Conclusion
If you can only add one Damascus knife to your arsenal, the Zelite Infinity Alpha-Royal Japanese Series 7-Inch Santoku Chef's Knife is your best bet. It is ergonomically designed with just the right combination of quality and versatility. You can keep adding specialist knives to your collection as you progress. Go for what you need based on the actual activities, and check out sets of Damascus steel kitchen knives if you can. It is better to have a few valuable knives than a collection of items you will never use.