Gordon uses a John Boos block cutting board. In his MasterClass cooking series, Gordon recommends using any large wood cutting board with a minimum of 24″ x 18″ size that won't slip when used.
John Boos's cutting boards have also been seen on Next Level Chef. MasterChef and MasterChef Junior. Most chefs keep separate cutting boards dedicated to beef, chicken, seafood, chopping onions, and garlic.
However, boos block carving boards are specially made to avoid a mess. Traditional Gordon Ramsay cutting boards have a trenched edge to trap the juices purged from roasted meats when craving.
Gordon Ramsay uses John Boos branded cutting boards because they are designed in a butcher block style. Boos Blocks are made with high-quality Northern Hard Rock Maple Wood that is sustainably sourced and hand-selected. These cutting boards are crafted in the USA.
Experience precision and style in your kitchen with the Gordon Ramsay Cutting Board. Don't wait; Amazon can deliver it to your doorstep!
(Check out Gordon Ramsay Cookware: What Pots and Pans Does He Use)
Best Boos Cutting Board
My favorite John Boos cutting board is the Block Au Jus Maple. The board is light enough to lift comfortably but heavy enough to be stable when performing tasks.
Though I noticed it wobbles occasionally, depending on the surface it's sitting on. It provides plenty of room to work; it's a pleasure to cut on with little maintenance.
Like all boards, it will get knife scars but still durable, resisting cracking, warping, and staining, thanks to its naturally oily resins that keep the wood conditioned.
(Also, See Gordon Ramsay's Kitchen Essentials: The Ultimate Guide to Professional-Quality Cooking)
I received a John Boos Cutting Board as a gift, which lives up to the hype. The board is expertly crafted and very sturdy. I highly recommend it. I also purchased the recommended oil and cleansing products to maintain and preserve the wood.
Upgrade your kitchen game with a John Boos cutting board from Amazon. With various wood and plastic options in various sizes, these cutting boards are durable and long-lasting. Perfect for home cooks and professional chefs, a John Boos cutting board is a worthwhile investment that will take your cooking skills to the next level.
Preview
Maple Classic Reversible
Boos Cutting Board
Title
John Boos Maple Classic Reversible Wood End Grain Chopping Block, 20″x 15″ x 2.25
John Boos Block RA03 Maple Wood Edge Grain Reversible Cutting Board, 24 Inches x 18 Inches x 2.25 Inches
Maple Classic Reversible
Preview
Title
John Boos Maple Classic Reversible Wood End Grain Chopping Block, 20″x 15″ x 2.25
(Check out Wood vs. Plastic Cutting Board – Which One Is Better)
Why do you need a Cutting Board?
Any well-stocked kitchen needs a few good cutting boards for home cooks with a solid. It makes food preparation easier and prevents kitchen accidents.
(Learn more about 5 Simple Tricks for Choosing an Eye-Catching Cutting Board with Handle)
The board should be firm but not too hard. The perfect surface should be soft enough to keep your knife in good shape but strong enough to absorb significant abuse.
Look for a midweight (5 lb. or less) board. A Cutting board for professional chefs shouldn't be so heavy that you hesitate to pull it out; a lightweight board could be too weak to withstand much cutting on the turnover.
Wooden and plastic boards must be washed differently. Remember that wooden and bamboo Durable cutting boards need hand-washing and occasional maintenance, while a plastic board can be washed in the dishwasher.
What to expect from a good carving board. Hold at least a half-cup of liquid, as this is roughly the amount of juice released by a medium-sized resting turkey. A trench about an inch from the board's edges takes care of this.
Since the released fat from carving a bird gels as it cools down, juices flow slower. A high-quality cutting board with narrow, shallower wells often clogged and overflowed.
Each side of the board allows you to slice meat evenly and cleanly, with a deep trench holding a half-cup of juices around the edges. It's an appealing, sturdy board that you can clean easily.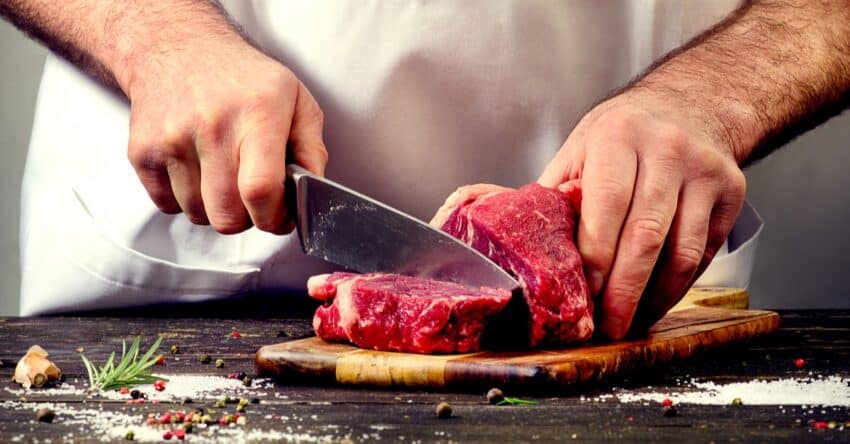 Our Favorite Products in One Convenient Place
Visit the Hell's Kitchen Reviews Amazon shop to browse a handpicked selection of our favorite cookware, kitchen knives, appliances, and more.
Isn't it time to upgrade your kitchen essentials? Get the Gordon Ramsay Cutting Board from Amazon now and feel the difference!
( Find out why End Grain vs. Edge Grain – Picking the Right Cutting Board)
Additional Resources:
https://www.google.com/books/edition/Gordon_Ramsay_s_Home_Cooking/IGSwLLETenMC?hl=en&gbpv=1&bsq=cutting%20Board