Gordon Ramsay Fresh Pasta Dough
This Gordon Ramsay Fresh Pasta Dough recipe is so simple and easy. Pasta may have its origins in Italy, but now it's enjoyed by people all over the world. In my young years of cooking, I would have normally bought pre-made pasta, but now I really enjoy making my own.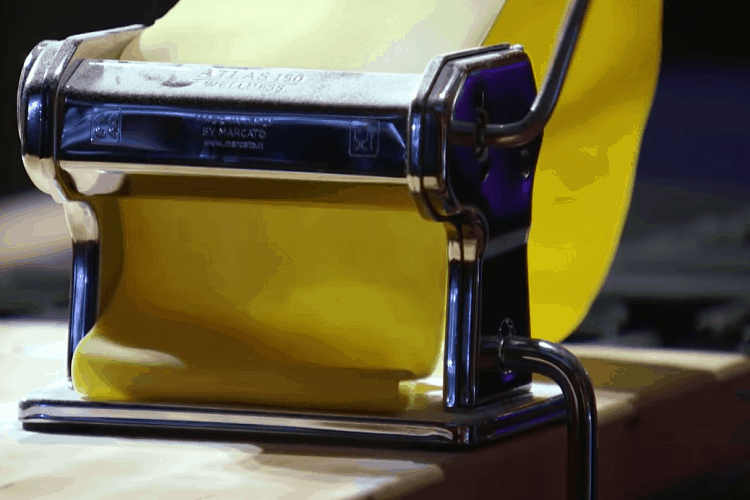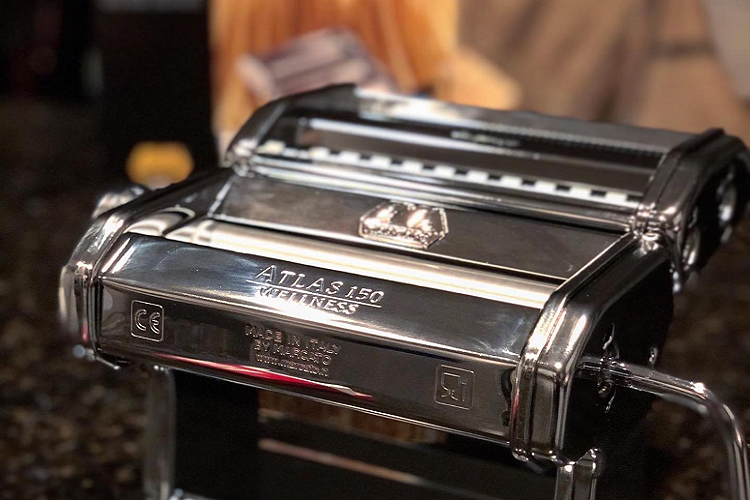 This Gordon Ramsay Fresh Pasta Dough recipe is so simple and easy. Pasta may have its origins in Italy, but now it's enjoyed by people worldwide. I would have normally bought pre-made pasta in my young years of cooking, but now I really enjoy making my own.
Gordon Ramsay demonstrates how easy it is to make your own fresh pasta dough using just eggs and flour. With some practice and imagination, you can create infinite types of pasta dough with different flavors using the procedures shown below.
Gordon Ramsay Handmade Pasta
Fresh pasta has a specific flavor that you can't get from dry pasta. Once you start making your own fresh pasta dough, you'll have a completely different confidence level about your cooking skills, and you'll never want to go back to buying the pre-made dry pasta from the store ever again.
Equipment Needed for Fresh Pasta Dough Recipe
I've used Marcato pasta machines as far as I can remember; there's the Lamborghini of pasta machines. The Marcato Atlas 150 is a little expensive than others, but it's a pleasure to work with. It has the widest and the narrowest thickness settings of all machines made; You hardly have to roll the dough out to fit it through the machine, and you can easily turn the dial the machine down to create thinner pasta sheets. The attachment makes perfect fettuccine and angel hair every time.
Buy: Marcato Atlas 150 Pasta Machine at Amazon
How to Make Gordon Ramsay Fresh Pasta
Step 1. Put the ingredients in the food processor and mix until you get a cohesive mixture that's soft and just a little sticky – about 45 sec.
Note: If the dough feels sticky, add about 1 tablespoon of flour and repeat. Maximum additional flour shouldn't be more than 1/4 cup. You may add a teaspoon full of water and process it for 30 sec more.
Step 2. Knead the dough by hand, make a uniform ball, and tightly wrap it in a plastic film for 30 min to 4 hours.
Step 3. Divide the dough into equal portions and feed it through the pasta machine rollers twice (with rollers in their widest position).
Step 4. Seal the dough's tapered ends together by pressing and feed it again through the rollers, still set in the widest position (remember to keep the seal at the top).
Note: Repeat the feeding process without folding till your dough is barely sticky and smooth. You may use a little bit of dry flour to dust it.
Step 5. Reduce the roller width by one setting and pass the dough through the machine twice. Keep reducing the roller width and keep passing the dough twice through each setting until you get almost transparent consistency.
Note: You may halve the dough crosswise if it becomes unmanageable.
How do You Add Flavor to Fresh Pasta Dough?
You can create different flavors of pasta dough by changing the above procedure a little bit. Some of the most loved flavors are discussed below; you can make your own flavor you like.
Make Whole Grain Pasta Dough
Replace 1 cup of the all-purpose flour with an equal quantity of sifted farro flour, whole wheat, or spelt. Add water or egg yolk as per requirement and keep it aside for about an hour before rolling.
Make Saffron Pasta Dough
Manually grind a pinch or two of saffron with a little salt and add 1 tablespoon of boiling water. Rinse the saffron from mortar and pestle with some water and add it to the tea, which has been allowed to cool down before whisking with the eggs. Use this mix and follow the same process as above.
Make Green Pasta Dough
Take about 6 cups of baby spinach and saute or steam it until it wilts. Spread it on a baking sheet (parchment-lined). After the leaves have cooled down, squeeze and chop them. Make a puree by blending these with 2 eggs and egg yolk. Use this mix to make the dough as usual.
Make Herb Pasta Dough
Mix finely chopped chives, parsley, tarragon, chervil, basil, etc., with eggs and use the mix in the dough making process.
Frequently Asked Questions About Fresh Pasta
Some FAQs to help you with the dough making are given below.
How Do I Cook Fresh Pasta?
Boil 4 quarts of water, adding 1 tablespoon salt for a pound of pasta.
Add your freshly made pasta and cook for 1-2 min after you've prepared your gravy.
Avoid overcooking as it'll make it mushy.
Keep tasting while it's cooked and turn off the heat just before the noodles are al dente, that's firm yet tender to chew.
Why Reserve Some Cooked Pasta Water?
The starchy water taken out from cooked pasta before draining it away is useful in spreading and loosening sauce while still allowing it to stick to the pasta.
How Do I Store Fresh Pasta?
The strand pasta can be stored by tossing a little dry flour and then letting it dry. Put the noodles in zipper bags.
Freeze it and use it within a month. Remember not to thaw it before using it. The stuffed pasta like tortellini or ravioli should be left uncovered for 30 min at room temperature.
This will allow the pieces to become dry and stiff. Wrap it up in plastic and store. To freeze, place the pieces on a sheet pan and keep it in the freezer until firm.
Transfer the pieces into a zipper bag and freeze. Use the frozen pasta within 4 hours.
How Long Can You Store Fresh Pasta?
Homemade fresh pasta lacks the carbon dioxide and nitrogen used in factory-made pasta for longer storage life. The atmospheric oxygen reacts with egg yolks iron to cause discoloration.
This normally happens after 18 hours of refrigeration. The homemade pasta can be frozen for about a month.
What is 00 Flour?
The Italian "Tipo 00" flour or simply the 00 flour is a superfine flour used to make soft and delicate bread and pancakes.
The flour has very low protein content, meaning that the water requirement is much lower (around 20% less than other flours).
Some stores sell it as the "Italian-style flour."
More Gordon Ramsay How-to -Guides
How to Make Perfect French Croissants
A Guide to Buying, Identifying, Cooking Pork Roasts, Chops, and Ribs
A Guide to Buying and Identifying Lamb for Roasts and Chops
What is Sous Vide Cooking? (Meaning and Definition Updated 2020)