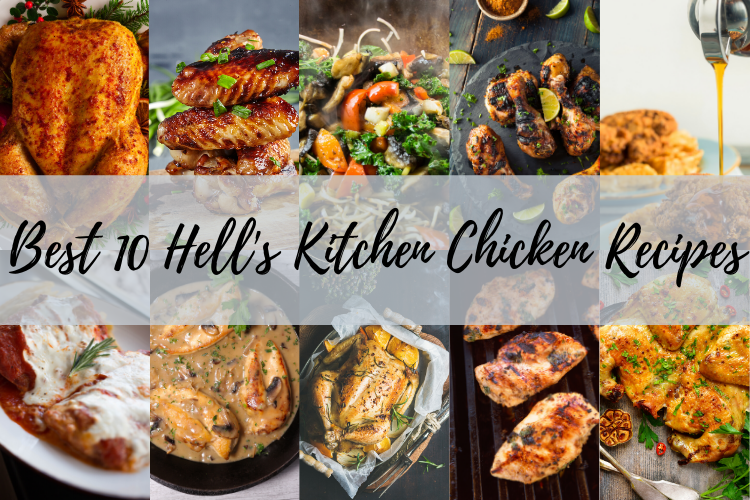 Chicken is the most popular meat and the meat that is most commonly prepared worldwide. It can be made easily to satisfy anyone! Discover your favorite chicken recipe here and make it into a family favorite that is extremely awaited each time you make it.
How to Make Gordon Ramsay Top 10 Chicken Recipes
You can make delicious chicken dishes at home as well by following some of Gordon Ramsey's recipes. Enjoy these wonderful recipes!
1. Roast Chicken Stuffed with Chorizo
This is a very easy twist promises to surprise. The chorizo sausage, bean and tomato stuffing serves to help cook the chicken evenly and adds flavor to the meat as it slowly roasts. Serve it beside the chicken with some steamed filed greens or a combination of leaf salad.
How to Make Gordon Ramsay Stuffed Roast Chicken with Chorizo
2. Asian Sticky Spicy Chicken Wings
Extremely delightful Sticky Spicy Chicken Wings marinade with Asian flavors can be cooked at home by you with this Gordon Ramsay's recipe. A wonderful dish you could cook at home with the ingredients you can by in the nearest supermarket. You can make a stunning delicious dinner dish for your family without the need to go to your local favorite wing restaurant.
How to Make Gordon Ramsay Sticky Spicy Chicken Wings
3. Chicken Stir Fry with Rice Noodles
When making Chicken Stir Fry it's important to keep everything moving it around the pan quickly because you are cooking over high heat, specifically after you add the garlic to the pan, as it will easily burn and taste unpleasant. The reason for pounding the chicken flat it will cook the chicken quicker, but it also helps to make it tender.
How to Make Gordon Ramsay Chicken Stir Fry
4. Homemade Caribbean Jerk Chicken
This is a feel-good Homemade Caribbean Jerk Chicken recipe. Nothing hard about it, but the heat of the spices kicked up by the intense heat of the Scotch bonnet peppers always puts a smile on my face. If you don't like too much heat, use fewer peppers, of course, or a much milder type, such as the Tabasco or jalapeño.
How to Make Gordon Ramsay Jerk Chicken
5. Gordon Ramsay Chicken Parmesan
Gordon Ramsay Chicken Parm is one of his most exhilarating chicken recipes. The mystery behind this recipe is it's all about the seasoned breadcrumbs, flour, egg wash, and then the crispy consistency that Japanese panko breadcrumbs give to the chicken to make this a wonderful, fabulous dish.
How to Make Gordon Ramsay Chicken Pram
6. Fried Chicken & Sweet Potato Waffle
One of my favorite ways of eating buttermilk fried chicken tenders. I'm going to bring it an up notch by topping them with a grilled sweet peach syrup. If you have leftover sweet potatoes they can be used in this recipe or If you don't have any leftovers you can simply bake sweet potatoes, steam or microwave.
How to Make Gordon Ramsay Fried Chicken & Sweet Potato Waffles
7. Chicken Fricassee with Mushrooms
I fell in love with Chicken Fricassee as a young chef. Chicken Fricassee is French comfort food, made with wild mushrooms in a smooth white sauce. It's served with herby sautéed potatoes.
How to Make Gordon Ramsay Chicken Fricassee
8. Roast Chicken with Chickpea Stuffing
This Roast Chicken recipe has become my goto method of roasting chicken. Place the tarragon and butter under the skin, this keeps the breast moist as it cooks. The flavors of the stuffing gets absorbed into the chicken meat as the juices circulate evenly during cooking. This recipe now serves as a template for many delightful chicken recipes.
How to Make Gordon Ramsay Roast Chicken Chickpea Stuffing
9. Bone-In Chicken Breast
When cooking with Boneless, skinless breast the meat is completely exposed to the heat during cooking, and the bare meat could turn leathery and tough as it dries out during cooking.  I love this recipe for it's nicely browned crispy skin, which adds flavor, textural and, a contrast to the dish.
How to Make Gordon Ramsay Bone-In Chicken Breast
10. Brick Chicken with Herb Gremolata
This is Brick Chicken is now my favorite way to grill chicken. By just adding weight (brick or other heavy skillets) to press the chicken down from the top results in the most super juicy chicken you will ever eat. It also comes with a bonus, extra crispy skin on the outside. You will need to plan this recipe a day ahead so that you can marinate the chicken overnight.
How to Make Gordon Ramsay Brick Chicken
Related:
Gordon Ramsay's Top 5 Fish Recipes
Best 10 Hell's Kitchen Fish Recipes
Best 5 Hell's Kitchen Risotto Recipes
Best 3 Hell's Kitchen Mashed Potato Recipes