Embark on a mouthwatering culinary adventure with Gordon Ramsay's Fried Chicken, an irresistible recipe that showcases the renowned chef's expertise in creating irresistible, crowd-pleasing dishes. This expertly crafted recipe guides you through making perfectly crispy, golden, and tender fried chicken, revealing the secrets to achieving that flawless balance of texture and flavor.
(Also see Gordon Ramsay Best Chicken Recipes)
With easy-to-follow instructions and helpful tips from Ramsay, you'll discover the joy of creating this classic comfort food in your kitchen. Delight your family and friends with the unforgettable taste and crispiness of Gordon Ramsay's Fried Chicken, a testament to his culinary genius.
Whether you're a fan of chicken or not, this recipe is worth trying out. And if you're a fan of Gordon Ramsay, you'll love this straightforward recipe – perfect for a quick and easy meal.
(Learn how to make Gordon Ramsay Chicken Wings)
Equipment You Need To Make Gordon Ramsay's Crispy Fried Chicken
To make Gordon Ramsay's Fried Chicken, you'll need the following equipment:
Cutting board: A stable surface for cutting and preparing your ingredients.
Chef's knife: A sharp knife for cutting the chicken into pieces, if necessary.
Mixing bowls: One large and one small bowl mixes the marinade and dredging ingredients.
Measuring cups and spoons: For accurate measurements of liquid and dry ingredients.
Whisk or fork: Mix the marinade and dredging ingredients.
Ziplock bag or shallow dish: To marinate the chicken pieces.
Tongs or slotted spoon: For handling the chicken pieces during frying.
Deep, heavy-bottomed pot or deep fryer: For frying the chicken pieces.
Thermometer: A deep-frying or candy thermometer to monitor the oil temperature.
Wire rack and baking sheet: Drain the fried chicken and keep it crispy.
Paper towels: To absorb any excess oil from the fried chicken.
Oven mitts: To protect your hands when handling hot items.
Gather all necessary equipment before you start, and enjoy making delicious, crispy fried chicken following Gordon Ramsay's recipe!
I use a T-Fal Deep Fryer with a Basket. I've been using mine for a few months and love it. As far as I can tell, the filter is a built-in wire mesh type and doesn't need to be replaced. It is helpful to clean the chamber independently without worrying about getting wet electrical parts.
(Learn more about Gordon Ramsay's Kitchen Essential Tools)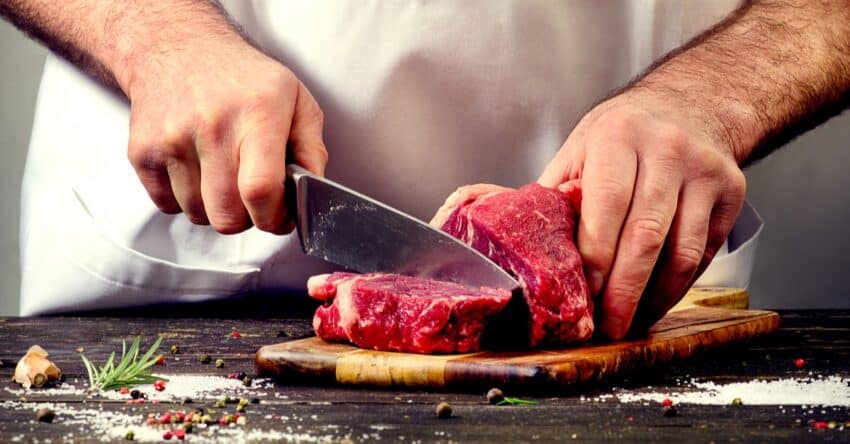 Our Favorite Products in One Convenient Place
Visit the Hell's Kitchen Reviews Amazon shop to browse a handpicked selection of our favorite cookware, kitchen knives, appliances, and more.
How to Make Gordon Ramsay Buttermilk Crispy Fried Chicken
I don't know what KFC puts in the blend of their secret spices of herbs or seasoning, but Ramsay uses smoked paprika, cayenne pepper, and garlic. I can tell you; it will knock off the colonel version of fried chicken!
Put the chicken in a med-size bowl, add the buttermilk with a good pinch of salt and combine well. Remove from refrigerating and let stand till back to room temperature before frying. Wrap the bowl with cling film and refrigerate overnight; if used, rite away no less than 30 minutes.
Once deep fry, pour oil into a heavy-based sauté pan or hob-proof dutch-oven or casserole dish. Now place on the med flame until the oil reaches 340°F, or you can test if it is ready by dropping a cube of bread into the oil, letting it sizzle and turning brown in 30 seconds.
Add the flour to a plate and combine it with the spices and a pinch of salt and pepper. Transfer the chicken Thigh and Legs from the buttermilk. Remove any excess buttermilk by shaking, coat with the flour, and ensure all sides are coated.
Fry the chicken in a single-layer batch, turning over continually for 25-30 minutes until you reach evenly golden on all sides. After the finish, frying removes excess oil by placing the chicken on kitchen paper and serving warm.
(Try this great recipe Gordon Ramsay Chicken Parm)
How to Make Sweet Pickled Celery
This fast and straightforward sweet pickle celery recipe helps to cut through the abundance of Buttermilk-fried Chicken, or you can serve it with any cold meats and cheese platters. If you want the celery to hold its crunchy texture, don't overcook it.
Leaving it sitting to marinate in the sweet and sour liquid means it will still take on lots of characteristics. Add vegs like carrot sticks or sliced radishes to make them more extraordinary if desired.
Divide the celery stalk and cut each diagonally into slices sticks about 1/2 in. thick; Place aside in a large bowl.
Put a small 4 qtr saucepan over medium-high heat and combine all the remaining components with a 1/4 cup water and a pinch of salt. Get water to boil, then decrease the heat to simmer and mix until the sugar and salt have melted.
Taste and balance the spice as needed. You want a good balance between sour and sweet after allowing the liquid to cool until warm.
Now pour the pickling liquid over the celery sticks and leave to cool thoroughly before eating. The pickle will last up to a month if stored in a sealed jar in the fridge.