Gordon Ramsay is one of the best-known names in the culinary world. He hosts numerous cooking shows and competitions, owns numerous restaurants, and holds seven Michelin stars. But you don't have to break the bank to enjoy a delicious Gordon Ramsay perfect grilled burger recipe.
Gordon Burger restaurants are easy to find, with a flaming sign around them shouting their name. Here, patrons will find quick-to-the-table burgers and a wealth of vegan and gluten-free options. Gordon Ramsay makes sure to engage vegetarians by offering them the option to order any burger they like.
The burgers priced between $17 and $26 comprise a backyard burger containing American cheese, bibb lettuce, tomato, red onion, and house pickles; and the most expensive specialty, the Truffle burger containing gruyere cheese, mushrooms, and crispy onions.
Burger prices do not include extra like sides. The Backyard Burger costs just $16.99, while the Truffle Burger costs $25.99. The fries and onion rings are golden-brown, tasty, and well worth the money; they are served with chipotle ketchup and southwestern ranch.
My favorite pan-to-cook Gordon Ramsay burger is a 12-inch cast-iron skillet from Lodge; they come pre-seasoned, grill pan or not. Try out perfectly grilled chicken breasts or grill up some sweet summer peaches for a BBQ flavor any time of year; buy at Amazon.
Want to Learn More About Cooking?
With the MasterClass Annual Membership, you can become a better chef. Gordon Ramsay, Gabriela Cámara, Chef Thomas Keller, Dominique Ansel, Yotam Ottolenghi, Alice Waters, and other world-class chefs teach exclusive video lessons to members.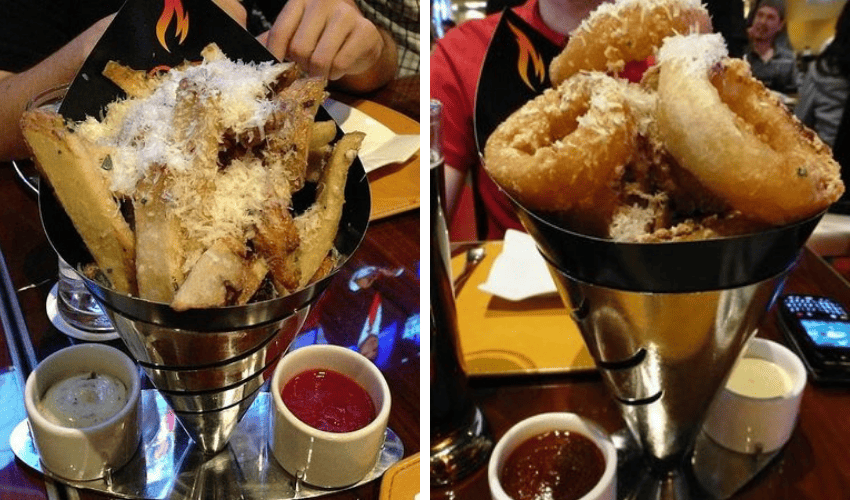 Gordon Ramsay Burger Menu Prices
Backyard Burger: Ramsay's backyard burger is the classic American cheeseburger. It comes with American cheese, lettuce, tomatoes, pickles, and onions. $16.99
Blue Cheese Burger: This burger has blue cheese and Manchego cheese. It comes with arugula, fruity jam, cider vinegar reduction, and spicy mayo. $16.99
Hell's Kitchen Burger: The burger's name originated from the name of a popular Ramsay show, which makes this tasty meal a fitting tribute to the series. The topping includes jalapenos, Asadero cheese, roasted tomatoes, avocado, and jalapeno aioli. $17.99
Farmhouse Burger: This is Gordon Ramsay's take on the classic breakfast burger. Between the buns of this delicious burger, bacon, Dubliner cheese, and a fried egg are sandwiched between the buns. $17.99
Stout Burger: The Guinness mustard aioli makes this burger stand out from the rest. The gruyere cheese, mushrooms, and crispy onions elevate this classic bar burger to a new level. $16.99
Ultimate Cheeseburger: This cheeseburger contains three types of cheese, most notably provolone, Dubliner, and Boursin. $17.99
Fish and Crisps Burger: This fish burger, made with grilled or breaded filets, featured citrus tartar and minced cabbage mixed with lemon and garnished with salt and vinegar crisps. $17.99
Vegan Burger: Try one of these natural plant-based burgers topped with avocado, lettuce, tomato, and eggless garlic mayo. $21.99
24-Hour Burger: This specialty burger isn't your traditional patty and bun. This braised short rib is smothered in BBQ sauce and then topped with white cheddar cheese, bacon, arugula, cold brew vinaigrette, and pickled shallots. $24.99
Truffle Burger: This hamburger has the unique flavor of Guinness mustard aioli. The Gruyere cheese, mushrooms, and crispy onions give this gourmet burger a distinct flavor profile. $25.99