Gordon Ramsay is known for his mastery of seafood dishes, and his creations in Hell's Kitchen are no exception. His Hell's Kitchen fish recipes are flavorful and elegant, from seared scallops to lobster risotto. With a focus on quality ingredients and expert techniques, these dishes will impress any seafood lover.
This collection of Gordon Ramsay's Fish Recipes will guide you through creating some of his most famous and delicious dishes, perfect for a special occasion or a gourmet dinner at home. (Also see Gordon Ramsay's Best Hell's Kitchen Fish Recipes)
If you're a fan of seafood and Gordon Ramsay's cooking, you won't want to miss out on these simple yet utterly delicious recipes. Give them a try; you'll see how easy and simple fish can be. Hopefully, these recipes will give you the confidence to cook fish dinners more often.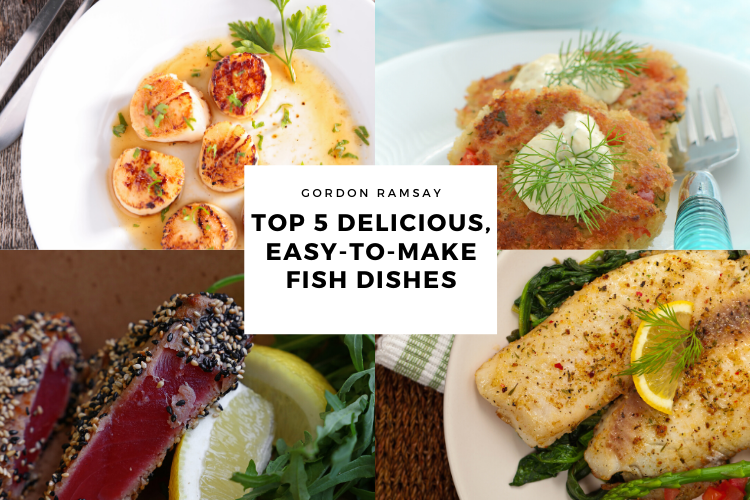 Top 5 Gordon Ramsay's Simple Fish Recipes
These easy-to-follow recipes showcase the renowned chef's talent for creating delicious, restaurant-quality dishes at home. Whether a novice or an experienced cook, you'll find inspiration in these versatile and healthy fish recipes that cater to various tastes and preferences.
Dive into the flavorful world of pan-seared, baked, and grilled fish dishes, each highlighting the natural flavors and textures of the chosen ingredients. Transform your seafood game with these top picks from Gordon Ramsay, and treat yourself and your loved ones to an unforgettable dining experience.

1. Fish and Chips
This classic British dish is a crowd-pleaser, and Ramsay's recipe takes it to the next level. The fish is battered, fried to a golden brown, and served with crispy fries and a tangy tartar sauce. The batter is made with flour, cornstarch, and beer, which gives it a light and crispy texture. This dish is a perfect comfort food for any occasion.
Must-Try Gordon Ramsay Fish and Chips Recipe
2. Pan Seared Sea Scallops
These elegant and easy-to-make scallops are a staple in Gordon Ramsay's repertoire. The key to making great scallops is to get a nice sear on them while keeping the center tender and juicy. Ramsay's recipe involves seasoning the scallops with salt and pepper, then searing them in a hot pan with butter and fresh thyme. They are served with a flavorful sauce made with white wine, garlic, shallots, and lemon juice and garnished with fresh herbs for an elegant presentation.
How to Perfectly Pan Sear Scallops
3. Crab Cakes with Creamed Corn and Asparagus
Crab cakes are a classic seafood dish that Ramsay puts his spin on in this recipe. The key to making great crab cakes is to use high-quality crab meat and not overmix the ingredients. Ramsay's recipe includes a creamy corn sauce made with fresh corn, heavy cream, Parmesan cheese, and tender asparagus spears for a complete meal.
Crab Cakes with Creamed Corn and Asparagus
4. Pan Seared Sesame Crusted Tuna
This Asian-inspired dish features perfectly seared tuna fillets coated in a crispy sesame crust and served with a flavorful sauce and a side of vegetables. The sesame crust adds a nice crunch while the tuna remains tender and juicy. Ramsay's recipe includes a sauce made with soy sauce, rice vinegar, honey, and ginger, which perfectly complements the tuna's flavors. Serve with steamed bok choy or broccoli for a healthy and flavorful meal.
Sesame Crusted Pan Seared Tuna
5. Pan-Fried Red Snapper
This Caribbean-inspired dish features crispy pan-fried red snapper fillets with a zesty citrus marinade and tangy slaw. The tangy marinade includes lime juice, garlic, and spices like cumin and coriander, giving the dish a bold and refreshing flavor. Ramsay's recipe includes a slaw made with red cabbage, carrots, and jalapenos tossed in a dressing made with lime juice and honey. Serve with rice, beans, or roasted vegetables for a complete and flavorful meal.