This is a simple Lobster Risotto Recipe, yet a luxurious meal. I had some leftover steamed asparagus spears, cut them up, and tossed them in at the end. Using Lobster shells is much better than a bouillon stock. (Learn Techniques How to Cook and Shell Whole Lobster)
You start by sautéing the leftover lobster shells in oil, boiling them in a pot of water with chopped onion, adding a couple of peppercorns, and then bay leaves. Lobster is pricey, and you can stretch it out by making an entirely new meal using lobster shells.
Equipment You Need To Make Gordon Ramsay's Risotto?
Saucepan: In a saucepan, warm the broth. That's not it! You cannot use brothy, chilly liquids.
Skillet: For this recipe, you'll need two skillets. For cooking the mushrooms and making the Risotto, you'll need two. You can use the skillet to make the Risotto if you're as lazy as I am.
Spatula: A lot of stirring will be required for this recipe. A spatula is ideal for this. Even if it doesn't aid your arm, it'll assist you in making a fantastic risotto.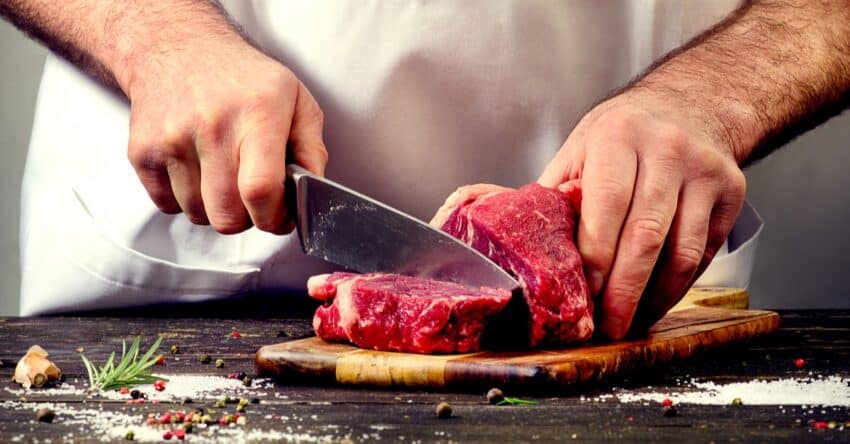 Our Favorite Products in One Convenient Place
Visit the Hell's Kitchen Reviews Amazon shop to browse a handpicked selection of our favorite cookware, kitchen knives, appliances, and more.
Gordon Ramsay's Top 15 Kitchen Essentials
How to Make Gordon Ramsay Lobster Risotto
Make those lobster flavors last, and when you are all set, make this lobster risotto. Heat the lobster stock in a saucepot. Then Melt Down the butter in a saucepan next to it; add the onions and cook onions until they are translucent; add Arborio rice, season with salt, and stir to combine.
Step 1. Bring broth and 1 1/2 cups of water to a boil in a saucepan. 
Step 2. Add Lobster; cover and cook for 4 minutes. 
Step 3. Remove the Lobster from the pan; cool for 5 minutes. 
Step 4. Remove meat from cooked lobster tails, reserving shells; Chop meat. 
Step 5. Place shells in a large zip-top plastic bag. Coarsely crush shells using a meat mallet or heavy skillet. Return crushed shells to the broth mixture. 
Step 6. Reduce heat to medium-low. 
Step 7. Heat 1 tbsp butter in a medium saucepan over medium-high heat. Cover and cook for 20 minutes. Strain shell mixture through a sieve over a bowl, reserving broth; discard solids. Return broth mixture to saucepan; keep warm over low heat. 
Step 8. Add rice to pan; cook for 2 minutes, stirring constantly. 
Step 9. Reserve 2 tbsps broth mixture. Stir in 1 cup broth mixture and 1/4 cup grated Parmesan, and cook for 5 minutes or until liquid is nearly absorbed, stirring constantly. 
Step 10. Add the remaining broth mixture, 1/2 cup simultaneously, constantly stirring until each portion is absorbed before adding the next (about 22 minutes total). 
Step 11. Remove from heat, stir the reserved 2 tbsps broth mixture, 2 tbsps butter, and green peas in the Lobster. Serve immediately with remaining Parmesan.