Santoku and chef knives are two of the most commonly used knives in the kitchen, but they have some key differences. The blade of a chef's knife is typically longer and wider than that of a Santoku knife, which makes it better suited for tasks that require more power and leverage, such as cutting large vegetables and slicing meat. In contrast, a Santoku knife has a shorter and wider blade, which is ideal for slicing and dicing smaller fruits and vegetables. (also see Getting Your First Japanese Kitchen Knife Set? Read This First)
The edge of a Santoku knife is typically straighter than that of a chef's knife, which helps to make it more versatile for different types of cutting tasks. Additionally, Santoku knives often have a granton edge, which helps to prevent food from sticking to the blade. Ultimately, choosing between a Santoku knife and a chef's knife depends on personal preference and the specific tasks required in the kitchen. (also see Top 10 Best Japanese Knife Brands- Highest Quality at This Moment)
So what are the differences? Please keep reading to learn more about the difference between Santoku vs. Chef Knife and our top product recommendations.
Our Top Santoku Knife Picks
If you're looking to purchase your own Santoku knife, these are some great options:

Whether a home cook or a professional chef, you will surely be impressed by this knife from Shun. This Japanese knife has a 7″ blade of carefully layered carbon and Damascus steel, with a 16-degree single bevel edge. It's fitted with a blonde Pakkawood handle in a signature D shape for superior grip and handling. Handcrafted in Japan, Shun knives are known for their impressive durability and high quality.
What sets this knife apart from its competitors is its quality. Users note that this knife cuts beautifully, arriving wickedly sharp. Cooks will find it easy to do essential vegetable slicing and dicing and accomplish thin slices thanks to its thinner blade. It's lightweight and very comfortable, making it suitable for professional cooks who need a tool for all-day use.
Shun knife owners are also able to register their knives for free sharpening! Anyone who owns this santoku blade can mail it back to Shun if it is defective or get it sharpened for free. Features like these are what make this such a worthwhile investment.
One of the only downsides to this knife is that it doesn't come with any storage. Those who don't have one should invest in a wooden knife block or magnetic strip for safe storage at home.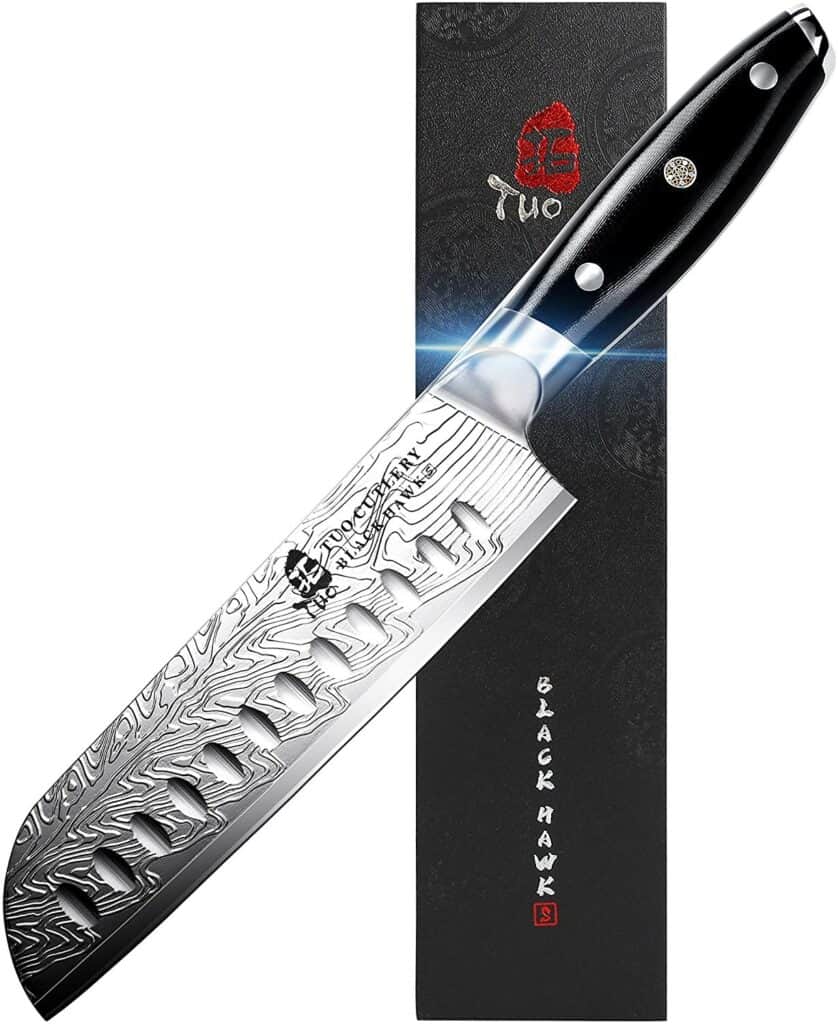 If you're a beginner cook who doesn't want to break the bank, we recommend this santoku knife from TUO. This solid, dependable santoku knife should suit any new chef looking to grow their skillset.
This knife has a 7″ high carbon stainless steel blade and is fitted with a military-grade fiberglass handle with an ergonomic grip. We love that this blade is tough and sturdy, able to accomplish most tasks you throw at it.
We love this knife for beginners because of the hollow edge of its blade. These little divots and the blade surface work together to reduce surface contact between food and the knife for maximum efficiency. This is great for a professional chef working fast and a beginner who wants better accuracy and easier slicing.
This knife is perfect for daily use and may become your go-to tool! Beginner cooks looking to try something different from a typical western knife will love this one.
Our Top Chef Knife Picks
Those looking to invest in a chef knife should consider the following:

Those who want to purchase the best Chef's knife should consider a knife from Wusthof. Wusthof is a world-renowned knife manufacturer, providing high-quality products every time.
This knife has an 8″ blade length, made from a single piece of hardened steel, fitted to a classic black handle. These knives are made in Germany, built to last, and found in professional kitchens worldwide.
There's a reason cooks are so committed to this brand. What makes this knife stand out is its durability and high performance. These knives are ultra-sharp for optimum cutting (check out the video below to see them in action) and can act as workhorses in the kitchen. Those looking to invest in something truly great should buy this knife.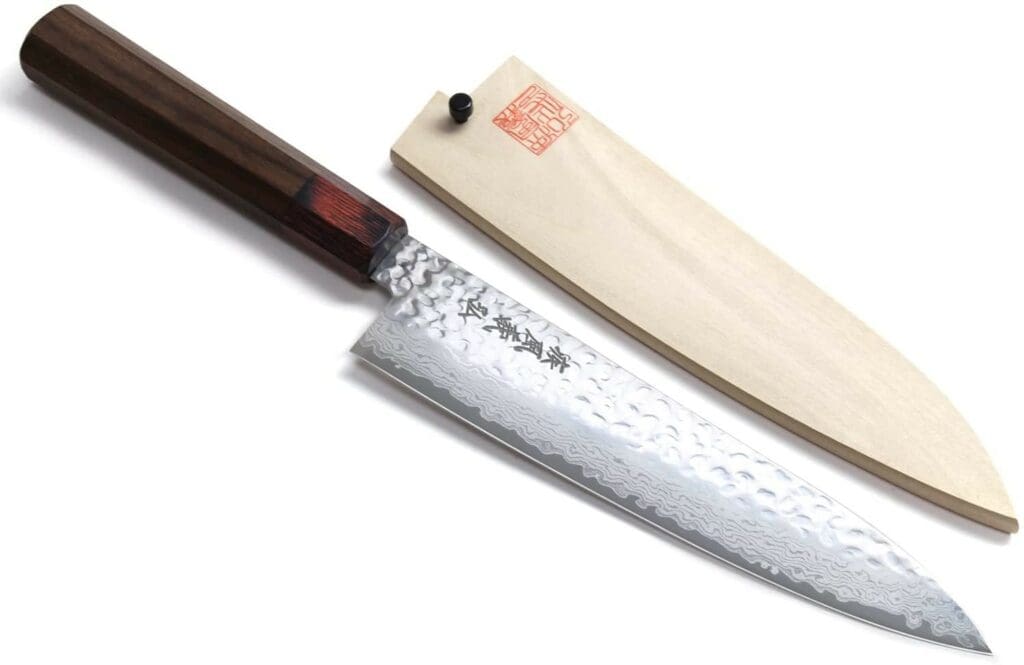 If you're investing in your first "Gyuto" knife (the Japanese take on Chef's knife), we recommend this one from Yoshihiro. This high-quality knife has an 8″ layered and hammered Damascus stainless steel blade and a gorgeous rosewood and mahogany handle. These are high-quality knives handmade in Japan, and they make an extremely versatile tool in the kitchen.
The quality of this blade is what sets it apart. While many Japanese knife companies make their take on knives, this is a product that artisans in Japan make. The level of craftsmanship put in is apparent in the knife's performance.
These knives' blades arrive ultra-sharp, and the unique hammered steel adds a texture that reduces friction while slicing. We also love that this knife has a unique wooden sheath for protection when not used. This knife is an investment but an exceptional piece that will last a lifetime with proper care.
What's your favourite knife shape? The santoku is easily one of the most useful, multipurpose kitchen knives ever made! pic.twitter.com/StKnqmXazh

— Knifewear (@Knifewear) April 15, 2022
Rocking Santoku vs. Chef Knife Guide
Let's learn more about these two kinds of knives and what sets them apart.
What is a Santoku Knife?
Santoku means "a knife of three virtues," referring to its ability to chop, slice, and dice. A santoku knife is a type of Japanese knife that is multi-purpose. These knives are suited to working with small and medium-sized fruits and vegetables but can also handle fish and meat.
The Santoku knife will also have a very distinct-looking blade. These knives have an utterly curved top but a flat bottom edge. Santoku knives are suited to precise and fast chopping in up and down motions.
Santoku Knife Features
Though a santoku knife and a chef knife look similar, they have some features that showcase their distinct differences. That becomes clear when you look at both of their features.
When looking for a santoku knife, you'll often find the following:
Hollow Edges: Hollow edges on the blade surface increase friction between the knife and food, so it doesn't stick to the blade.
Lightweight: A santoku knife will be lightweight for precise and easy cutting.
Smaller Blade: A santoku knife blade is usually 6-7 inches long.
Flat Blade: The blade of a santoku knife will be curved with a flat bottom edge.
What is a Chefs Knife?
A chef's knife is a larger, sturdier knife for many kitchen tasks. Western and Japanese chef knives, called "Gyuto knives," are similar in their task suitability. They are at their best when used for cutting meat, as their sturdiness handles cutting through rigid bones exceptionally well.
A western chef knife will have a slightly curved blade, coming to a pointed tip. The curve in the cutting edge allows for faster chopping, moving the knife rockingly.
Chef Knife Features
What makes a chef knife different from a santoku knife? A look at chef knife features reveals some key differences:
A larger blade: A chef's knife blade is 8″ to 12″ long, making it more significant than the santoku.
Heavier Weight: As chef knives are designed to cut meat, they tend to be much heavier and sturdier for more power.
Chef Knives have a slightly curved blade for fast chopping using a rocking motion.
Should I Use a Santoku Knife or Chef Knife?
Santoku and chef knives are both suited to different kinds of cooking and different ingredients. While it's possible to use one or the other in many instances, here are the tasks each knife is suited to.
Use a Santoku Knife When:
Mincing garlic
Cutting things into ultra-thin slices
Chopping small-medium-sized vegetables
Cutting delicate meats like fish,
Use a Chefs Knife. When:
Cutting meat, primarily through bone,
Slicing more extensive, denser fruits and vegetables (ex: melons, squash)
Cutting herbs using a rocking chop
How To Sharpen Your Knife
One important thing to note with these knives is the different approaches they require for sharpening. Western and Japanese knives have different blade styles that can only approach in specific ways.
Sharpening a Santoku Knife
Most Japanese knives, especially Santoku knives, have a single bevel edge. Only one blade edge is sharpened, so these knives are better for up-and-down chopping. To sharpen these knives, we find it most straightforward to use a whetstone and follow these steps:
Soak whetstone in water.
Place the knife at the desired angle on the surface of the stone.
Stroke the entire knife edge along the stone surface.
Repeat until the edge is sharp.
Sharpening a Chef Knife
A typical chef knife will be double-beveled, as is the norm for most western knives. You can sharpen these knives with various tools, but we recommend using a sharpening rod. Take the following steps:
Hold your honing rod vertically, with the tip on your counter or table surface.
Put the blade at a 15-degree angle at the top of the rod; the blade is pointed down.
Slide the knife blade down the length of the rod in a sweeping motion.
Repeat this on both sides of the blade until sharp.
In Conclusion
The chef knife and Santoku knife are solid, reliable kitchen gear pieces. Though both are suited to different cuisines, their versatility and multi-purpose nature make them excellent choices for any cook. Whether you decide it is your favorite, they will be great lifelong companions in the kitchen!
What is the Difference Between a Chef's Knife and a Santoku Knife?
Although many cooks use the rocking method effectively, the Santoku method is faster and more efficient. Chef knives have blade tips that allow the cook to naturally 'rock' the blade forward as they complete a cut. Santoku knives lack a point, so they can be used to make a single downward cut.
Which knife is Best, Santoku or Chef?
Santoku knives are often lighter and have thinner blades than Chef's knives, which have thicker and heavier blades. On the other hand, Chef's knives are lighter than santokus if you compare different types.