Choosing your first Japanese kitchen knife set can be overwhelming, but considering some key factors can help simplify the decision-making process. First, it is important to consider the types of knives you need based on your cooking habits and preferred cuisine. Japanese knives, such as Gyuto, Santoku, and Nakiri, come in different shapes and styles, each suited for different tasks. (also see German vs. Japanese Knives: Similarities, Differences, Pros & Cons)
Second, consider the type of steel used to make the knives. High-carbon stainless steel and carbon steel are popular choices for Japanese knives, with carbon steel offering superior sharpness but requiring more maintenance. Third, look for a well-balanced knife set with a comfortable handle and blade size that feels comfortable in your hand. Consider your budget and choose a quality knife set that fits your price range.
When getting your first Japanese kitchen knife set, read reviews, and seek recommendations from trusted sources before purchasing. With the right set of Japanese knives, you can enhance your culinary skills and elevate your cooking experience.
Is it Worth Buying a Japanese Knife?
According to Joanna Rosenberg of Zwilling J.A. Henckels, the Japanese have always valued sharpness over durability. German knives are built to last, unlike Japanese, with delicate and razor-sharp blades. German (and Western-style) knives are typically heavier and made of 'tougher' but 'softer' steel.
Japanese Knife Set Reviews
Those looking to invest in the best Japanese knife set will find themselves happy with any of the choices on our list: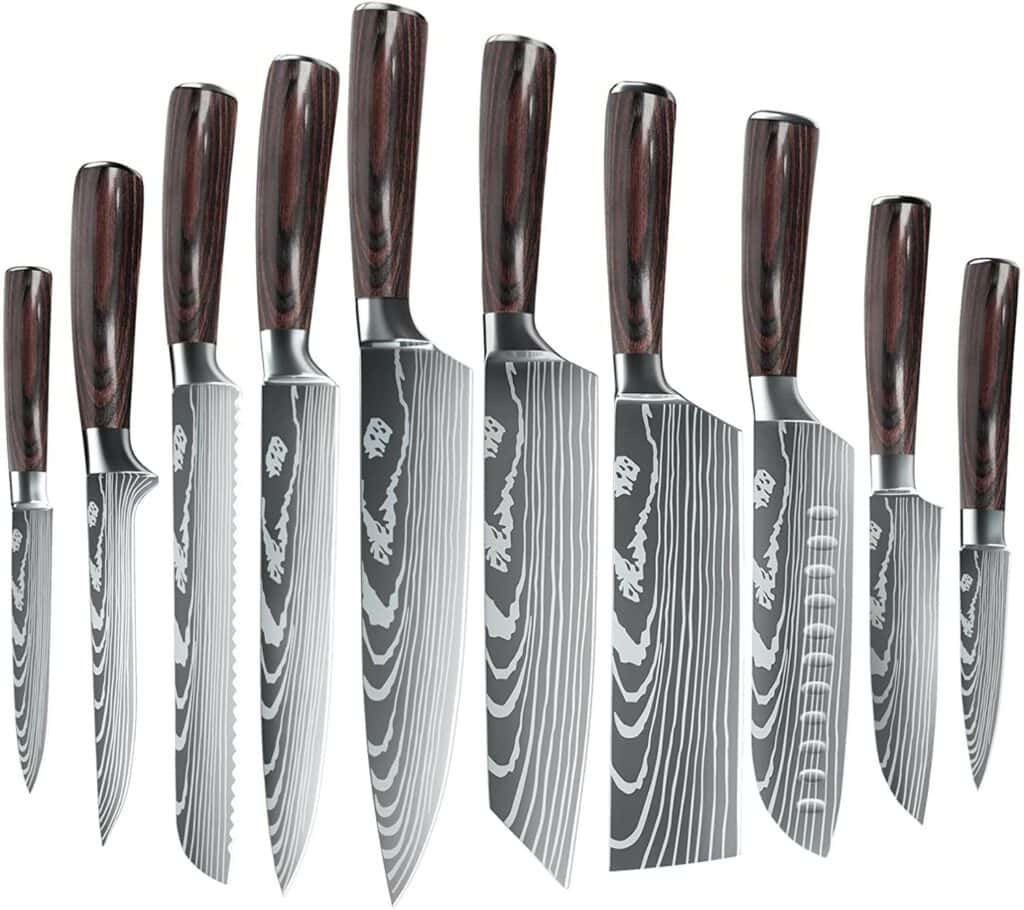 Those looking to invest in a knife set that covers all the bases will love this one from DFITO. This knife set comes with 10 Japanese kitchen knives, including a Chef knife, bread knife, cleaver knife, paring knife, boning knife, and different variations of the classic Santoku knife.
Unlike other knife sets on the market, we love that this collection is truly multipurpose. These knives work well with a wide range of ingredients and cooking styles. Thanks to this high versatility, this set is a great starter for new cooks or those looking to invest in their first set of knives.
These knives are all fitted with an ultra-sharp edge (as shown in this handy video here), made with high carbon stainless steel that is corrosion and rust-resistant. With proper care, a set like this can last a lifetime, making it a worthwhile purchase.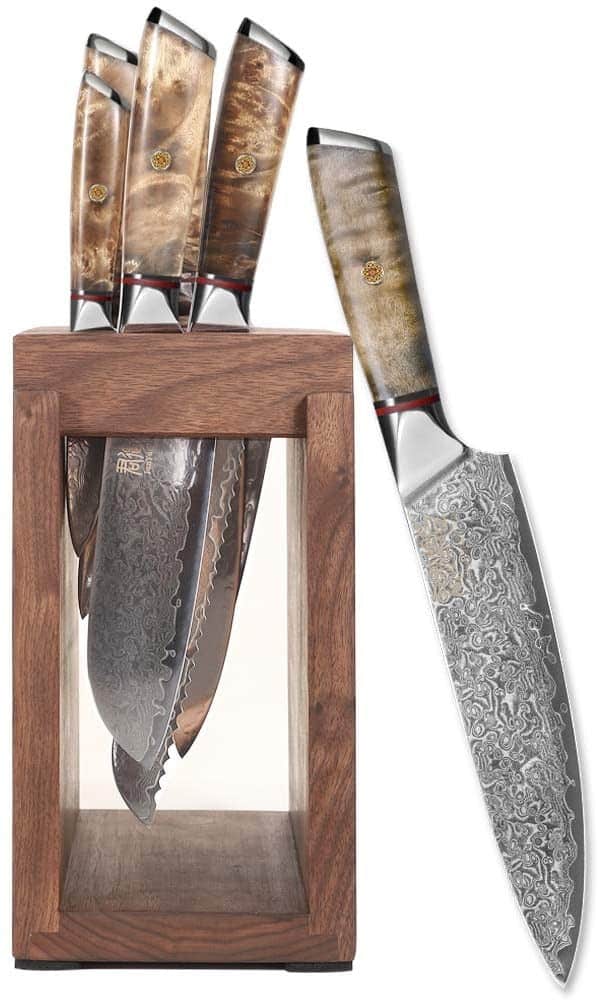 We can't recommend this Japanese knife set enough for the chef looking to spend a little money! This knife set includes a chef's knife, a nakiri knife, a paring knife, a bread knife, a santoku knife, a utility knife, and a boning knife. Each knife is made of Japanese Damascus steel, and the set comes with a beautiful walnut knife block for easy storage.
This knife set is a splurge, but it is well worth it! These knives are stunning, with carefully forged steel blades in a gorgeous wooden handle adorned with flower rivets. We also love the design of the wooden block holder, which can hold this set and any additional knives you may already own. Those who want something extraordinary will find this set a standout.
Those with the money to spend will find a lot to enjoy about these luxurious knives! They are gorgeous without compromising quality and set you can keep for years.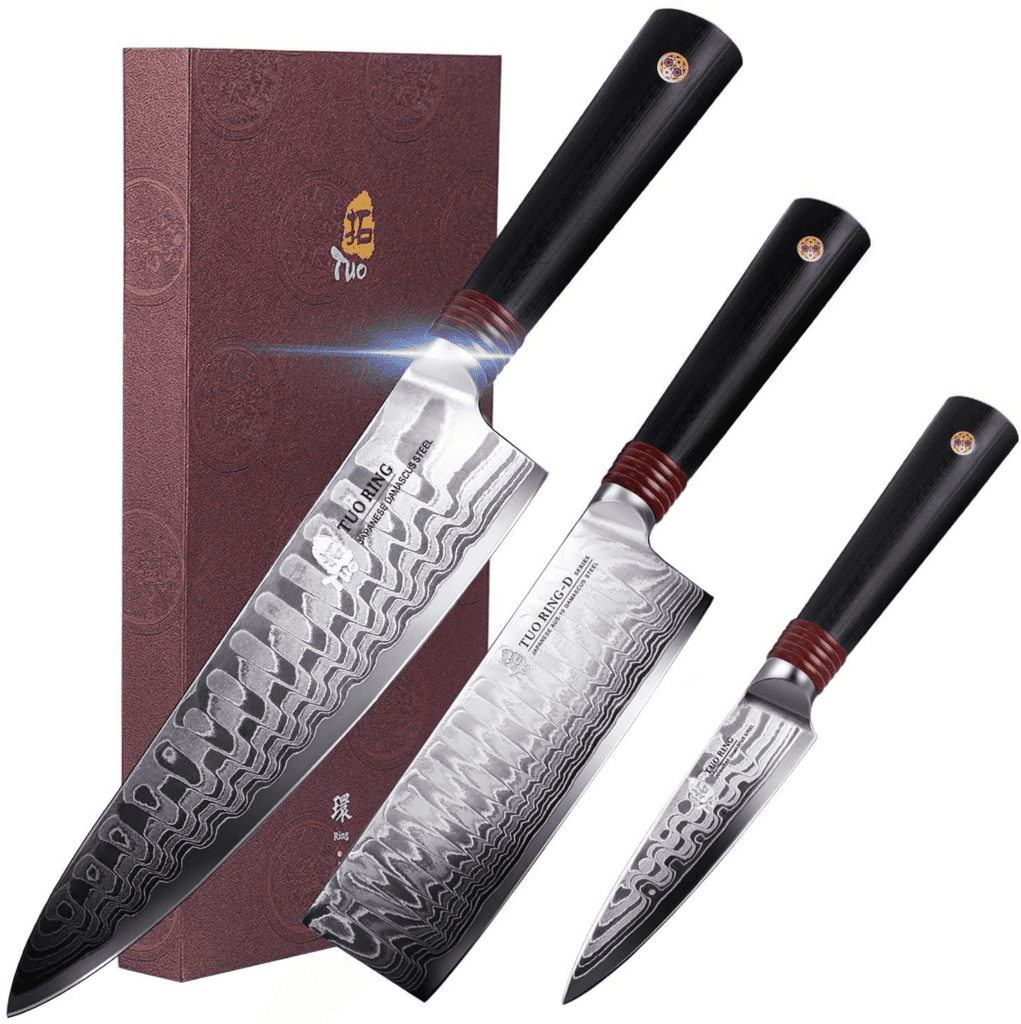 If you're a new cook and just getting into high-quality knives, we recommend this set from TUO. This knife set only comes with three knives (a chef knife, a nakiri knife, and a paring knife), which means they aren't the best for those looking to invest in a full set.
However, the new cook who is used to using a Western knife or German knife and wants to see how a Japanese blade might differ will love this set. These three knives can cover a wide range of cooking tasks, making them a good choice for those who don't want to buy a more extensive set.
The blades on these knives are made of high-quality Damascus steel and set into a handy ergonomic handle. Users note that TUO knives are high quality and can easily handle cutting and slicing. (Watch a TUO knife review here to see for yourself!) This set comes in a gorgeous gift box, making this a great purchase if you want to give a gift to a cook.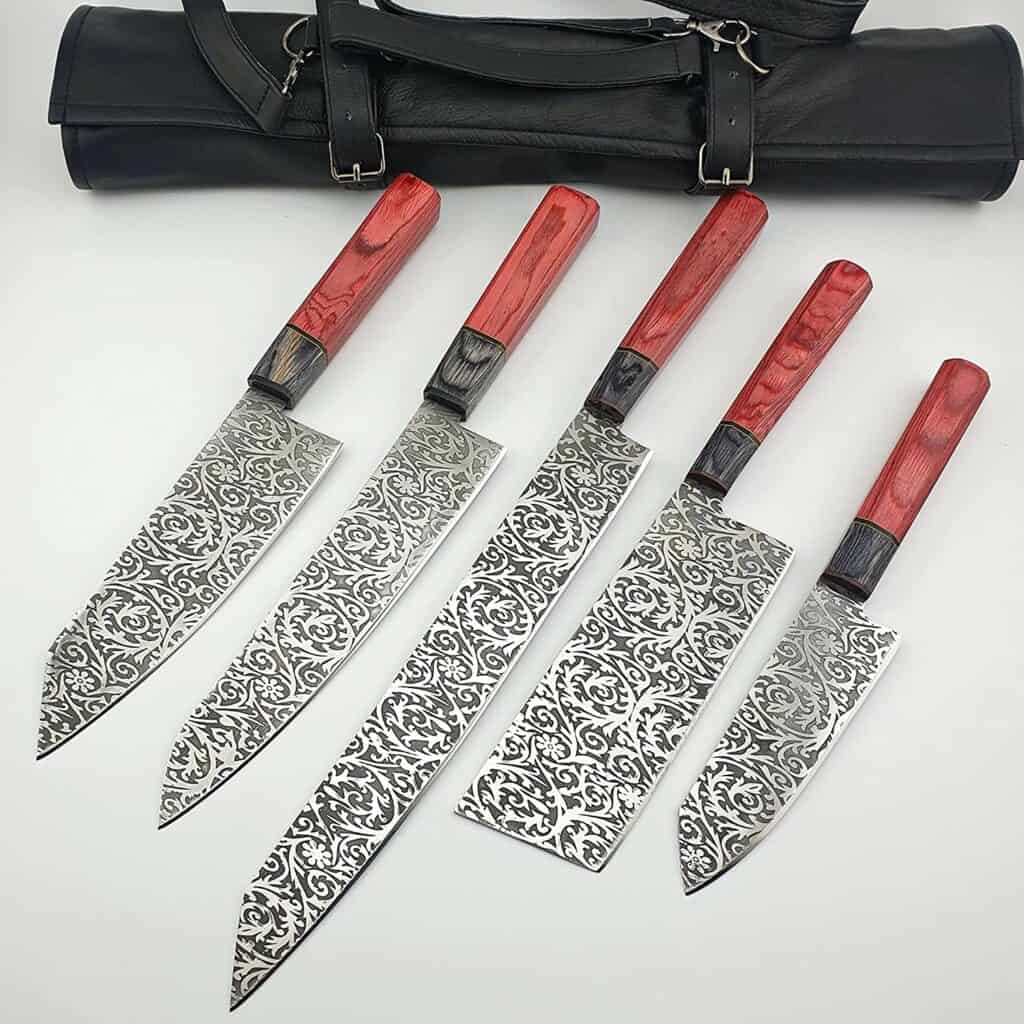 This Japanese chef knife set is perfect for a professional chef who needs to take their knives on the go! This set comes with 5 knives made of high-quality stainless steel, set into a comfortable wood handle. You can store these knives in a convenient leather roll bag for easy transport to and from your kitchen.
Why do we like this knife set better than other related products? Unlike other sets, these knives were crafted with chefs in mind. The 5 different knives here (gyuto knife, Bunka knife, nakiri knife, Yanagida knife, utility knife) can handle any task you got. Whether you're slicing and cutting vegetables for prep or making more intricate cuts on delicate meats like fish, there is a knife in this set to get the job done.
Many who buy this set end up pushing their previous western knife set aside in favor of these authentic, high-quality Japanese blades. (Seriously- click here if you want to watch one of these knives in action.) This is a set Worth looking into if you're a professional chef.
What to look for in a Japanese knife – Japanese Knife Set Buyers Guide
Before you purchase a Japanese knife set, there are a few things you should keep in mind:
Types of Knives
The first thing you'll want to review before buying any Japanese knife is the kinds of Japanese knives. Some types of Japanese knives include:
Gyuto Knife: A gyuto knife is a Japanese equivalent of a Western chef knife. It typically has a slightly curved blade, so you can cut using a rocking or chopping motion. This is a tremendous do-it-all kind of knife, able to handle cutting most meats and vegetables.
Santoku Knife: A santoku knife is a smaller version of the gyuto. It is also a tremendous multipurpose knife, but its smaller size makes it more adept in some areas. Use a santoku for any ingredients cut with slicing, dicing, or chopping.
Nakiri Knife: A nakiri knife is mainly used for cutting vegetables, made easy with its distinct blade shape. A nakiri knife will be square in shape, with a blade that is not curved. The straight blade makes quick work of cutting and slicing fruits and vegetables.
Petty Knife: A petty knife is a smaller blade, slightly larger than a western paring knife. These knives are used for more delicate work, like trimming, slicing, peeling, or making decorative cuts on food.
Deba Knife: The deba knife is best when filleting fish or cutting other meats like Kobe beef and poultry. It has a distinct look, with the top of the blade in a curve but a flat straight blade on the bottom.
Yanagiba Knife: A Yanagida knife is also a filleting knife but is reserved for fish and fish alone. With a long, thin blade, it's suited to skinning fish and making the delicate cuts needed for dishes like sushi and sashimi.
Knife Material
The next consideration to remember is the material your knife is made of. When shopping for a high-quality set, you will likely encounter two knife materials: stainless steel and carbon steel.
The most significant appeal of a stainless steel blade is that it can hold a sharp edge much longer than other materials. Stainless steel also has little flexibility compared to carbon steel, which means they aren't as likely to break and chip.
Carbon steel blades have better hardness and strength than stainless steel. However, they are much more prone to corrosion and damage, and a lack of flexibility means they can chip or break when used wrong.
Both materials are a good choice, and you can avoid potential future issues with proper care.
The 13-inch Yanagiba is a specialty single bevel blade, ideal for the longest and most demanding cuts. #kamikotoknives #japanesesteel #knives pic.twitter.com/WNB3FEfjvv

— Kamikoto – Japanese Steel Knives (@kamikoto) April 8, 2022
Knife Handle
It would help if you also considered the knife handle matter. Most handles will either be wood, plastic, or stainless steel. The feel and weight of the handle in your hand will make using them comfortable and keep you safe in the kitteel.
Wood can be attractive, but its porous nature means it can hang onto bacteria. Water can also more easily damage it.
Plastic is not as delicate as wood but can become brittle and crack over time. Some users also find plastic too light.
Stainless steel is durable and excellent in weight but can be slippery when wet. It's best to find steel handles fitted with silicone or plastic for safer handling.
In Conclusion
We hope our handy guide helps you select your dream Japanese knife set! Any contenders on our list will make great additions to any kitchen.