A Santoku knife is used for various tasks, such as slicing, dicing, and chopping fruits, vegetables, and meats. "Santoku" translates to "three virtues" in Japanese, referring to the knife's ability to perform three primary cutting techniques – chopping, slicing, and dicing. The blade of a Santoku knife is typically shorter and wider than a traditional Western-style chef's knife, making it well-suited for tasks that require more control and precision. It is a popular and essential tool in many home and professional kitchens worldwide. (also see Gordon Ramsay Tested HexClad Japanese Knives)
But what sets the santoku knife apart? And what are the tasks that they truly shine at accomplishing? Read on to learn what is a Santoku knife used for, our picks for the best ones, and where to buy Japanese knives online.
Santoku Knife vs. Chef Knife
A Santoku knife and a chef's knife are versatile but have some key differences. A chef's knife typically has a longer and wider blade than a Santoku knife, making it better suited for tasks that require more power and leverage, such as chopping large vegetables and cutting meat. In contrast, a Santoku knife has a shorter and wider blade, making it ideal for precision cutting and chopping smaller fruits and vegetables.
Additionally, a Santoku knife is typically lighter and more maneuverable than a chef's knife, making it easier to control for delicate tasks. Ultimately, choosing between a Santoku knife and a chef's knife depends on personal preference and the specific tasks required in the kitchen. Some cooks prefer to have both knives in their arsenal to cover a range of cutting needs.
Best Santoku knife
Choosing the best Santoku knife depends on individual preferences, needs, and budget. A good Santoku knife should have a sharp, durable blade, comfortable, ergonomic handle, and well-balanced weight. The blade should also be made of high-quality steel and have a hard and sharp edge that can retain its sharpness over time. Some popular brands of Santoku knives include Wüsthof, Shun, and Global, among others.
It is recommended to read reviews and consider the intended use and maintenance requirements before purchasing. Ultimately, the best Santoku knife feels comfortable to use and can perform its intended tasks with ease and precision.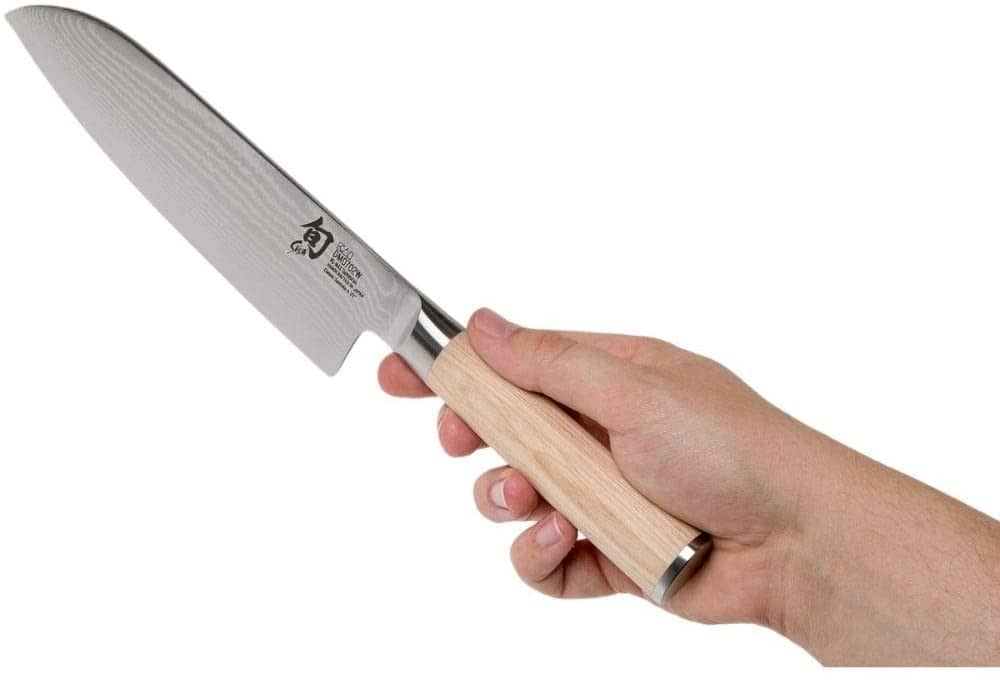 The Shun santoku knife is a beautiful instrument and would benefit any cook in the kitchen. This Shun knife is a high-quality, high-performance kitchen tool handcrafted in Japan. Its blade is layered with high carbon steel and Damascus, attached to a gorgeous blonde handle in a comfortable D shape.
This is a santoku knife made in Japan and shows its superior handling. What makes this knife its competitors is its authenticity and high quality. Shun also allows all customers to register these knives for free, sharpening them throughout its life, so users will always have a well-balanced product.
Japanese knife fans know that brands like Shun offer high-quality instruments. This is an authentic, well-made tool that is worth the investment.

A professional chef needs a knife that can put in the work, and this knife from Wusthof does precisely that. Wusthof knives are world-renowned for superior quality and reliability, so professional cooks often favor them.
What makes this knife stand out from others like it is its durability. Wusthof knives are crafted from high-carbon stainless steel and secured to a rigid polypropylene handle. This knife is built to withstand professional kitchen use, daily slicing, dicing, and chopping. This knife also has a great solid weight, making it sturdier than traditional, lightweight santoku knives.
Those particular about their knives won't be disappointed with this one. It may just become your new favorite!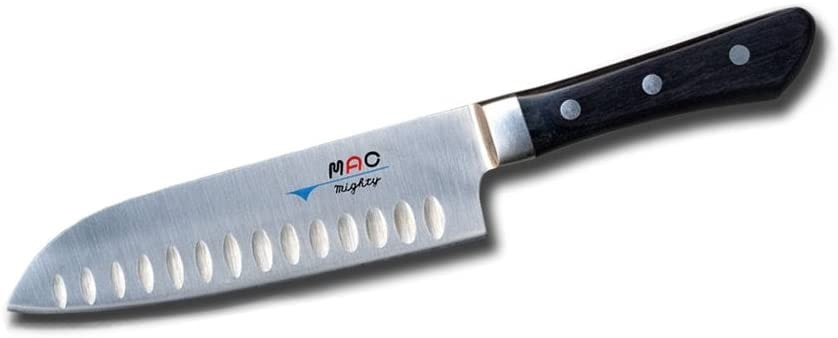 This santoku knife from Mac is excellent, combining the superior design of a santoku knife with the double bevel blade found on a western knife. This combination makes a knife a joy to use for any task.
Users note that this knife's superior sharp edge is a dream for everyday vegetable slicing. With a double angle, there is more versatility in holding the knife for cutting, which is suitable for beginners. It also means you can slice it at an angle so lefties and righties can use the knife.
Some cooks will also appreciate that this knife is slightly smaller than other santoku knives. The smaller blade and lightweight handle make it easy to hold for fast, light work. This knife has a hollow edge on its blade to help food not stick during cutting.
Users will no longer dread kitchen prep work with this knife in hand. Chopping vegetables with this blade is truly a breeze!

This santoku knife from Global Knives is small but mighty and perfect for the cook who wants to take their knives on the go. This santoku knife is much smaller than others, coming in a modest 4″ size.
This is a high-carbon stainless steel knife, from the blade to the handle. Though smaller than average, it still has a sharp blade, perfect for slicing and dicing. It has everything cooks love about santoku knives: a hollow edge, ergonomic handle, and distinct straight-edge blade.
The small size of this knife means it's not as versatile as others. You may not be able to carve large meats or vegetables, but this is the best knife to take on the road. This one is perfect if you're an outdoor enthusiast who needs a handy knife for outdoor cooking. Take it to mince herbs quickly, cut cherry tomatoes, peel fruit, and much more.
Best Damascus Santoku knife Recommendations
What is a Santoku Knife?
Before investing in a santoku knife, let's review what they are. A santoku knife is a multi-purpose Japanese knife adept at slicing, dicing, and chopping. Santoku translates to "three virtues" of its versatility, as this knife can cut, chop, and slice. The Santoku is similar to a chef's knife compared to Western knives. However, this knife has some unique characteristics that work to set it apart.
What's The Point of a Santoku Knife?
A Santoku knife is a traditional Japanese knife designed for slicing, dicing, and chopping small ingredients that require precision, such as onions, garlic, and green peppers. The Santoku region is known for its rice knives, which can also be used as chef's knives, but they are not as versatile since they have a straight edge rather than a curved edge like French knives.
Santoku Knife Characteristics
These are some of the key traits that define the santoku knife:
Blade Shape
The thing that makes a santoku knife so recognizable is its blade shape. Santoku knives have a distinctly curved blade that curves to the end of the knife rather than forming a pointed tip. The entire bottom edge of the knife is an even, flat line with no curve. They also tend to have thinner blades than traditional western knives.
Blade Bevel
Like most Japanese knives, a santoku knife will have a single bevel edge. This means they only sharpen down on one side when they sharpen the knife. This makes for a pretty sharp cut, especially when making slices in a straight up-and-down motion.
Hollow Edge Blade
Though this isn't true for all santoku knives, many blades will have hollow edge indentations along the blade surface. These little pockets keep food from sticking to the blade while cutting.
Knife Size
A santoku knife is usually smaller than a Western chef's knife. They are usually available between 6 and 8 inches in size.
Handle Shape
When shopping for a santoku knife, the handle can reveal its authenticity. Widely manufactured knives will usually have generally ergonomic handles.
An authentic knife will have a way-handle, usually round, octagonal, or d-shape variations. These handles are typically wood and designed for overall lightness and blade-forward balance.
What Is a Santoku Knife Used For?
Santoku knives are great to use in the kitchen and used by many cooks for anything. Here are some of the things it's best at, where its usefulness becomes super apparent:
Thin Slicing
The Santoku is best at creating thin slices of whatever you're cutting. With a thin, single-bevel blade, these knives can make extremely slim cuts on vegetables like tomatoes and onions.
Mincing
The Santoku knife is excellent if you want to mince garlic or herbs. Its flat blade can make quick work of rapid up-and-down chopping. It's also great to drag along the cutting board when collecting minced ingredients on its wide flat surface or turning things like garlic into more of a paste.
Cutting
Any type of general cutting is quick and easy for a santoku knife. Any vegetable or fruit can be portioned easily, whether you're mincing, slicing, or chopping. It's also suitable for dairy if you like cubing cheese.
Unfortunately, it is not the best tool for more significant meat cuts. We wouldn't recommend you use one to butcher a whole animal or cut through bone. However, slicing boneless meat or portioning fish are tasks this knife can handle.
Santoku Knife Care
If you want your santoku knife to last, you must do some primary knife care. Caring for a Santoku knife isn't much different from any other knife. These are the basics you need to keep in mind:
How to Wash a Santoku Knife
When washing a santoku knife, always wash it by hand. Putting any knife in the dishwasher is a surefire way to get it damaged. High and hot water pressure will cause a lot of movement during the wash, leading to chips and breaks on the steel blade. Dishwashers can also be terrible for wood handles on knives, leading to cracking and warping.
Instead, wash your santoku knife by hand with warm water and soap. Once clean, pat it dry, then store it away for safety. We recommend storing your knives in sheaths, a knife block, or a magnetic strip to protect the blade.
Sharpening a Santoku Knife
Before sharpening a santoku knife, you must determine if it has a single or double bevel edge. If single, you will only sharpen one side of the blade. If double, sharpen both.
We recommend the following steps using a whetstone:
Soak your whetstone in water
Place the blade on one side of the whetstone at a 15-degree angle
Run the knife blade along the stone surface, pulling it toward yourself
Repeat this process using a back-and-forth motion until the knife is sharp
In Conclusion
The santoku knife is one of the most versatile Japanese knives and an excellent addition to any collection! If you're a cook looking to invest in new tools, this is one to add to your kit.