One of the most common tasks your kitchen knives will have is cutting meats. While you might assume you can use any kitchen knife for the job, there are actually specific knives out there that have been designed for meat-related kitchen tasks.
There's a lot to consider when choosing the right knife for your meat-chopping needs. Let's explore the different kinds of meat knives, the factors to keep in mind while you shop, and our top picks for the best meat knives you can buy.
What Kind of Knife is Best for Cutting Meat?
Knives with a slight curve are better for cutting through meat. The Granton edge of many butcher knives allows you to slice through meat without tearing or shredding it.
Our Top Picks for the Best Meat Knives
Shopping for a new meat knife? The following choices make some great meat knives:

Buy: Wusthof Classic 6″ Chef's Knife on Amazon
Those looking for a multi-purpose meat knife will be happy with this chef's knife from Wusthof. The chef's knife is a superstar in the kitchen, able to accomplish many tasks. We recommend a knife like this to those looking for a meat knife but don't want to get involved in a complete set with different kinds of knives.
We love that this chef's knife is slightly smaller than average at 6″. It's still large enough to cut through large meats and bones but small enough to offer easier handling for delicate tasks like boning or fat trimming. We also love that this blade is made of high-quality forged German steel and has a hollow edge to keep foods from sticking while slicing.
Best of all, those purchasing this knife will be investing in a product that was made to last. Wusthof is a world-renowned kitchen brand and is loved by chefs for its durability and high quality. Those looking for a knife to cover a wide range of meat-related tasks will find this knife ticks a lot of boxes.
Buy: Henckels Meat Cleaver 6″ on Amazon
This meat cleaver from Henckels is one of the best out there. This is a forged stainless steel blade set into an ergonomic handle for supreme balance and control while cutting. Knives from Henckels are known for their high quality, and this cleaver is no exception.
What sets this knife apart is its high quality and power. Like a solid forged knife, this meat cleaver can handle some tricky, heavy-duty cutting. This knife will be your go-to tool whether you're cutting through bone, slicing frozen meat, or even using it for vegetable prep work. Its forged blade and securely set handle give this knife the stability and weight needed for proper cleaver cutting.
This cleaver will delight all users, whether they're average home cooks or professional butchers. Its weight, durability, and high quality make it an absolute powerhouse on the butcher block. If you need meat cut, this is the cleaver for the job.
Buy: Mercer Culinary M20410 Genesis 10-Inch Carving Knife on Amazon
This carving knife from Mercer Culinary combines high-quality manufacturing with a superior design. Those looking for a knife specifically for carving meat will be pleased with this one. Thanks to its high-quality blade, this knife cuts through meat like butter (watch it in action below video).
What sets this knife apart from others like it is the quality construction of its blade. This is a forged knife made with German steel and sharpened into a tapered ground edge. It's this edge that makes all the difference, allowing for a more even and smooth cutting edge that lasts longer than other types of knife edges. This level of quality is especially important for carving knives, as they are meant to deliver beautiful, clean cuts that look good on the plate while serving.
If you want a carving knife that will cut a beautiful piece of meat every time, this one won't disappoint. We highly recommend it!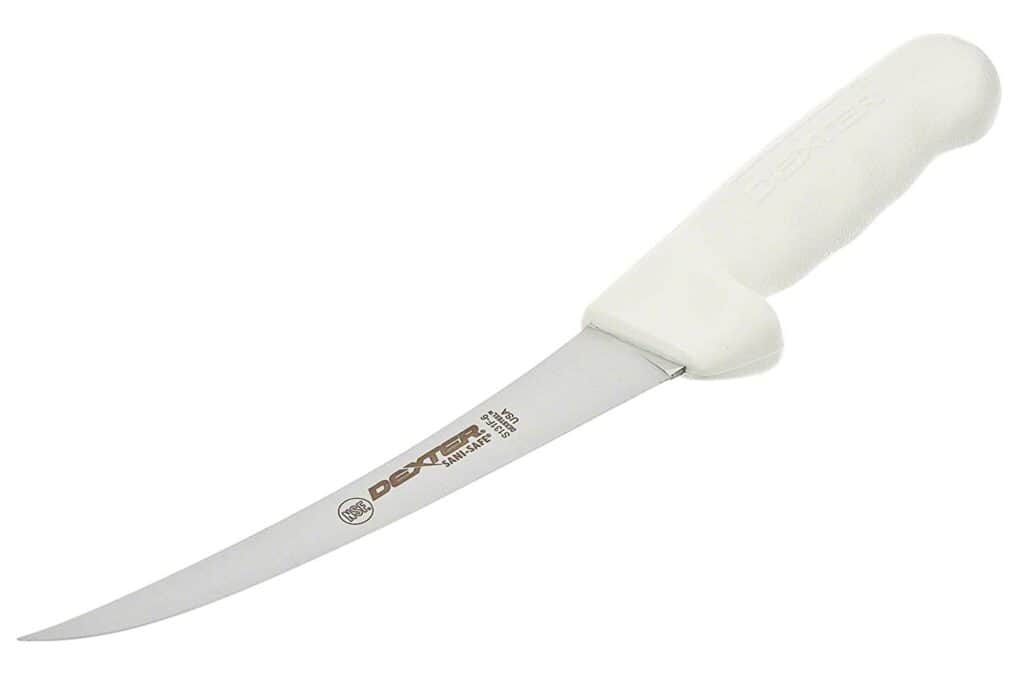 Buy: Dexter-Russell (S131F-6PCP) – 6″ Boning Knife on Amazon
We love this boning knife from Dexter-Russel because of its versatility. This knife is the perfect size for multiple uses, coming in at 6″ in size with a curved stainless steel blade. If you've found yourself torn between buying a boning knife or a filet knife, this one can accomplish the work of both.
This is all thanks to its flexible, high-quality blade. This curved blade is thin and flexible enough to handle delicate cuts of fish but strong enough to debone larger poultry meats. The unique handle was designed with meat in mind; textured to improve grip while wet (important when working with raw meats) but made with bacteria-resistant materials for better hygiene. We also love that this knife is from the Dexter-Russel Sani-Safe series.
The versatility and safety features make this an excellent knife for professional cooks in the kitchen. This high-quality knife will cut with ease and is safe and sanitary while using it.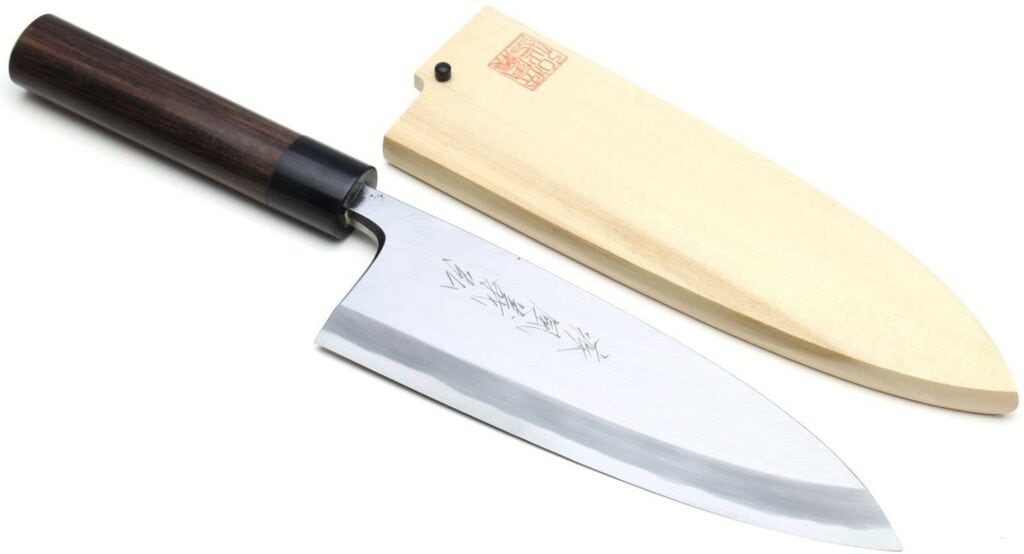 Buy: Yoshihiro Shroko High Carbon Steel Deba Japanese Knife on Amazon
Those who prefer a Japanese knife to a German knife will love this blade from Yoshihiro. This is a Japanese Deba knife, traditionally used for cutting and butchering meats. It's an excellent option for those investing in their first Japanese knife and can do a lot with meat in the kitchen!
What sets this knife apart is its authenticity, with Yoshihiro being in the knife-making business in Japan for over 100 years. These are hand-crafted forged knives, made with high-quality steel. This knife was crafted with a round handle and a heavier blade and handle weight to assist in butchering tasks. While its smaller size makes it unsuited to larger bones, it is perfect for smaller meats, boneless meats, and use with fish.
When you invest in a Yoshihiro knife, you invest in the real deal. This authentic Japanese knife is an excellent choice for professionals and beginners alike!
Meat Knife Buying Guide
If you want to buy the right knife, you need to be informed. Here is everything you need to know before you begin shopping for a new kitchen knife to use with meat.
Types of Meat Knives
There is a wide range of knives you'll find in the kitchen, all meant for different tasks and ingredients. Below we're outlining the knives specifically designed for use with meat. 
Carving Knife
A carving knife has a long, narrow blade that tapers into a sharp point, designed to create clean cuts through meat for neat, uniform portioning.
This is the knife you want to use when portioning and serving any meat, whether you're cutting a whole chicken or portioning slices off a roast. These knives can also be used for other kitchen tasks, quickly cutting fruits and vegetables.
Meat Cleaver
The meat cleaver knife, also called a butcher's knife, is a knife with a large, rectangle-shaped blade. They can come in a wide range of sizes but are generally large and heavy. This knife was designed for the heavy-duty cutting needed in the butchering process. It is best used for raw meats, as its weight and size help it with cutting bone.
Boning Knife
A boning knife is a small, slim knife. It has a distinct tip that tapers upwards into a point with a curved blade. Their blades are also highly flexible, with more bend than other meat knives on the list.
A boning knife is used to debone meats and can be used for trimming fat or cartilage. Its flexibility and thin size let it accomplish the delicate work of removing bones without damaging the meat itself.
Filet Knife
A fileting knife is highly similar to a boning knife but slightly different. It has a long, flexible, slim blade that comes to an excellent point, with a curved blade edge. These are meant for deboning work as well, but with delicate meats like fish. I can easily clean it to remove the skin from the fish with minimal damage.
Other Knives
The knives we discussed above were specifically designed to be used when preparing and serving meat. However, there are other non-meat knives you can use! While these knives below don't fall into the meat category, they are versatile enough to assist in meat cutting in the kitchen.
Chef Knife
The chef's knife is the classic kitchen knife used as a multipurpose tool. These knives have a broad blade that comes to a tip with a slightly curved straight blade. These are used for all kitchen chopping and dicing and can be great for cutting meat when needed.
Paring Knife
The paring knife is a short, slim knife that is extremely small in size and is reserved for delicate work with fruit, vegetables, and herbs. However, their small size can be useful if you need a small tool for delicate meat trimming or making intricate cuts.
Utility Knife
A utility knife looks like a chef's knife, but it is smaller. These are good for smaller vegetable and fruit prep, but you can also use them for slicing meat in a pinch.
Different Knife Features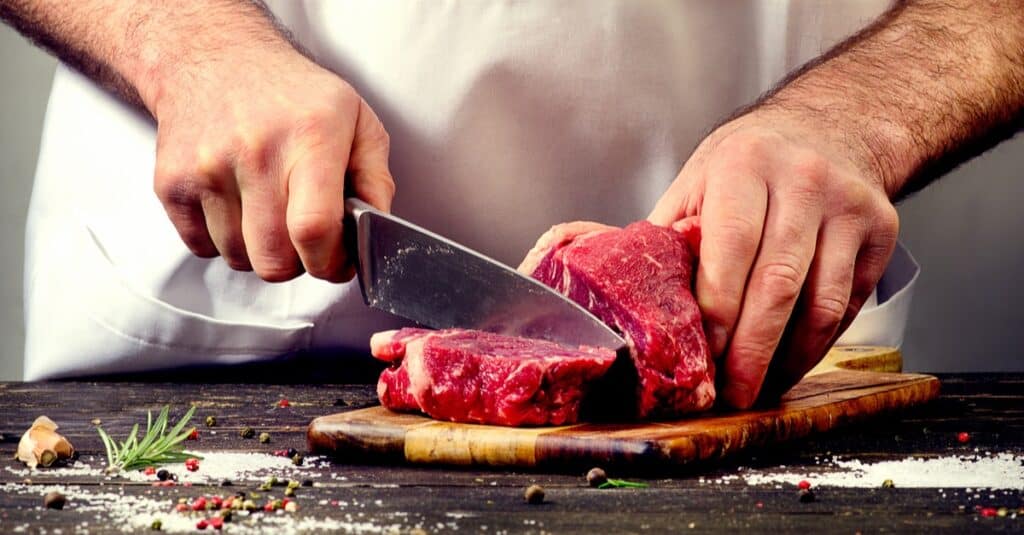 If you want to buy the best knife possible, you need to be informed on the different factors that make or break a good knife. These are the different factors you should keep in mind as you shop, so you pick the knife that's best for you.
Forged Knife vs. Stamped Knife
When shopping for knives, they will either be forged or stamped.
Forged Knives
A forged knife is a knife that is made out of one solid piece of metal. The knifemaker will cut the stainless-steel blade and handle it as one solid piece during the creation process. Then, a handle will be fitted around the metal handle, usually secured with rivets. You can tell if a knife is forged by checking the handle, looking for a steel line on the knife handle, or looking for a bolster between the blade and handle.
The appeal of a forged knife is its strength. As the entire knife is made from one piece of metal, the knife should be exceptionally well balanced. There's also a much smaller chance of the blade and handle separating and breaking.
Stamped Knives
A stamped knife refers to a knife made using a stamping machine. During the manufacturing process, the blade shape will be cut out of a sheet of metal using a stamping machine. It is then sharpened, hardened, and fitted to a handle.  You can usually identify these knives by looking at the handle. A lack of steel or rivets on the handle might mean it's a stamped knife.
These knives tend to be much cheaper than forged knives, as it's a much less laborious process to make them. They also won't be as high in quality as forged knives. As the blade is fitted to a handle, there's a greater chance that over time the blade and handle could separate. Some people also note that stamped blades will be thinner than forged blades.
However, the average kitchen cook loves these blades for their affordability. And these knives aren't always bad in quality. As time has gone by, manufacturing processes have improved to the point where there are high-quality stamped knives out there.
Knife Handle
When shopping for any knife, the most common handle materials you will encounter are wood, stainless steel, and plastic. Each of these materials has its benefits and drawbacks.
Wood: A wood handle is loved by cooks because they make for a beautiful-looking knife. When properly treated they can last a lifetime, but in general, wood is the material most prone to damage. Wood is not water-resistant, which makes it warp and crack over time with washing. Wood is also porous, which means it can hold onto bacteria if not properly sealed.
Plastic is an excellent material choice if you want something lightweight and sanitary. Plastic will not weigh down a knife and can come in fun colors. It will not take on water or bacteria like wood. However, plastic can become damaged over time, chipping, splitting, or brittle. Plastic can also be slippery if the handle isn't fitted with a good grip.
Stainless Steel: A stainless steel handle is the most durable handle material, and the most sanitary. However, they can make a knife handle-heavy if they aren't hollow, and without grips, they can be extremely slippery when wet.
Knife Weight
When it comes to a meat knife, you need something sturdy and powerful enough to cut through rigid material. Cutting with a heavyweight will assist you in cutting, with gravity pulling the knife down for easier cutting.
The exact weight and balance of a knife will vary from user to user depending on personal preference. In general, though, you'll want heavy knives for chopping and cutting through bone, and something more lightweight for trimming and delicate portion work.
Knife Size
The size of the knife you choose will vary depending on the kind of meat you are cutting, with different knives suited to different tasks. For example, a general meat cutting knife like a chef's knife will be anywhere from 9-12 inches in length, whereas a filet knife can be as small as 6-10 inches.
When shopping for any knife, it's a good idea to pick one based on what feels best in your hand. This will ensure you have better control of the knife, and are safer when wielding it.
Knife Blade Material
There are tons of different knife materials out there, each with their distinct advantages. Below we outline some of the more common knife materials.
Stainless Steel: This is the most popular blade material you'll find, loved for its durability, and corrosion resistance.
Damascus Steel: When a knife has a Damascus steel blade, it means the blade was made by layering and folding two types of steel. They have a hardcore with a softer steel exterior for easier sharpening.
Carbon Steel: Carbon steel is steel that has added carbon. This will make the blade more rigid and easier to sharpen. Carbon steel is extra complicated and sharp, but slightly more brittle and prone to corrosion.
Ceramic: Ceramic is an ultra-hard, super lightweight material that can stay super sharp. People like these because of their sharpness, how lightweight they are compared to steel, and that ceramic won't chemically react to foods. However, they are so hard that they can often only be professionally sharpened.
Knife Blade Type
When shopping for any knife, you may notice that the blade includes one of these features.
Serrated Blade: Some meat knives will include a jagged serrated edge, with small "teeth" along the edge of the blade. This blade style is most often found on a bread knife, but a serrated knife can be really useful with meat too!
Some knives will have a row of indentions or pockets along the blade's surface. These small pockets reduce the surface area that foods touch during cutting, so they don't stick to the knife. This can be useful when making any thin slice of meat, fruit, or vegetables.
A Granton blade is similar to a hollow-edge blade but is a style explicitly used on Granton knives from the UK. These knives have a series of indentions that go all the way to the knife's edge. Like a hollow-edge knife, this is done to keep food from sticking to the blade. It also makes the knife a bit lighter.
In Conclusion
Now you know all there is to know when shopping for a meat knife! As you can see, there are all kinds of meat knives, all meant for different tasks. The specific kinds of meat knives you invest in will come down to your own cooking styles, and the kinds of ingredients you plan on prepping.
Next time you're portioning raw meat or carving a cooked turkey, you'll now be able to select the right tool for the job. Good luck with your knife shopping, and happy cooking!