Gordon Ramsay's creamy asparagus risotto is a mouthwatering, sophisticated dish that perfectly showcases the chef's culinary expertise. Made with the freshest ingredients and cooked to perfection, this risotto is a true masterpiece that will impress even the most discerning foodies.
(Also see Gordon Ramsay's Best Risotto Recipes: A Collection of Creamy and Flavorful Dishes to Elevate Your Cooking)
I look closely at Gordon Ramsay's recipe and show you how to recreate this delicious dish in your kitchen. From the creamy texture to the delicate asparagus flavor, every bite of this risotto will surely be a delight. This green-hue risotto dish recipe that often catches the camera is served as an app for Hell's Kitchen diners.
(Must try Gordon Ramsay Shrimp and Scallop Risotto: Experience Fine Dining at Home)
It's spring asparagus, brightened with lemon and enriched with a dollop of mascarpone. So, get ready to impress your guests and take your cooking skills to the next level with this amazing recipe.
Equipment You Need To Make Gordon Ramsay's Risotto?
Making Gordon Ramsay's risotto requires a few essential pieces of equipment to help you achieve the perfect texture and flavor. Here are the tools you'll need to make this delicious dish:
Large pan: You'll need a large, heavy-bottomed saucepan to cook the risotto.
Wooden spoon: A wooden spoon is the best tool for stirring the risotto.
Ladle: You'll need a spoon to add the broth to the risotto, one ladleful at a time.
Grater: You'll need a grater to grate the Parmesan cheese, which adds a rich, nutty flavor.
Chef's knife: A sharp chef's knife is essential for preparing asparagus and other ingredients
Cutting board: You'll need a cutting board to prepare the asparagus and other ingredients.
With these essential tools, you'll be well on your way to making Gordon Ramsay's delicious risotto in the comfort of your kitchen.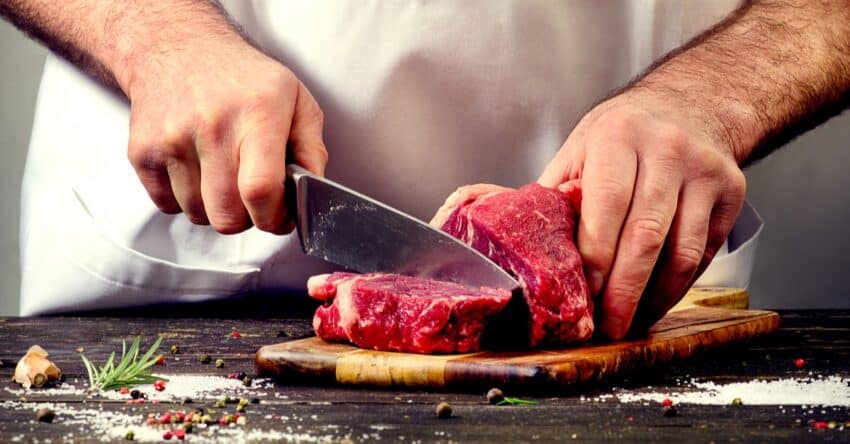 Our Favorite Products in One Convenient Place
Visit the Hell's Kitchen Reviews Amazon shop to browse a handpicked selection of our favorite cookware, kitchen knives, appliances, and more.
(Learn more about Gordon Ramsay's Kitchen Essential Tools)
How to Make Gordon Ramsay Green Asparagus Risotto
Gordon Ramsay's green recipe asparagus risotto is a delicious and sophisticated dish that will impress your guests. This creamy and flavorful risotto is made with fresh asparagus, Parmesan cheese, and other ingredients that create a truly unforgettable taste. (Learn how to make Gordon Ramsay Mushroom Risotto with Parmesan Cheese)
Making Asparagus Puree
In a medium skillet, blanch the whole asparagus in boiling salted water for 2 minutes or until al dente. Reserve a half cup of the blanching liquid.
Remove the asparagus spears with a slotted spoon and shock in ice water.
Cut 2 inches from the tops and set aside. Thinly slice the bottoms and put them in the blender on low. Blend on high until smooth season with salt and pepper (Check out Vitamix Professional Series 750 Blender Review – More Than Just a Blender).
Add just enough of the blanching water to loosen and start pureeing.
Making Risotto
In a small saucepan, heat the stock and maintain it at a slow simmer.
Heat the olive oil in a heavy large saucepan over moderate heat. Add onion and sauté until tender and translucent, about 4–5 minutes. Add the rice and stir for 1 minute. Add wine and cook until absorbed and stir for 1–2 minutes. (Need to try Best Mexican Shrimp Tostadas Ceviche)
Add ½ cup of stock and simmer until the liquid is absorbed, occasionally stirring for 2–3 minutes. Stir in the Parmesan cheese. Continue in this manner, adding the hot stock half a cup until all of the stock has been added and absorbed, the rice is just tender, and the mixture is creamy; the total cooking time is 25 minutes.
Add the asparagus puree, reserved asparagus tips, lemon juice, and mascarpone, stirring gently to combine and heat through. Season to taste with salt and pepper, garnish with lemon zest and serve with more Parmesan.