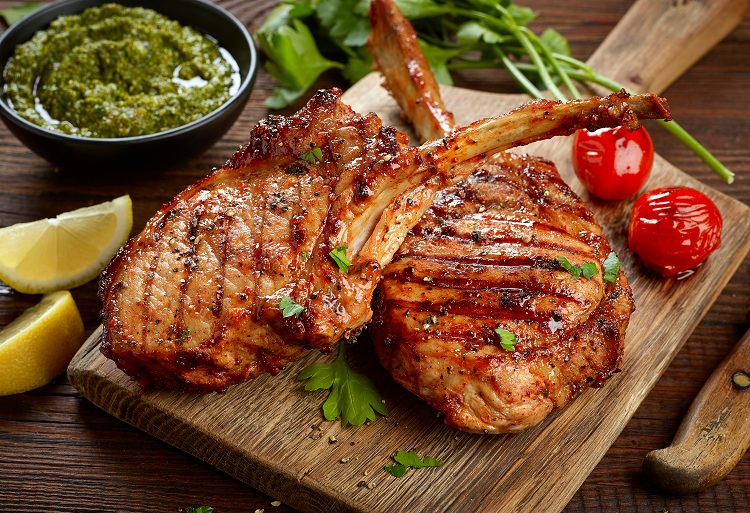 There's nothing more confusing in the supermarket than the meat case. Different cuts of beef are not explained, and labels like "natural," "organic," and "enhanced" are seen all over. But what do these terms actually mean, and which beef cuts are best for braising, quick sautéing, or grilling?
I will walk you through everything that you need to know about beef and steak cuts. You'll have a better understanding of beef, so you feel a lot more comfortable when buying beef next time you are shopping.
Different Cuts of Beef, Steaks and Grades Explained
What is the best steak to cook, and what are the characteristics to look for? Don't worry; I will go over that in this guide. I will begin by explaining and showing you the different quality beef cuts, and in the end, you'll understand which quality steaks to buy next time you shop.
By the end of this guide you will:
Know how to identify grades and cuts of beef and steaks
Know store retail labeling terms
Know different types of ground beef 
Understand ground beef fat % ratio
Know how to identify primal cuts of beef
Learn about favorite supermarket beef cuts for roasting and grilling
What are The USDA Grades?
When shopping for beef, you may have noticed various grades stamped onto the packages. The U.S. Department of Agriculture assigns these grades based on the color, grain, surface texture, fat content, and how the meat is distributed. At the supermarket, the three grades available are Prime, Choice, and Select. We will take a quick look at what these all mean.
Prime
Well-marbled beef is a key characteristic of the prime grade. Well-marbled refers to the intramuscular fat that runs through the meat, which produces a rich, flavorful, and tender meat. Only about 2% of graded beef is worthy of the grade "Prime." As a result, this type of beef is most often found in high-end restaurants, steakhouses, and quality butcher shops, and it is usually the most expensive out of all the grades.
Choice
The majority of graded beef sold at the supermarket is Choice graded beef. This grade of beef still contains marbling, but to a lesser degree than prime graded beef. Another difference is that this grade of meat is chewier than prime and has a less robust taste.
Select
This grade means that the cuts have very little marbling and intermuscular fat, which means it is the cheapest of all the cuts. Often, this means that the meat is dry or stringy. Some say that it has minimal beef flavor.
Beef Store Labeling
Not only is there a meat quality grade, but there is oftentimes a bunch of other labels is placed on the beef as well. Organic, natural, grass-fed, and enhanced are other terms that are used in describing beef. But what do all of these mean? Don't worry; I got you covered.
Is Grass-Fed Beef Better Than Grain Feed?
You may have noticed that the label grass-fed has started to show up on a lot of packages of beef. As the name implies, the cows that produced that meat were fed on a grass diet.
The majority of beef is fed with grain, but grass-feed beef has been gaining popularity due to the claims that grass-feed leads to better marbling and overall taste.
In a blind tasting with my family comparing grass-fed and grain-fed rib-eye steaks, there was a split decision on which was better. The claim that the way the cows were feed affects the beef's taste is debatable, so I recommend buying the better quality beef instead of worrying about how the cows were feed.
What's The Difference Between Natural Beef Vs. Organic?
At first glance, organic and natural might seem like the same thing, but there is a difference between the two. Organic is a regulated term that means that the cow has been raised without antibiotics and hormones.
These cows are also fed a strictly organic diet with no mammalian or aviary sources being included in the food. If you want organic beef, look for the USDA label on the package.
Natural labeling is ambiguous because there is no regulation with that term. That means every beef producer can decide what is considered natural and slap a label on their product claiming to be natural.
What are The Different Types of Ground Beef?
Suppose you are like me and get confused at the sight of many different types of ground beef. Here is a quick look at all the different types of ground beef that are out there. There are three common types out there, chuck, sirloin, and round. Each is used for its own specific recipes, and it's important to know which one to use.
Ground Chuck
This type of ground beef comes from the shoulder area or chuck of the cow. It is well-marbled and has a good beefy flavor. It's my favorite choice for burgers.
Ground Sirloin
Sirloin has a rich beefy flavor but has less fat than a ground chuck. This means it can be a little drier and tough than ground chuck. This type of ground beef is good as a base for meatloaves but tends to be too dry for burgers.
Ground Round
This ground beef is riddled with gristle and contains less fat than both chuck and sirloin. It is not a ground beef that I recommended for any recipe.
Ground Beef Percentage of Fat Ratio
The ratio between lean and fat percentage is present on every package of ground beef. This affects the meat's flavor and texture, so it is important to know which percentage of fat to buy. For example, 80/20 means that the ratio of lean to fat is 80 lean and 20 fat. Here's a quick guide on what ratios to use for what recipe.
80 to 85 percent lean
I prefer fattier meat for burgers, and 80 to 85% lean is the preference and will usually come from the ground chuck.
85, 90, and 93 percent lean
Ground beef dishes like meatloaves and meatballs leaner meats are preferred because those recipes add more fat and moisture already. This is why I prefer the 85, 90, and 93. These usually come from the sirloin ground beef.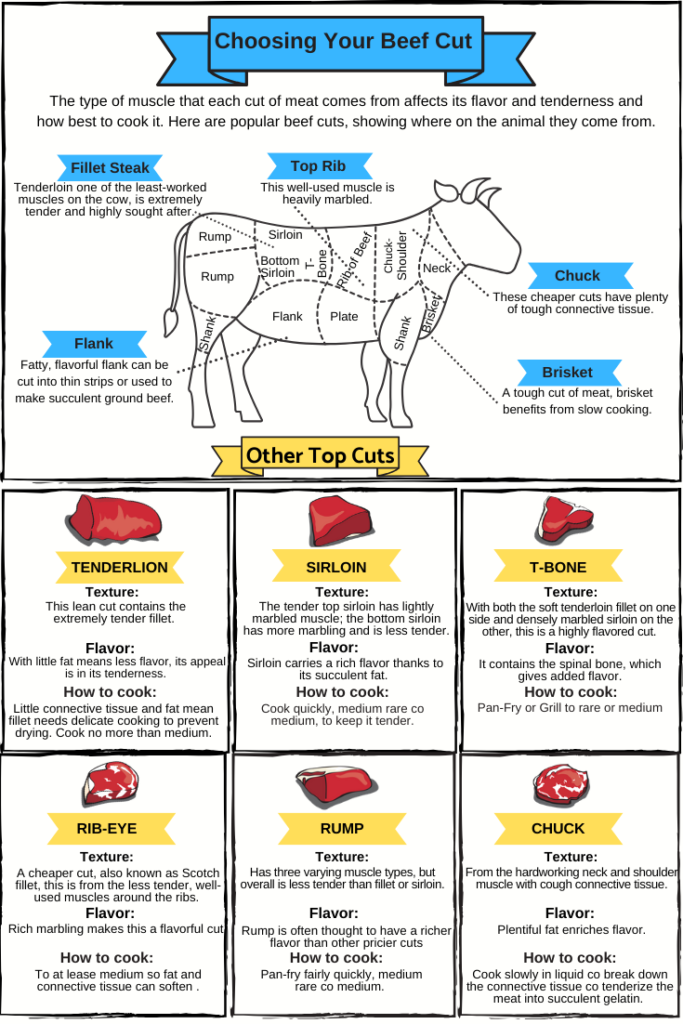 What is Beef Primal Cuts?
There are eight different types of cuts sold in wholesale, which are primal cuts because they are the first cuts to be made from the animal. The butcher at the store will prepare the retail cuts you bring home to feed yourself and your family. Here is a quick run-down on these primal cuts.
Chuck/Shoulder
Runs down from the neck to the fifth rib. In this area, four major muscles make the meat more fatty and flavorful and the best choice for hamburgers. Because there is a lot of muscle in this area, there is a lot of connective tissue in the meat. Without grinding the meat, it takes a long time for the meat to become tender while cooking.
Rib
It runs on the backside of the animal from the sixth to the twelfth rib. Prime rib and rib-eye steaks come from this region of the animal. They are quite beefy and are very tender.
Short Loin
This extends from the last rib to the back of the animal's midsection and then down to the hip area. There are two major muscles in this area: the tenderloin and the shell. The tenderloin (the part right under the spine) is very tender and has a mild flavor, whereas the shell is a larger muscle and has a much more beefy taste and more fat.
Sirloin
These are relatively inexpensive steaks and roasts, are fairly lean, and are tougher. I prefer other cuts of beef, but a top sirloin does make an excellent roast.
Round
Roasts and steaks come from the backside, or round, of the animal. They are usually sold boneless and are quite tough. I prefer other cuts once again, but the top round can be roasted with some success.
Brisket/Shank, Plate, and Flank
These are moderately thick boneless cuts from the underside of the animal. Brisket is tough with a lot of connective tissue; Plate is not usually sold at the retail level because it is used for making pastrami and the like. Lastly, the flank is a leaner cut that is excellent grilled.
What are The Best Cuts of Steaks?
This is a list of my top 12 favorite supermarket cuts of steaks.
Flat-Iron Steak
Cut from the same area as the top blade but without the gristle. Its name comes from its shape, which looks like the business end of a clothes iron. This cut is inexpensive, flavorful, and tender but is not usually sold at a supermarket. You can grill, pan-sear, or slice then and stir-fry.
Primal cut: Chuck/Shoulder
Shoulder Steak
Other names include London Broil or chuck steak. This is a great 1 1/2 to 2 lb boneless steak for cost-conscious cooks because it is relatively lean with a moderately beefy flavor. It can be tough, so it needs to be cut thinly on the bias after cooking. Best grilled or pan-roasted.
Primal cut: Chuck/Shoulder
Top Blade Steak
The top blade or simply blade comes from the shoulder cut and is an all-purpose steak. Although tender and richly flavored, there is a line of gristle that runs through the center of the meat, making it hard to serve the whole. You can remove the gristle and slice thin for some yummy stir-fries or cut into cubes for kebabs or stews.
Primal cut: Chuck/Shoulder
Rib-Eye Steak
Cut from the rib area below the shoulder, the ribeye is basically a boneless piece of prime rib. It is a pricy and fat-streaked steak that is very tender, juicy, and pronounced beefy. In the west, sometimes these are called Spencer steaks, and in the east, Delmonico steaks. You can grill, pan-sear, or broil.
Primal cut: Rib
Porterhouse Steak
Essentially just a large T-bone steak with a larger tenderloin section. It is a costly cut of meat because it has a well-balanced flavor and texture. Most are big enough to serve two people.
Primal cut: Short loin
Strip Steak
Available as boneless or bone-in. This moderately expensive steak has numerous names such as top loin, shell, sirloin strip, Kansas City strip, or New York strip. These are all cut from the shell muscle that runs along the middle of the steer's back, and they are well-marbled, with a tight grain, pleasantly chewy, and a big beefy flavor. Best grilled, pan-seared, or broiled.
Primal cut: Short loin
Tenderloin Steak
From the center of the back, this cut is the most tender and the most expensive. There are different names for the thickness of the cuts. These include (from thickest to thinnest), Chateaubriand, filet mignon, or tournedos. Tender, buttery smooth, and with little flavor, these cuts are best prepared by grilling, pan-searing, or broiling.
Primal cut: Short loin
T-Bone Steak
Named after the T-shape bone that crosses the meat, this is a classic steak for grilling. This cut crosses two muscles, the tenderloin and the shell. The best preparation is grilling.
Primal cut: Short loin
Top Sirloin Steak
Also known as a New York Sirloin steak or sirloin butt. It is a large inexpensive cut of beef that has an ok tenderness and flavor. Slice thin against the grain to serve. The best preparation is to grill or pan-sear
Primal cut: Sirloin
Flap Meat Sirloin Steak
Cut just before the hip and usually sold in strips or cubes. To ensure that you are buying the real thing, it is best to buy it yourself and cut it for yourself. Not tender, but has a distinct grain and robust beefiness. Slice thinly against the grain after cooking. Grill, pan-roast whole, or pan-sear if in strips.
Primal cut: Sirloin
Flank Steak
A flat cut on the other side of the cow, which is also known as jiffy steak. It is thin and cooks quickly, which means it is good for the grill. It shouldn't be cooked past medium and sliced thinly across the grain after being cooked.
Primal cut: Flank
Skirt Steak
Long, thin steak from the underside of the animal. It is also known as Philadelphia or fajita steak. Grill, pan-sear, or slice thinly and serve or stir-fry
Primal cut: Flank
Which Cuts of Beef Make The Best Roasts?
These eight supermarket beef roasts are my favorite picks for special occasions.
Tenderloin Roast
Also known as a whole filet, and is the most tender of all the roasts. Mild, almost none beefy flavor with a thick outer fat layer. It can be cut into singular steaks known as filet mignon.
Primal cut: Short loin
Rib Roast
Often divided into two cuts. The first consists of the ribs 10 – 12. This cut is closer to the loin, so it is sometimes called the loin end. It's more desirable because it has a large single rib-eye muscle and less fat.
Primal cut: Rib
Rib Roast – 2nd Cut
It consists of ribs 6-9 and is the less desirable of the two. It is closer to the chuck end, so it is a fattier roast.
Primal cut: Rib
Top Blade Roast
Broad, boneless, flat cut that has a lot of flavors. It has a distinctive connective tissue vein that is pleasant to eat.
Primal cut: Chuck
Chuck Roast
Boneless and cut from the center of the first five ribs. It is tender and juicy with a lot of extra fat. Should be trussed using kitchen twine when cooking. Also called a boneless chuck roll or chuck filet. Best for stews and braising
Primal cut: Chuck
Top Sirloin Roast
This cut is from the hip and has a lot of wonderful marbling. Although there is an unpleasant gristle vein, it is tender, juicy, and has a robust beefy flavor—the favorite of all the inexpensive roasts.
Primal cut: Sirloin
Eye-Round Roast
Inexpensive, but not as flavorful as the top cuts, Cook slowly in a low oven for best results
Primal cut: Round
Brisket
The large 13-lb cut of beef comes in two different types (flat-cut and point-cut). The flat cut is leaner, thinner, and more widely available. On the other hand, the point-cut is thicker and more marbled.
Primal cut: Brisket
More Gordon Ramsay How-to -Guides
Gordon Ramsay Lobster Prep (How to Deshell)
Gordon Ramsay Ravioli Filling and Pasta Dough
Gordon Ramsay Fresh Pasta Dough
Gordon Ramsay Beef Guide Buying, Preparing Roasts and Steak
A Guide to Basic Meat Butchering Techniques for Home Cooking