Chef Ramsay believes that tasty food does not always mean you need to spend a lot on expensive kitchen cookware. Gordon knows that not everybody has the same budget and advises that you only purchase a few pots and pans.
Gordon uses the Viking brand in the MasterChef US FOX TV series and ScanPan in his online cooking series, MasterClass. But, for everyday use, Gordon Ramsay uses HexClad Cookware at Home.
Gordon suggests you always buy premium quality pans instead of purchasing inexpensive ones. He also recommends buying the best pots and pans because high-quality everyday cookware sets will last a lifetime if well-maintained.
I've used and recommend both cookware sets, the ScanPan 10-Piece Cookware Set and the All-Clad Tri-Ply Stainless Steel Cookware; both are well-made pans with a solid, heavy bottom, heat fast, and they get the job done. Visit the ScanPan or All-Clad on Amazon.
What Pots and Pans Do Chefs Recommend?
Non-stick Frying Pan: (8 and 12-inch pans used for delicate fish, eggs, crepes, and sautéing). on Amazon
Saucepans: (4 and 6-quart, used for sauces, stews, soups, stocks, boiling vegetables, rice, and pasta). on Amazon
Cast-Iron Skillet: (10-12 inches used for root vegetables, meats, and sticky foods (if seasoned), putting them beneath the broiler and in the oven). on Amazon
Carbon-Steel Skillet:(10-12 inches): used for all kinds of jobs, from searing steaks to sautéing vegetables or cooking eggs). on Amazon
A Dutch Oven (Used for cooking stews; braising meat, soups, sauces; pasta, deep-frying; and baking bread). on Amazon
ScanPan Professional Everyday Nonstick Cookware Set
ScanPan Professional cookware is made of recycled aluminum, decreasing the need for mining and reusing metals otherwise dumped into landfills.
ScanPan professional-quality skillet lets for browning, searing, and deglazing, things you can′t do with traditional nonstick. It needs little to no fat for cooking to enjoy a healthy meal with minimal cleanup. Patented Stratanium nonstick cooking surface is impossible to scrape away, even with metal utensils, and it′s Dishwasher safe for simple cleanup.
The heavy-duty pressure-cast aluminum body features a thick base, ensuring fast and even heat distribution. The sturdy, ergonomic handle is riveted to the pan and will not come loose. Skillet is guaranteed not to blister, peel, or create hot spots.
The nonstick Scanpan cookware is constructed from quality aluminum and a titanium surface is put on. The ceramic-titanium surface is permanently bonded to the aluminum structure, so it will not wear or chip. The ceramic-titanium is heated up to 30,000 degrees and then permanently fused to the aluminum, delivering a safe ceramic surface with an advanced nonstick coating.
ScanPan surfaces are one of the most durable surfaces on the market. The ScanPan ceramic surface is hard enough to use metal utensils and is entirely Dishwasher safe. Unlike silicone, the nonstick coating will not wear off.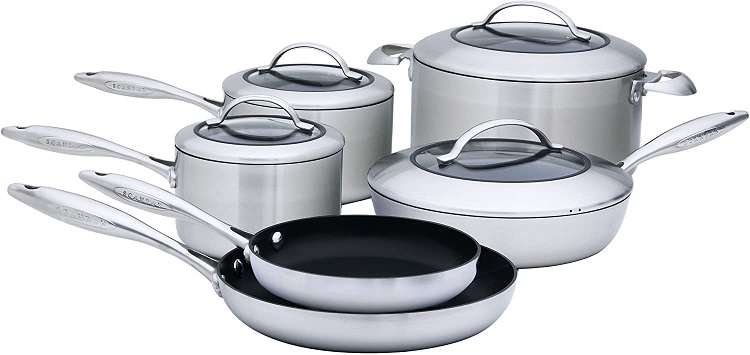 Buy: ScanPan 10-Piece Cookware Set at Amazon
Gordon Ramsay Everyday Stainless Steel Cookware Set
Dishwasher Safe Professional Stainless Steel Cookware emphasizes restaurant-grade "tri-ply" construction with an 18/10 stainless steel surface and inner cooking exterior bonded to a heavy-gauge aluminum center that guarantees rapid and even heat distribution and provides efficient cooking on low to medium heat.
Oven-safe for stovetop, broiler, and grill use. The broad rim enables easy pouring from both sides. "Precise Fit" lids are secure in temperatures, guaranteeing flavors are maintained. Vent hole decreases the risks of boil-over. Extra-long, ergonomic, fixed stainless steel handles improve professional-grade cookware's durability. That's Dishwasher safe, making clean-up simple.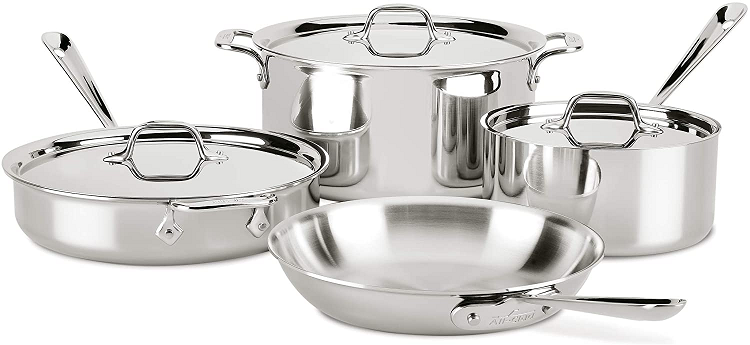 Buy: All-Clad Tri-Ply Stainless Steel Cookware at Amazon