Pan Seared Cast Iron Ribeye Steak
Hell's Kitchen Pan Seared Cast Iron Ribeye Steak recipe by Gordon Ramsay. Pan seared cast iron ribeye steak is so tender, mouth watering, well-marbled and in my opinion ribeye is the king of all steak cuts. It's become one of my favorite cuts of beef. Seared in oil and basted in butter.
Gordon Ramsay cast iron ribeye steak is so tender, mouth watering, well-marbled, and in my opinion, ribeye is the king of all steak cuts. It's become one of my favorite cuts of beef. Seared in oil with the skillet and basted in butter, then finished by melting a herb butter pat on top.
You will love everything about this ribeye steak recipe! The flavor is incredible and cooked to perfection in just 15 minutes to medium-rare steak. Enjoy with a tall glass of red wine, Bon Appétit.
Learn how to cook a Gordon Ramsay pan seared steak oven recipe with the full detail guide below. Now go gather your equipment and let's start cooking.
My favorite pan to cook a Ribeye Steak is a 12-inch cast iron skillet from the lodge; they come preseason as grill pan or not. Try out perfectly grilled chicken breasts or grilling up some sweet summer peaches for a BBQ flavor any time of year. 
How do I cook the Perfect Steak?
While the perfectly flavored rib-eye steak is somewhat reliant on individual taste, some essential guidelines and advice can help you hone your steak-making skills and make the most of your prime cut. Ensure the pan or grill is hot and follow the directions below and guide opposite for steaks up to l ½in (4cm) thick.
There is a common belief that searing steak quickly at a high temperature "seals" the outside of it into an impermeable, crisp crust that prevents moisture from escaping during cooking. The reverse is also true-the crust that forms when the steak is seared quickly at high heat is not waterproof. Seared steaks dry out more quickly than ones that are not seared, as the high heat used to brown them dries out the interior more rapidly.
A seared brown crust makes for a considerably more savory steak, as the high heat triggers the Maillard reaction releasing myriad mouthwatering taste molecules.
Top Tips for Cooking Steaks
If you want your steak to taste great and to be as tender and flavorful as possible while cooking, remember to keep these tips in mind;
Choose a thick cut with good marbling for a moist, flavorful steak.
Dab with salt and pat dry 40 minutes before cooking for a perfect crispy finish.
Sear on high heat for a delicious crust and a soft juicy center.
Flip your steaks frequently for even cooking.
Rest the steak to ensure maximum juiciness.
Finish off cuts thicker than 1/2 inch in the oven.
If you want to add extra flavor to your steak, spoon butter over it during the final stages of cooking.
Make your sauce in the same pan so the gelatin thighs from the meat thicken it.
How Long To Leave Steak Out of Fridge Before Cooking?
All the professionals say remove your steak out of the fridge for about 20 minutes bringing it to room temperature before preparing because a cold steak won't cook evenly.
Bringing meat to room temperature before searing seems most useful for speeding up cooking. In fact, this makes little difference and could even pose a health hazard. The center of a medium-thickness steak takes 2 hours to raise only 41° F,  and in this time, infection-causing bacteria may have formed on the surface.
Searing meat kills off bacteria on the surface but won't kill all the toxins that have infused the meat. The only time it is worth warming meat precooking (but not to room temperature) is when utilizing a thin skillet: a cold steak could drop the pan's temperature to beneath the minimum 284° F (140°C) needed for browning.
How To Tell If Steak Is Ready With or Without Thermometer
A meat instant-read thermometer is the most reliable way to test meat, but you can also measure beef by color and texture. The finger test below, collectively with how the meat looks, helps you decide when the steak is ready for your desire.
RARE: Cook about 2 1/2 minutes on each side, until internal temperature reaches 135° F (57°C). A rare steak feels like the base of the thumb when the thumb and index finger touch. Steak has a juicy texture; while muscle fibers have firmed and the color is pinker, much moisture persists.
MEDIUM-RARE: Cook about 3 minutes on each side, until the internal temperature reaches 145° F (63°C). A medium-rare steak has a comparable texture to rare but is pinker and firmer, feeling like the thumb's base when the thumb and middle finger touch.
MEDIUM: Cook about 5 minutes on each side, until the temperature reaches 160° F (71 °C), most of the proteins clump together, and meat is a light brown color. Firm and moist, it feels like the base of the thumb when the thumb and ring finger touch.
WELLDONE: Cook about 6 minutes on each side, until internal temperature reaches 165° F (74°C), the steak is tougher, drier, and darker as more proteins coagulate and force moisture from cells. Steak feels like the base of the thumb when the thumb and little finger touch.

How To Cook A Steak In A Cast Iron Skillet With Butter In Oven
Step 1. Heat a 10-to-12-inch place the skillet in a 500°F oven. Remove the rib eye out of the refrigerator, bring it to room temperature.
Step 2. Once the oven reaches 500°F, remove the skillet out of the oven and place it on the stove over medium-high heat for 5 minutes. Lightly coat steak with oil and season both sides with a large pinch of kosher salt and ground black pepper.
Step 3. Instantly lay the rib eye in the center of the hot skillet. Sear 30 seconds don't move ribeye. Turn over the steak with tongs and sear an additional 30 seconds, then place the skillet straight forward into the oven for 2 minutes. Turn the ribeye over, cook for an additional 2 more minutes. (If you prefer medium-cooked steak, you add a minute to each turn.)
Step 4. Place a pat of herb butter on top of ribeye, take the steak out from skillet, cover loosely with foil, and rest for 2 minutes as butter melts.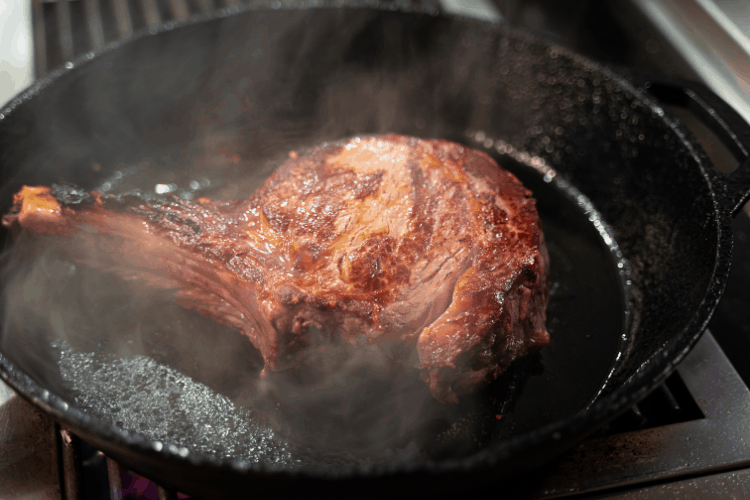 Gordon Ramsay Steak Recipes
Gordon Ramsay Skirt Steak with Chimichurri