Baby beets are sweeter than mature beets, and when roasted their sweetness is further concentrated. A sweet-sour grapefruit salad complements the humble root, with quickly cooked snapper added to the plate to make this a substantial starter. If golden baby beets are not available, feel free to use all red beets, or experiment with different colored varieties such as white beets and chioggia (candystriped) beets, which when cut reveal stunning red and white rings inside. You may roast the beets and make the salad dressing a couple of hours in advance, then sear the snapper at the last minute, just before putting the salad together.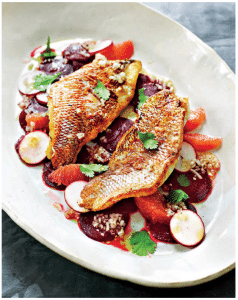 Pan-Fried Red Snapper with Roasted Beets and Pink Grapefruit Dressing
2016-04-23 10:52:44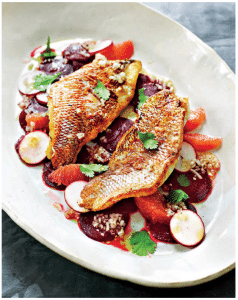 PINK GRAPEFRUIT DRESSING
1 tablespoon freshly squeezed pink grapefruit juice
1 small minced shallot
1 teaspoon honey
1 teaspoon sherry vinegar
¼ cup olive oil
Kosher salt and freshly ground black pepper
ROASTED BEETS
2 red baby beets, scrubbed
2 golden baby beets, scrubbed Olive oil kosher salt and freshly ground black pepper
PAN-FRIED RED SNAPPER
2 tablespoons olive oil
2 tablespoons butter
4 red snapper fillets, skin on, lightly scored
Sea salt and black pepper
1 grapefruit, cut into segments
2 radishes, sliced
1 teaspoon chopped basil, plus more for garnish
1 teaspoon chopped cilantro, plus more for garnish
FOR THE PINK GRAPEFRUIT DRESSING
In a small bowl, combine the grapefruit juice, shallot, honey, and sherry vinegar, whisking well. Whisk in the olive oil in a slow, steady stream until emulsified.
Season with salt and pepper.
FOR THE ROASTED BEETS
Preheat the oven to 375°F.
Peel the beets and place them on two separate pieces of tin foil. Coat them lightly with olive oil and season with salt and pepper.
Wrap the beets in the foil and place them on a baking sheet.
Roast in the oven until they are cooked through and easily pierced with the tip of a sharp knife, 45–60 minutes.
FOR THE SNAPPER
HEAT olive oil and butter in a largesauté pan over medium-high heat.
When the foam subsides, season the red snapper fillets with salt and pepper and cook, skin-side down, about 3 minutes, until they are lightly browned.
Then turn the fillets over and sear the other side for another 2 minutes, until just cooked through.
Notes
Combine the grapefruit segments and radishes in a bowl. Toss with the pink grapefruit vinaigrette. Fold in the herbs. Arrange the beets on the plate, place the fish, and garnish with the grapefruit segments and radishes.
Hell's Kitchen Recipes http://hellskitchenrecipes.com/
[AdSense-B]