Gordon Ramsay Hamburger Recipe (All His Secrets Revealed)
Hell's Kitchen Burger Recipe by Gordon Ramsay. Grilling the perfect burger is an art form by using an amazing blend of ground chuck Sirloin beef and brisket and also fresh, grilled onions are an important element in making the perfect burger as the grilled onions are easy to make and indisputably remarkable.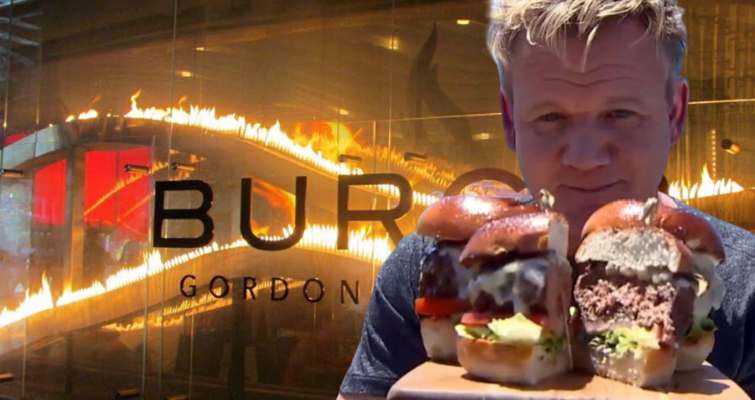 Gordon Ramsay Hamburger recipe is an art by using a unique Gordon Ramsay burger blend of brisket, chuck sirloin, short rib ground beef, and freshly grilled onion slices that add such an essential component building the perfect Burger.
That's because raw onions are too strong, acidic, and they miss the mark with flavor. Grilled onions are easy to make and also add a layer of flavor to the burger pattie.
Make Gordon Ramsay Burger Blend
I've heard a lot of cooking tips on how to make a great burger in my lifetime, like toasting the buns on the grill beforehand with butter; don't move the patties on the grill to stop them from breaking up, to seasoning the Burger well. But one piece of advice stood out when Gordon brushes the burger patties with butter to baste them just about two minutes before taking them off the grill.
When I can't get outside to cook on my grill, my favorite pan-to-cook Gordon Ramsay burger recipe at home is a 12-inch cast-iron skillet from Lodge; they come preseason grill pan or not. Try out perfectly grilled chicken breasts or grilling up some sweet summer peaches for a BBQ flavor any time of year; buy at Amazon.
How Does Gordon Ramsay Season His Burgers?
Gordon seasons his burgers liberally with coarse sea salt and coarsely ground pepper; he also uses garlic powder. While the burgers are cooking, he lightly seasons the onions with salt and pepper, adds a touch of olive oil, and grills the onions as the buns are toasting.
What Are The Best Meat Combination for Hamburgers?
Chuck, Brisket, Short Rib, Sirloin, or Tri-Tip are the most commonly used cut of beef in burger blends. You can mix and match meats, but If you want a good burger, fat equals juiciness and flavor, which is why an 80-20 or 70-30 lean-to-fat ratio in ground beef is critical.
When Should You Season Burgers?
As close to the actual cooking time as possible is the best time to salt your burger patties. Once your pan or grill is hot, grab your sea salt, ground pepper and season the outside of the patties right before you cook them.
How Do You Make Gordon Ramsay's Burgers
Step 1. I would suggest you prepare a day ahead before grilling. Blend the Sirloin chuck, brisket, and short rib ground beef, then mix in with some egg. Patty into 8 oz patties and then refrigerator 24 hours before using; this will help the patties stay together and don't come apart as you are grilling them.
Step 2. Make sure the grill is scorching hot before putting the patties on your grill. Now season the patties with salt and pepper and add a little oil. Make sure to roll the sides of the patties, so they get fully seasoned with salt and pepper.
Step 3. Look for the hottest part on the grill, place the burger patties down on the grill. Usually about 2/3 of the top of the grill, The real secret is to move the patties as little as possible once you place the burgers patties on the grill. Make sure burgers are at room temperature 10 minutes before grilling.
Step 4. Beginning preparing or present the burger buns as the burgers are cooking. Season buns with salt and pepper, and crisp them on both sides on the grill.
Step 5. Season the thick-sliced onions with some salt and pepper. Add some oil and place onions on the grill as the buns and burgers are cooking.
Step 6. Grill each burger patties for 3 1/2 to 4 minutes on both sides. Now start basting your patties by brushing them on each side. Just about two minutes before they are taking off the grill to add some more flavor.
Step 7. Thirty seconds before patties come off the grill, you need to season the patties again. Then add your jack cheese on the top of patties to melt while burgers are still on the grill.
Step 8. Before taking the burger patties off the grill. Setup the Brioche buns with mustard mayo blend, lettuce, and tomatoes. First, you start by placing a tablespoon full of mustard mayo blend on both sides of the top and bottom of the bun. Then gently fold the lettuce to fit onto the bun and press down to on the lettuce, making sure it stays folded.
Step 9.  After the mustard mayo blend and lettuce. Add a thick slice of tomato on top of the lettuce, then season tomato with salt and pepper, and a dab more of mayo on top.
Step 10. Add the burgers on each of the present dressed Brioche buns. Place the grilled onions on top of each patty; finish by placing the top bun.
More Gordon Ramsay Recipes
Beef Carpaccio, Pickled Radish, Yuzu Vinaigrette
Beef Carpaccio, Pickled Radish, Yuzu Vinaigrette
New Beef Wellington Christmas Recipe
Pan Seared Cast Iron Ribeye Steak