Discover the rich and satisfying taste of Gordon Ramsay Bolognese sauce, a perfect blend of simple and authentic Italian flavors. This easy-to-follow recipe brings the essence of Italian cuisine to your kitchen, allowing you to create a delicious, hearty meal with minimal fuss.
Chef Gordon Ramsay Bolognese sauce recipe is such a delight that no one in my family likes to miss that meal. Bolognese Sauce is always a top choice for people who love pasta, and what better place to enjoy this delightful meal than making it and eating it in the ease of your own home with your family?
(Enjoy more great recipes, Gordon Ramsay's Best Italian Meatballs)
Learn from the world-renowned chef as you master the art of making a truly classic Bolognese sauce that will impress your family and friends. Elevate your pasta dishes and enjoy the comforting taste of this timeless Italian favorite, made simple by the expertise of Gordon Ramsay.
( Learn how to make Gordon Ramsay Fresh Pasta Dough)
Equipment You Need To Make Gordon Ramsay Bolognese Sauce?
To make Gordon Ramsay's Bolognese sauce, you'll need the following equipment:
Cutting board: A stable surface for chopping and preparing your ingredients.
Chef's knife: A sharp knife for chopping vegetables and mincing herbs.
Vegetable peeler: To peel the carrots and onions, if necessary.
Large skillet or frying pan: A wide pan with a heavy base for sautéing the vegetables and browning the meat.
Wooden spoon: To mix and stir the ingredients during cooking.
Measuring cups and spoons: For accurate measurements of liquid and dry ingredients.
Can opener: To open the canned tomatoes, if using.
Fine grater or Microplane: For grating, the garlic and Parmesan cheese (optional).
Large saucepan or Dutch oven: To combine and simmer the sauce ingredients.
Ladle or large spoon: To serve the sauce.
Remember to gather all the necessary ingredients before you start, and enjoy making a delicious Bolognese sauce following Gordon Ramsay's Recipe!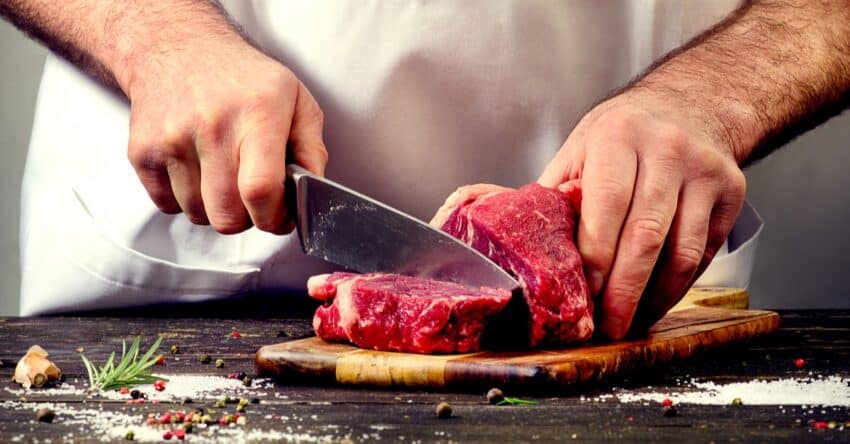 Our Favorite Products in One Convenient Place
Visit the Hell's Kitchen Reviews Amazon shop to browse a handpicked selection of our favorite cookware, kitchen knives, appliances, and more.
(Learn more about Gordon Ramsay's Kitchen Essential Tools)
How to Make Goron Ramsay Bolognese Sauce
The Recipe takes a small package of ground beef with a few essential ingredients and turns them into something worthy of the most elegant parties with friends and family.
To start, you first halve the onion.
With a grater, start Grating the onion and the carrot; keep your fingers back and don't cut your finger.
Saucepan on high heat and add a Tbsp. Olive Oil in a saucepan
Once the saucepan is heating, add the grated onion and carrot to the saucepan. Using a wooden spoon, you want to start sweating off excess moisture from carrots by stirring and moving the saucepan. To a certain degree, you'd want to produce a puree that enhances a petite body and develops the bolognese sauce.
Now Lightly season with salt and pepper to the grated onion and carrot combination.
Add the two garlic cloves by crushing them using a garlic crusher if you have one. If you do not have a garlic crusher, use the back of your knife and place the garlic clove underneath the blade and pound on the edge and dice it into smaller pieces) and add it to the saucepan.
Add in your dried Oregano.
Get your saucepan active using the spoon; the point is not to brown the vegetables but to lightly sweat them off.
Use the spoon to make a little well in the center of the saucepan and add in your minced beef and quickly get it moving in the saucepan.
Once the mince sweats off, create the little well in the center of the saucepan again and add in your tomato puree. It will give the Bolognese a little tangy, slightly acidic taste, which is recognizable with Bolognese sauce.
Add in your Red Wine now; the amount to add is entirely arbitrary, and I'd almost say to guess how thick you'd like your sauce to be, and it's your prerogative to add in as liberally as you'd like!
Lower the heat and reduce the Red Wine to syrup, giving your sauce more body and strengthening its flavor profile.
It's time to guess tomatoes and folds them into the awesome goodness you've created in your saucepan.
Add Worcestershire sauce, which gives your Bolognese some heat and spice while darkening the minced meat. Let the mixture simmer for 5-6 minutes.
Add your whole cream milk to give your Bolognese a more enriched flavor and a smooth, silky finish.
Making Gordon Ramsay's Bolognese sauce is a simple and rewarding process that allows you to experience authentic Italian flavors in your home.
By following his expert guidance and using high-quality ingredients, you can create a rich, delectable sauce that elevates any pasta dish. Impress your loved ones with this classic and satisfying meal, and enjoy the taste of Italy as you master the art of crafting the perfect Bolognese sauce under the tutelage of a world-renowned chef.
(Learn how to make Homemade Orecchiette Pasta)
What Is The Difference Between Meat Sauce and Bolognese?
Originally from Bologna, Italy, Bolognese sauce is a ragù sauce (meat sauce) type. It differs significantly from the usual American meat sauce, often a tomato-based liquid with ground beef. An authentic Bolognese has more cream and a bit of tomato (milk is an ingredient).
What is Ragu vs Bolognese?
A Ragu sauce is typical for thin, spaghetti-sty type pasta, while a Bolognese sauce is typically used for flat, wide pasta. Ragu sauce has a thicker consistency than Bolognese sauce. Red Wine is used in Ragu sauce, while white Wine is used in Bolognese.
(Also see Gordon Ramsay's Lobster Spaghetti Extravaganza: Savor the Finest)