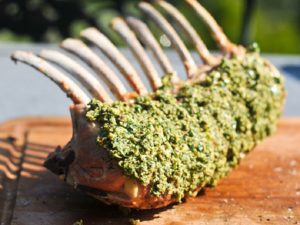 Chef Christina Wilson prepares the Hell's Kitchen classic, Herb Crusted Rack of Lamb.
Ingredients:
-2ea Rack of Lamb
-16oz Herb Crust
-4ea Ratatouille
-12oz Saffron Potato Puree
-6oz Toasted Black Olive Lamb Jus
-4e Basil Leaf (Garnish)
Additional Recipe(s) For Video Description Section:
LAMB CHOPS AND HERB CRUST
-2ea Rack of Lamb, frenched
-2oz Olive Oil
-4T Dijon Mustard
-2c Panko Bread Crumbs
-½ c Grated Parmesan
-1bu Parsley
-1bu Thyme
Place all ingredients in blender and pulse until fully chopped and bright green in color. Preheat oven to 375. In a large sauté pan with oil, over a medium high flame, sear your lamb chops, rendering out the fat cap and hard searing all sides. Remove from pan and paint your lamb chops evenly with Dijon mustard. Roll chops in breadcrumbs until evenly coated. Transfer to oven and cook to desired temperature. Allow chops to rest at least 5 minutes before slicing.
SAFFRON POTATO PUREE
-1KG Potato
-Pinch Saffron
-250g Butter
-100g Cream
Boil potato in water, saffron and salt. Press through a ricer onto chopped butter. Mix and pass through a Tamis. Season and warm up in cream.
RATATOUILLE
-1ea Yellow Zuchhini
-1ea Green Zucchini
-2ea Indian Eggplant
-2ea Plum Tomato
-4oz Bravas Puree
-TT Salt and Pepper
-As needed Olive Oil
Heat oven to 350. Using a mandolin or carefully with a sharp knife, slice each vegetable so they are coin shape, not lengthwise. Line a sheet tray with parchment paper. Lightly spread some bravas puree on parchment. Alternately layer the vegetables in lines. Season with salt and oil. Bake until soft, covered in foil. Chill and roll into small ring molds. Warm through in the oven when ready to serve.
BRAVAS PUREE
-1oz Olive Oil
-1 ea Shallots, finely sliced
-1ea Garlic Clove, sliced
-½ T Paprika
-8oz Chopped Tomatoes, canned
-TT Salt and Pepper
In a large sauté pan, heat oil over medium flame and add shallots. Once shallots are starting to sweat out, add garlic. Allow garlic to cook until fragrant, but not burned. Add paprika and cook for additional one minute. Add the chopped tomatoes and reduce by ¼. Place ingredients from pan into a blender and puree until smooth. Pass through a fine mesh strainer and season to taste.
CURED OLIVE DEMI GLACE
-6oz Black Olives, rough chopped
-12oz Red Wine Demi, store bought and made according to package instructions
Heat oven to 225. Spread chopped olives on sheet tray and allow to dry in oven. Combine to red wine demi, reserve for serving.
Season 17 of HELL'S KITCHEN will welcome the newest batch of determined chefs who will brave Chef Gordon Ramsay and his fiery command of the kitchen as he puts them through an intense culinary academy. Throughout the season, the competitors will face a series of Ramsay's grueling challenges to prove they possess the right combination of ingredients to win a life-changing grand prize.
The chefs will leave the pleasantries at the door as the pressure to impress Chef Ramsay will reach a boiling point. Before Chef Ramsay determines which individual chefs are worthy of a black jacket, the contestants must prove their ability to work in teams. The rewards for winners of upcoming challenges will be lavish and memorable, while the punishments will be hellish.
Herb Crusted Rack of Lamb