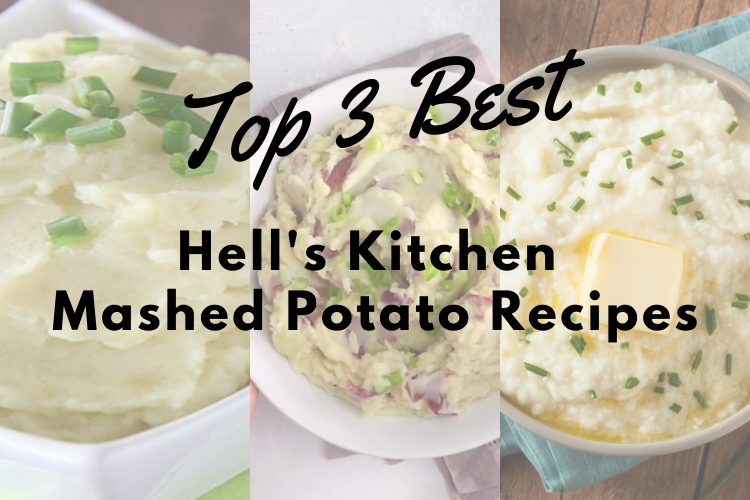 These Hell's Kitchen Mashed Potato recipes are whipped and creamy with all being outrageously good!  It doesn't matter what you are going to serve for, the holidays, or when serving dinner guests these three mashed potatoes recipes can always make an appearance.
How to Make Gordon Ramsay Top 3 Mashed Potato Recipes
All these mashed potato recipes are easy enough to make for everyday dining but tasty enough that they can be served for as a family picnic potluck lunch or special holidays, like Thanksgiving or Christmas.
1. Yukon Gold Mashed Potatoes Recipe
In keeping with the Hell's Kitchen tradition of combining comfort food with fine dining, this down-home classic Yukon Gold Mashed Potatoes Recipe. These marvelous handmade mashed potatoes are absolutely rich and creamy, full of great whipped potatoes that are pressed through a potato ricer and with the high-fat content of the cream.
Hell's Kitchen Yukon Gold Mashed Potatoes Recipe
2. Buttermilk Red Bliss Mashed Potatoes
Potatoes that are high starch are the best potatoes to use for preparing mashed potatoes. Like Russet potatoes and medium-starch potatoes known as Yukon Golds. These varieties of potatoes contain the lowest amount of moisture of all potatoes. You always want to use potatoes that are as dry as possible.
Hell's Kitchen Buttermilk Red Bliss Mashed Potatoes
3. Wasabi Mashed Potatoes
East meets West in this Hell's Kitchen mashed potatoes recipe. Made with Yukon Gold potatoes that have a moist, sweet flesh that works with virtually any cooking method. They make a brilliant mash, with wasabi adding a sharp hint of sushi-style heat.
Hell's Kitchen Wasabi Mashed Potatoes
Related:
Gordon Ramsay's Top 5 Fish Recipes
Best 10 Hell's Kitchen Chicken Recipes
Best 10 Hell's Kitchen Fish Recipes
Best 5 Hell's Kitchen Risotto Recipes