Gordon Ramsay's meatball recipe offers a compelling journey into perfectly crafted meatballs, showcasing the renowned chef's expertise in combining flavor, texture, and technique. Ideal for various dishes, from traditional pasta to satisfying sandwiches, these meatballs are versatile and universally appealing.
This unique recipe guides you through creating delectable meatballs using high-quality ingredients and easy-to-follow instructions.
Dive into the world of exquisite flavors with Chef Ramsay's ability to create simple yet sensational dishes. This carefully crafted recipe provides step-by-step guidance for making tender, flavorful meatballs that can elevate any meal.
Discover the perfect balance of ingredients and techniques that always ensure mouthwatering results. With Ramsay's expertise at your fingertips, you'll learn to create versatile and delectable meatballs that can be enjoyed in various dishes, from classic pasta to hearty sandwiches, impressing friends and family alike.
(Try more great recipes Gordon Ramsay Alfredo Sauce: Homemade recipe)
Equipment You Need To Make Gordon Ramsay Meatball Recipe?
To make Gordon Ramsay's meatball recipe, you'll need the following equipment:
Cutting board: A stable surface for chopping and preparing your ingredients.
Chef's knife: A sharp knife for chopping vegetables and herbs.
Mixing bowls: One large and one small bowl combines ingredients and forms the meatballs.
Measuring cups and spoons: For accurate measurements of liquid and dry ingredients.
Grater or Microplane: For grating garlic, onion, and Parmesan cheese (if using).
Wooden spoon or spatula: To mix and combine the ingredients.
Baking sheet or tray: A large, flat surface to place the meatballs on for baking.
Parchment paper or non-stick spray: To prevent the meatballs from sticking to the baking sheet.
Oven mitts: To protect your hands when handling hot items.
Tongs or a spatula: To flip the meatballs during baking or pan-frying (if not baking).
Large skillet or frying pan (optional): If you prefer to pan-fry your meatballs rather than bake them.
Gather all the necessary ingredients before you begin, and enjoy making a delicious batch of meatballs following Gordon Ramsay's recipe!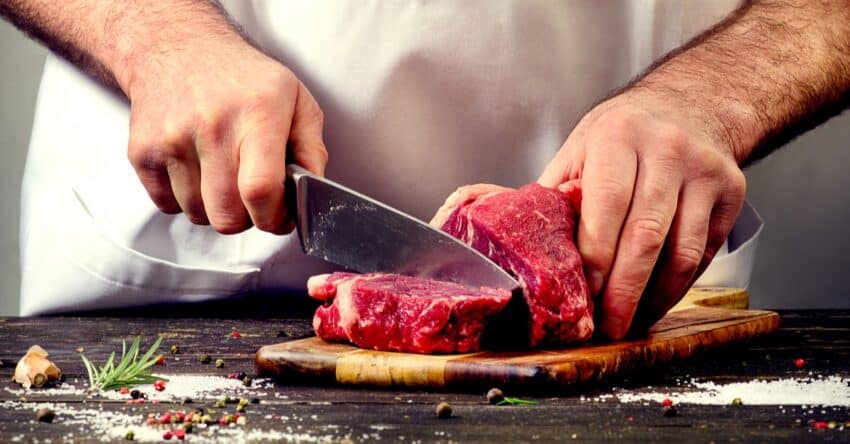 Our Favorite Products in One Convenient Place
Visit the Hell's Kitchen Reviews Amazon shop to browse a handpicked selection of our favorite cookware, kitchen knives, appliances, and more.
(Learn more about Gordon Ramsay's Kitchen Essential Tools)
How to Make Easy Meatballs for Spaghetti
Don't Overmix the ground beef and pork mixture; it will make meatballs too dense and complex. I suggest whisking the eggs before placing them in the mixing bowl to blend more evenly. It will help you combine all the added ingredients quickly and gently handly from the meatballs. It may not be the most pleasant, but mixing and forming the meatballs with your hands is very important.
In a med-sized bowl, add the breadcrumbs, pour in just enough milk to cover, and Place aside to let breadcrumbs soak; preheat the oven to 350°F.
Start making the sauce by heating the 2 tablespoons of olive oil in a frying pan and lightly fry the chopped shallots, pepper, and garlic for 2-3 minutes until translucent and soft.
Add the 2 14oz cans of tomatoes, basil, oregano, and some seasoning with a splash of white wine to deglaze the pan. Let the tomato sauce slowly simmer for about 10-15 minutes so its sauce can reduce and thicken.
As the sauce is simmering, make the meatballs. Place the ground pork and beef into a large-sized mixing bowl, and now the chopped garlic, Parmesan, and parsley. Now, Press the breadcrumbs, remove the excess milk and add them to the mixing bowl with ground meats. Thoroughly mix, working with your hands, then season meatballs with salt and pepper.
Start Shaping the blend into balls the size of a golf ball, and dust them with the flour. Now in a frying pan, heat the olive oil. When the oil is hot, fry the meatballs in batches of 4-5 not to overcrowd them; Fry until golden.
After Drying the Meatballs, add them to the sauce; after finishing cooking, place the meatballs into a casserole dish. Put the casserole dish in a 350°F preheated oven and bake for 10 minutes. Serve with your favorite pasta as a side dish or a light salad.
Creating Gordon Ramsay's meatball recipe is a delightful culinary experience that allows you to explore the flavors and techniques of a world-renowned chef. Using high-quality ingredients and following his expert guidance, you can craft delicious, tender meatballs perfect for a comforting meal with family and friends.
Whether baked or pan-fried, these meatballs are versatile and can be enjoyed with pasta, in sandwiches, or on their own. Embrace the opportunity to elevate your cooking skills and impress your loved ones with this mouthwatering, expertly crafted meatball recipe from Gordon Ramsay.
(Also see Gordon Ramsay's Lobster Spaghetti Extravaganza: Savor the Finest)
What's The Secret To Good Meatballs?
When pork, beef, or veal are cooked too long, they become challenging, but adding bread to the meatball mix keeps them from getting tough and rubbery. The secret to a perfect meatball is to add 50 percent meat and 50 percent breadcrumbs ratio. But the true secret is day-old bread soaked in milk or water to give it a light texture.
Why Do You Add Milk to Meatballs?
Milk adds flavor to your meatballs, whereas water adds only liquid for moisture and flavor. While many think the eggs add moisture, they act as a binding agent to combine meat, breadcrumbs, cheese, and herbs.