Gordon Ramsay Beef Wellington is a classic dish that has been around for centuries, but Gordon Ramsay's recipe takes it to a new level. His Beef Wellington recipe combines tender filet mignon, flavorful mushroom duxelles, and rich puff pastry.
The dish is a true showstopper for special occasions or an indulgent dinner party. (Find out more about Hell's Kitchen's Beef Wellington)
Gordon's recipe breaks down the steps to create a perfect Beef Wellington, from searing the filet mignon to wrapping it in the mushroom mixture and pastry. With his guidance, home cooks can create a beautiful and delicious Beef Wellington that will impress even the most discerning guests.
Despite its complexity, this dish is simple to make. The key to perfection in this recipe is ensuring that the beef is cooked perfectly and doesn't taste dry or tough. You'll also need a perfect sauce to bring everything together and proper seasoning to give it all the flavor your palate can crave.
(According to gordonramsay.com, "Sharpen Your Knife Skills With a Beef Wellington Masterclass at Gordon Ramsay's Heddon Street Kitchen") (Also see Gordon Ramsay Skirt Steak)
How much beef Wellington to Serve Per Person
The amount of Beef Wellington you need per person can vary depending on a few factors, such as the size of the filet and what other dishes are being served. Generally, you can plan on serving about 6-8 ounces of Beef Wellington per person. So, for a dinner party of 8 people, you would need a 4-5 pound beef filet to ensure everyone has enough.
Remember that the beef will shrink slightly as it cooks, so avoiding having a little extra is always a good idea. Additionally, if you're serving other side dishes, you may want to adjust the amount of Beef Wellington accordingly.
Equipment You Need To Make Gordon Ramsay Beef Wellington Recipe
You'll need essential kitchen tools to make Gordon Ramsay's Beef Wellington Recipe.
Here are some of the essential items you will need:
Pan: Take a pan to sear the beef filet. Moreover, use the same pan, washed and dried, to cook the filling.
Bowl: Pour the blended mixture into the bowl to mix all the spices.
Tongs: Flip the beef steak to flip and cook on both sides using a tong.
Blender: Blend the chestnut and mushroom in a blender.
Spatula: Spatula, spread the chestnut mushroom mixture onto the pan.
Cling film:  Use a cling film to roll out the beef in Wellington.
Knife: Chop the mushrooms and garlic cloves with a sharp knife. Also, make a sharp slit cut on top of the Wellington when it is time to bake.
Spoon: Use a spoon to add the filling to the Wellington.
Basting Brush: Smother some English mustard all over the beef filet.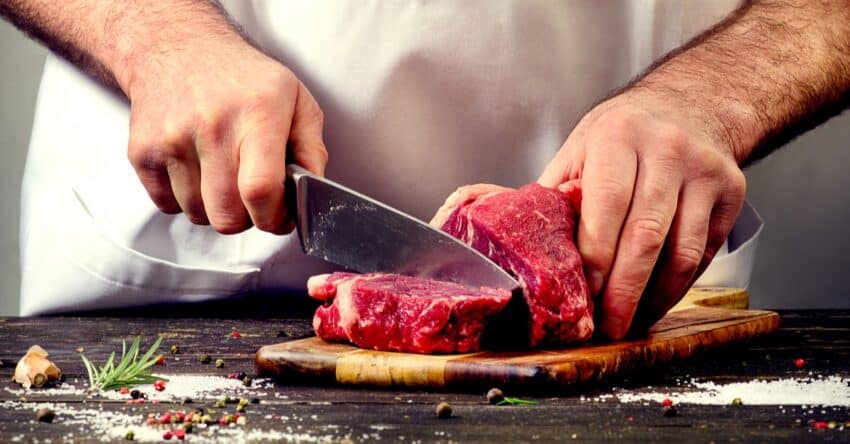 Our Favorite Products in One Convenient Place
Visit the Hell's Kitchen Reviews Amazon shop to browse a handpicked selection of our favorite cookware, kitchen knives, appliances, and more.
How Does Gordon Ramsay Make Beef Wellington?
Gordon Ramsay's Beef Wellington recipe is a twist on the classic dish that adds extra flavor and texture to the traditional recipe.
Here are the steps he follows to make his version of Beef Wellington:
Start by searing a beef tenderloin on all sides until browned, season with salt and pepper and set aside to cool.
In a food processor, pulse together mushrooms, shallots, garlic, and thyme until finely chopped. Cook the mixture in a pan with butter until it's soft and moisture has evaporated.
Add Dijon mustard to the mushroom mixture and season with salt and pepper.
Roll out a sheet of puff pastry and spread a layer of the mushroom mixture on top.
Place the cooled beef tenderloin on top of the mushroom mixture.
Roll the puff pastry around the beef, sealing the edges with an egg wash.
Place the wrapped beef in the fridge to chill for at least 30 minutes.
Before baking, brush the Wellington with an egg wash.
Bake the Wellington in the oven at 400°F for 25-30 minutes, until the pastry is golden brown and the beef is cooked to your desired level.
Let the Wellington rest for 10 minutes before slicing and serving.
Serve with a red wine sauce and your choice of side dishes.
Gordon Ramsay's Beef Wellington recipe adds flavor and texture to the classic dish, making it a show-stopping meal perfect for special occasions.
Duxelles Recipe Ideas
Here are some ideas for using duxelles in your cooking:
Beef Wellington: Duxelles is a traditional filling for Beef Wellington, adding flavor and moisture to the tenderloin.
Stuffed Chicken Breast: Duxelles can also be used to stuff chicken breasts, creating a delicious and elegant main course.
Mushroom Soup: Duxelles can be added to the mushroom soup to enhance its earthy flavor and texture.
Omelets: Duxelles makes a great filling for omelets, adding a savory and satisfying taste to the dish.
Savory Tarts: Use duxelles as a topping for savory tarts or quiches, adding depth and complexity to the flavors.
Pasta Sauce: Duxelles can be a base for a rich and flavorful pasta sauce, especially when combined with cream or tomato sauce.
Bruschetta: Spread duxelles on toasted bread slices for a quick and easy appetizer.
Meatloaf: Add duxelles to the meatloaf mixture for added moisture and flavor.
Beef Stew: Use duxelles as a flavor booster in beef stew, adding an extra layer of richness and depth to the dish.
Grilled Cheese: Spread duxelles on a grilled cheese sandwich for a gourmet twist on classic comfort food.