Gordon Ramsay Beef Wellington Recipe with Red Wine Sauce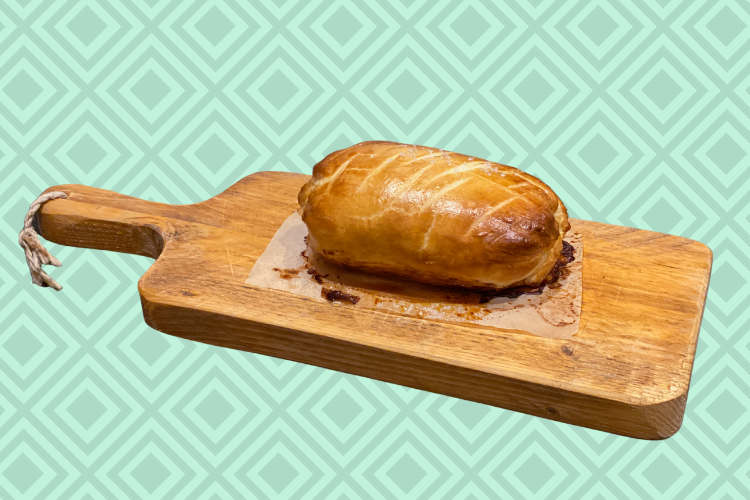 Gordon Ramsay adapts the traditional Beef Wellington recipe with his faithful cast iron skillet by searing, gives the beef fillet color, depth, and flavor. Using Dijon mustard to tenderize and marinate provides the dish with the perfect kick to the beef. He adds Layers of prosciutto DiParma ham, delicious chive crepe, a duxelles, a mushroom mixture, and a light pastry.
Gordon Ramsay's Beef Wellington is his most famous dish from the ongoing Hell's Kitchen Recipe series.  It's an iconic example of English cooking and follows a tradition of meats baked in pastry dough. Perfect for a special dinner, the dish is jaw-dropping and makes a great table centerpiece for Christmas Day. Cut into slices generously portion out on a serving platter or leave for guests to cut themselves.
Make sure to try Gordon Ramsay Christmas turkey
How Does Gordon Ramsay Make Beef Wellington?
1. Shape each beef fillet tender piece by tightly wrapping it with three layers of film, place wrapped beef in the refrigerator overnight, or 24 hours. (this will set wellington shape)
2. Take the film off the beef fillet tender, then quickly sear in a skillet with 2 tbsp olive oil for about 1 min on each side until browned and still rare in the center. Then take out of the pan set aside, and let cool.
3. Finely chop the mushrooms and fry in a hot pan with a little olive oil, thyme leaves, and some seasoning. As the mushrooms start to give off their juices, continue cooking on high heat for 10 mins or until all the moisture has dissolved and you are left with a mushroom paste (duxelles). Now take the duxelles out of the pan and let them cool.
4. Now Cut the puff pastry in half, Put on a floured surface, then roll all the pieces into a large rectangle enclosed one of the tender beef fillets, then place in the refrigerator to chill.
5. Lay a large sheet of film on a work surface, place four slices of prosciutto di parma ham in the center, and overlap each piece slightly, creating a square. Spread about half the mushroom mixture (duxelles) equally over the prosciutto ham.
6. Now, season the beef tenders to taste with salt and pepper, then put the tenders on top of the mushroom (duxelles) covered prosciutto ham. Using the film, roll the prosciutto ham on top of the beef, roll, and tie the film tightly and evenly on each end shaped like a thick log. Do the same step with the other beef tender; after done, chill both for a minimum time of 30 mins.
7. Remove from refrigerator and brush pastry dough with an egg wash. Then remove the beef tender film and wrap the puff pastry around each prosciutto ham wrapped beef tender. Trim the excess pastry, then brush the egg wash all over the puff pastry. Then cover with film and for a minimum time of 30 mins.
8. In The Meantime, start making the red wine sauce. Heat large pan on med heat the  2 tbsp. Olive oil and fry beef trimmings for about 3-4 mins until trimmings sides are browned.  After mix in the sliced shallots and peppercorns, thyme, bay leaf, and continue cooking for additional 5 minutes, stirring them frequently until the shallots turn a golden brown color.
9. Now Pour in the vinegar and let it boil for a couple of mins until nearly dry. Add wine let boil until nearly entirely reduced, add beef stock, bring a boil again, lower the heat, simmer for 1 hour, and eliminate any skin from the surface until you have the preferred texture. Straining the liquid through a fine sieve that is lined with muslin. Taste for seasoning then set sauce aside.
10. Right before cooking the beef wellingtons, score the puff pastry lightly with a paring knife, brush the top of the wellingtons with the egg wash again. Place in oven and Bake at 395 F. for 15-20 minutes until the pastry is golden brown, then rest for 10 mins before carving and serving
11. In The Meantime, reheat the red wine sauce an accompaniment for beef wellington
Duxelles Recipe Ideas
Duxelles can be used as an instant stuffing, fold with a dash of ricotta cheese as a ravioli filling, or just all by themselves, for rich stuffing, such as in a kind of pasta where only tiny quantities of filling are used, such as tortellini.
Use duxelles in gravies or any savory sauce is a natural place to add a tablespoon or two; it will thicken it somewhat, and allow a sauce to be additional thickened by combining a tbsp two of butter.
Spread duxelles on toast, makes a superb appetizer, sort of like a mushroom tapenade.
By adding a bit of oil with some vinegar to taste, you have an immediate, robust mushroom vinaigrette.
Add dollop makes a terrific garnish, perhaps swirling in a cream of mushroom soup, or a soup made from root vegetables or potatoes.
Add 1/4 cup of duxelles to gnocchi to create mushroom dumplings.
Whisk duxelles into eggs for an omelet for a special breakfast
Related:
Hell's Kitchen Beef Wellington with Blackberry Sauce