Duck is a tasty and versatile ingredient that can be prepared in various ways, from pan-seared to oven-roasted. With its rich, succulent flavor and tender texture, duck breast is a favorite of many chefs and home cooks. Whether you're looking for a quick and easy weeknight meal or an impressive dinner party dish, a recipe for duck breast is sure to satisfy you.
Check out Gordon Ramsay's Christmas Beef Wellington: A Holiday Classic with a Twist)
Duck makes an excellent meal for any special occasion or a holiday, Thanksgiving, Christmas Day or New Year. Duck pairs very well with fruity sauces, and the strawberries with red wine make for a delightful combination, perfect for autumn. Make this Crispy Duck Breast Recipe if you want something different this year. I'll explore some tips and techniques to cook duck breast and a delicious recipe at home.
Equipment Needed for Crispy Duck with Confit Potatoes Recipe
To make Crispy Duck with Confit Potatoes, you will need several pieces of equipment, including:
Oven-safe skillet or roasting pan: Cook the duck in the oven and crisp up the skin.
Large saucepan or Dutch oven: This will cook the potatoes in duck fat to create the confit potatoes.
Baking sheet: For placing the duck on before cooking it in the oven.
Tongs: To handle the duck and potatoes when cooking and serving.
Meat thermometer: To ensure the duck is cooked to the correct temperature.
Paper towels: For patting the duck dry before cooking and absorbing excess fat.
These tools and equipment are essential for preparing this delicious and flavorful dish that is sure to impress your guests. With the right equipment and patience, you can create a restaurant-quality meal in the comfort of your own home.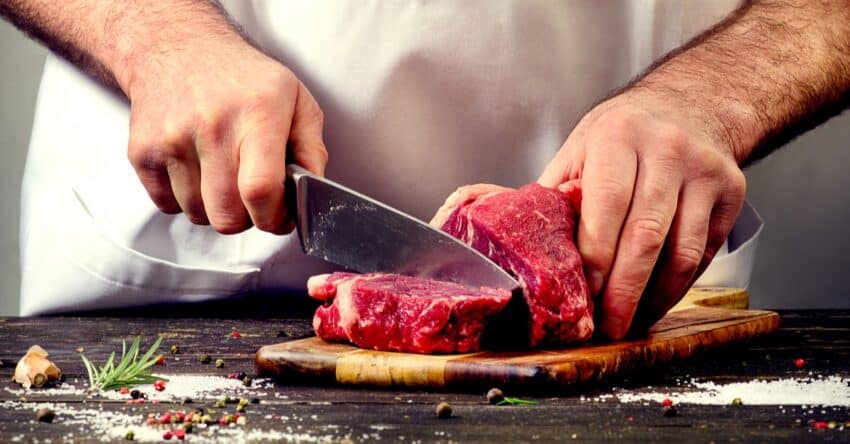 Our Favorite Products in One Convenient Place
Visit the Hell's Kitchen Reviews Amazon shop to browse a handpicked selection of our favorite cookware, kitchen knives, appliances, and more.
How to Make Gordon Ramsay's Recipe for Duck Breast
The below Guide goes through the steps of how to cook crispy skin duck breast. Now gather your equipment, and let's start cooking. (The Perfect Combination: Hell's Kitchen's Beef Wellington with Blackberry Sauce Recipe)
Preparing The Duck Breast:

Using a small sharp knife, score the duck skin in a crosshatch pattern (do not pierce meat). Season the duck breasts with salt and pepper and place them skin side down in a large sauté pan over medium-high heat.
Place the tray in the hot oven for 8–10 minutes until the duck is slightly springy when pressed. Turn the heat under the duck breasts and fry for about 5 minutes until the skin is crisp. Turn them over and fry on the other side for 1–2 minutes until cooked.

Make Confit Potatoes:

Place the potatoes, garlic, shallot, and thyme in a medium saucepan. Cook the potatoes until just tender, 30–35 minutes. Cover the potatoes with olive oil (or duck fat if used) and slowly simmer over medium heat.
Allow the potatoes to cool in the oil, then drain and place in a bowl. Slice each in half, lengthwise.

Prepare Sauce:

Meanwhile, make the sauce. Place the red wine in a pan with the garlic and thyme and boil for 7–8 minutes until reduced by half. Pour in the stock and reduce again by half.
Taste and adjust the seasoning, strain through a fine sieve and discard the solids. Stir the blackcurrant jam into the sauce and add a few knobs of butter to give it a shine.

Make Cream Leeks:

In a large pan, sauté leeks in butter and salt with a lid on. Once soft, add cream to cover. Simmer until thick inconsistency.
Season to taste.
Is duck breast any good?
Yes, Duck breast is considered a delicacy and highly valued for its rich, succulent flavor and tender texture. It can be prepared in various ways, from pan-seared to oven-roasted, and is often served at high-end restaurants and on special occasions.
What does duck breast taste like?
Duck breast has a rich, distinctive flavor often described as gamey, earthy, and slightly sweet. The meat is tender and juicy, with a texture similar to a fine steak. The skin is crispy and savory, adding a layer of flavor and texture.
How should you eat duck breast?
Duck breast can be eaten alone or served with various sides, such as roasted vegetables, potatoes, or a fruity sauce. It is typically cooked to medium-rare or medium and sliced thinly against the grain. Serve it hot and enjoy the rich, savory flavor and tender texture.