Suppose you enjoy cooking great meals with your significant other and are looking for the best online cooking classes for couples. Well, look no further. Online cooking classes are a great way to spend quality time together as a couple while having fun and unwinding. It can be a continuous thing you do with your partner or a one-off for a date night.
The good thing with virtual online classes is you don't have to be physical with your partner to take these classes. You can take them together online from different locations. Therefore, online cooking classes are an excellent option for long-distance couples looking for new ways to bond and connect.
Below are the top 5 best online cooking classes for couples you can enroll in this year.
Masterclass
Masterclass offers a variety of classes from renowned industry leaders. The food section has a wide range of culinary classes by celebrity chefs and mixologists. Each class offers a wealth of knowledge and skill to transform your cooking to top-restaurant quality.
Some notable cooking masterclasses include:
You can access the classes by enrolling in one Masterclass plan – Standard Access, Plus, and Premium. The plans give you access to courses in all categories, including writing, music, design & style, sports & gaming, wellness, science & tech, business, etc. All the plans are annual, and you must pay upfront, as there is no monthly payment option.
America's Test Kitchen
America's Test Kitchen is an online culinary school offering over 320 cooking classes with step-by-step instructional videos. The recipes are developed by world-class chefs who develop recipes for award-winning shows.
Their classes range from essential to advanced lessons. They are organized into various categories to help you quickly find a suitable lesson. The classifications include:
Recipe lessons
Technique lessons
Cooking basics
Level of difficulty
Main ingredients, e.g., poultry, eggs, seafood, potatoes, beans, grains, vegetables
Recipe type
The lessons not only focus on the cooking technique but also on why and how the particular technique works. They highlight what could go wrong with a recipe and how to avoid it. The school also offers over 200 tool and ingredient reviews to help you shop for the necessary recipe equipment and ingredients.
To make your online learning easy, there are quizzes and exercises to assess your skill level. You can also add notes to each course to track your progress, take photos you have made, and upload them to the gallery.
America's Test Kitchen offers a 3-week free trial to test their courses. You can sign up for monthly or annual memberships. Once you are a member, you can take as many courses as possible. You also have the option to work with an instructor virtually for guidance. The virtual cooking school also offers a Young Chefs club for kids.
18 Reasons
18 Reasons is a non-profit culinary school based in San Francisco. The culinary school aims to empower its community with the creativity and confidence to cook and eat good food. Membership fees and events ticket sales finance healthy cooking workshops for low-income families in the Bay Area. Some of the money also goes towards buying healthy groceries for needy families.
If you are keen on learning how to make delicious and healthy vegetarian foods, 18 Reasons offers both online and in-person culinary classes. They offer an annual membership with unlimited access to their courses. Members in San Francisco get a $10 discount on 18 Reasons live events and access to the NGOs' cooking lending library. You also receive your membership card in the mail and can show it to partnering businesses for discounts.
Although 18 Reasons does not have as wide a variety of classes as other online culinary schools, it has enough information to equip you with both skills to make the perfect plant-based meals. You also get to contribute towards a noble course.
Classes are taught by various instructors, including food scientists, cookbook authors, and private chefs.
Sur La Table
Sur La Table offers many cooking classes to help you improve your cooking skills. Experienced chefs teach you to live virtual classes. There is an option for live classes and pre-recorded courses that you can do at your convenience.
Each live class is 90-120 minutes long. It is conducted via Zoom, and you can ask questions as you follow along with each step. The Zoom classes are password protected. Therefore, a password is sent to your email once you sign up.
Classes start at $29 for a household. So you do not need to pay an extra charge for your spouse. Before the class, you receive a prep packet for quick start instructions and a shopping list.
Class availability varies from week to week. Therefore, you must check the live class calendar provided on the Sur La Table website to identify one that fits your schedule.
There is a wide variety of pre-recorded courses and individual classes, including kids and teens series, baking, steak, pasta, sweets, desserts, etc. They even have specific recipes and courses for date nights for couples.
Sur La Table offers a wide range of in-store cooking classes at their locations across the US if you want to attend a cooking class in person. Search your location on their website to determine when and which in-store cooking classes are near you.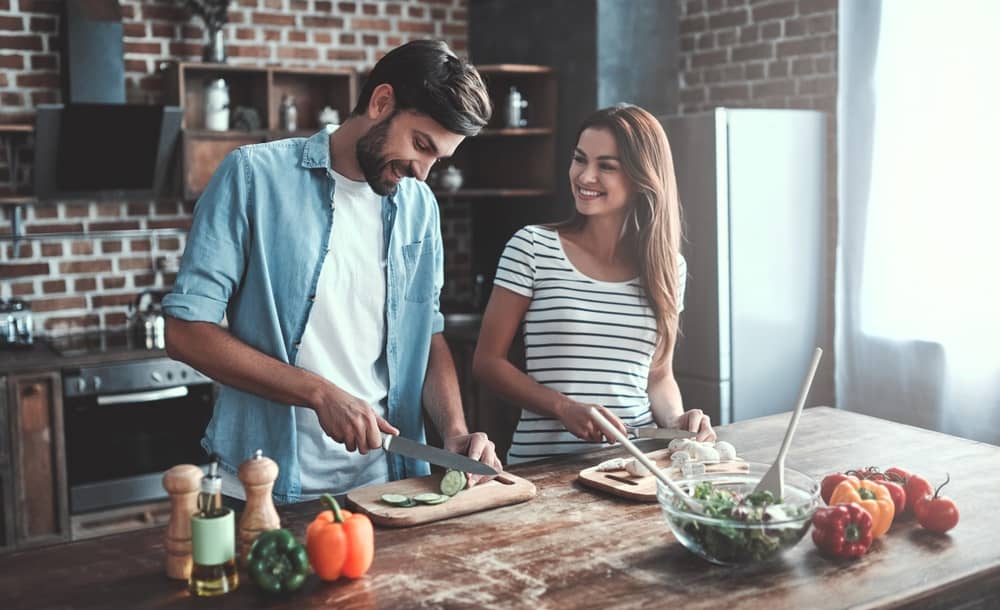 Christina Tosi's Bake Club
If you want to learn how to bake or upgrade your baking skills as a couple, join Christina Tosi's Bake Club. The mathematician turned legendary baker has built a stunning reputation through her bakery empire – the Milk Bar. She has also been featured in top baking shows and magazines, including Bake Squad, Masterchef, and Chef's Table: Pastry.
Recipes for nearly any pastry or dessert, including shortcakes, marshmallow rolls, marshmallows, granola, bread, pies, cakes, muffins, pretzels, cookies, and Frankies, etc. Christina offers her baking expertise and secrets free through Instagram Live every Monday at 2 PM EST. Or, you could try out the recipes provided in the Milk Bar store blog.
You may also want to enroll in the bake club newsletter, where Christina offers additional information and tips for successful baking. Enrollment in the club is free. You must provide personal information such as your name, email address, date of birth, and physical address.
Conclusion
Signing up for an online cooking class allows you to try new recipes or perfect the ones you already know. You could find a class to develop a specific cooking skill, such as grilling or baking, or a recipe-based one.
When determining which class is suitable for you, consider if you have diet restrictions or preferences. Also, consider how much time you have at hand for your cooking date. Do you have the necessary equipment and access to the required ingredients? Do you want to develop your cooking skills elaborately, or are you just looking for a fun date night class?
These considerations will help you decide whether to attend a course series or a one-time recorded or live class. Ultimately, assess the options and choose one that fits your budget, schedule, availability of necessary resources, interests, and commitment level.