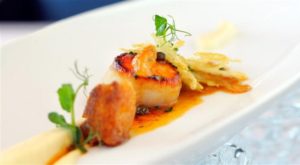 Chef Christina Wilson prepares the Hell's Kitchen classic, Scallop Appetizer.
 
Ingredients:
-10 ea Scallops, U-10 dry, cut in half
-As Needed Olive Oil
-TT Salt
-12oz Apple Butter Puree
-8oz Tarragon Mayo
-4oz Candied Walnuts
-8oz Celery Apple Salad
In large sauté pan, heat oil over medium high heat. Season scallops with salt and place in pan. Cook until blonde on first side, approx. 2-3 minutes. Flip the scallops and cook for additional 30 seconds on other side. Remove from pan and place on plate or sheet tray lined with paper towel to absorb any excess oil.
Additional Recipe(s) For Video Description Section:
APPLE PUREE
-8 Apples, finely sliced on mandolin
-3cup Apple Juice
-½cup Sugar
-½cup Cider Vinegar
-1tsp Salt
Add all ingredients to a pan with a lid. Simmer until apples are very soft, about 20 mins. Remove lid and rescue liquid. Blend until smooth.
TARRAGON MAYO
-½ cup Tarragon, finely chopped
-1T Cider Vinegar
-8oz Mayonnaise
-TT Salt and Pepper
Combine all ingredients. Season to taste.
CANDIED WALNUTS
½ cup Sugar
1 ½ cup Walnuts
1cup Water
1 tsp Salt
1ea Cinnamon Stick
Bring all ingredients to a boil in saucepan. Allow for a syrup to form. Strain the walnuts from the liquid and bake at 325 for 10 minutes on a wire rack.
Season 17 of HELL'S KITCHEN will welcome the newest batch of determined chefs who will brave Chef Gordon Ramsay and his fiery command of the kitchen as he puts them through an intense culinary academy. Throughout the season, the competitors will face a series of Ramsay's grueling challenges to prove they possess the right combination of ingredients to win a life-changing grand prize.
The chefs will leave the pleasantries at the door as the pressure to impress Chef Ramsay will reach a boiling point. Before Chef Ramsay determines which individual chefs are worthy of a black jacket, the contestants must prove their ability to work in teams. The rewards for winners of upcoming challenges will be lavish and memorable, while the punishments will be hellish.
Scallop Appetizer