If you're looking for a show-stopping centerpiece for your holiday meal, look no further than this Gordon Ramsay's Christmas Beef Wellington. This dish features a tender and juicy beef tenderloin wrapped in flaky puff pastry and topped with a rich and flavorful mushroom duxelle.
With easy-to-follow instructions and a few simple ingredients, you can create a delicious and impressive main course that will impress your guests. Whether you're a seasoned chef or a novice in the kitchen, this Beef Wellington recipe is a great way to add a gourmet flair to your holiday feast.
(Also see Hell's Kitchen's Beef Wellington with Blackberry Sauce)
Mouthwatering hell's kitchen beef Wellington's new Christmas recipe is easy to make, only taking 20 minutes of prep time. Beef Wellington is Gordon Ramsay's most popular recipe; this new version has a twist with a handful of chestnuts, adding that extra texture and flavor needed for the holidays. This has become one of our favorite recipes for our special family occasion dinners.
So try it and enjoy a mouthwatering and memorable meal with your loved ones this Christmas.
Equipment You Need To Make Gordon Ramsay Beef Wellington Recipe
To make Gordon Ramsay's Beef Wellington recipe, you will need a few specific pieces of equipment to ensure that the dish turns out perfectly.
Here are some of the key items you will need:
Chef's knife: A sharp chef's knife is essential for trimming the beef tenderloin and preparing the mushroom duxelle.
Meat thermometer: It's important to cook the beef tenderloin to the right internal temperature to ensure it is tender and juicy. A meat thermometer is an essential tool to achieve this.
Parchment paper: Using parchment paper to wrap the beef tenderloin and the mushroom duxelle will help keep them in place and prevent the pastry from sticking.
Rolling pin: A rolling pin is needed to roll out the puff pastry dough to the correct size and thickness.
Pastry brush: A pastry brush is useful for brushing egg wash on the pastry before baking, which helps give it a golden brown color and a crisp texture.
Plastic wrap: This is used to wrap the beef tenderloin before it is cooked, which helps it retain its shape and cook more evenly.
Sauté pan: You need a sauté pan to cook the mushroom duxelle.
Baking sheet: A large baking sheet is needed to bake the Beef Wellington in the oven.
With this essential equipment, you'll be well on your way to making Gordon Ramsay's famous Beef Wellington recipe at home.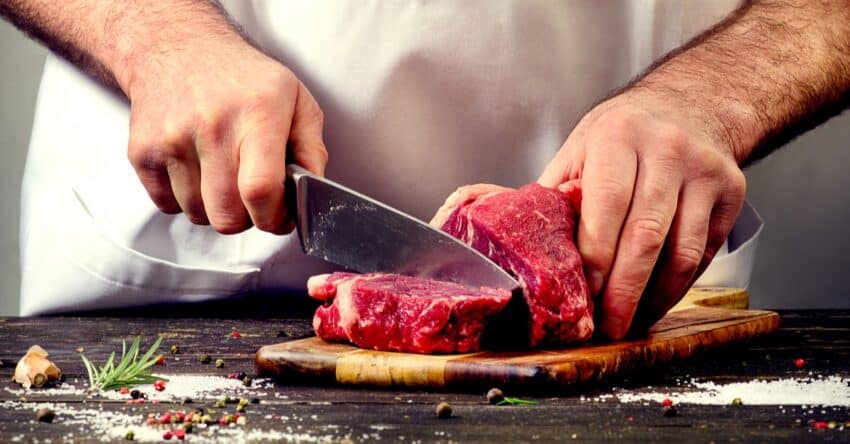 Our Favorite Products in One Convenient Place
Visit the Hell's Kitchen Reviews Amazon shop to browse a handpicked selection of our favorite cookware, kitchen knives, appliances, and more.
Beef Wellington Tips
Here are some tips to help you make the perfect Beef Wellington:
Use high-quality beef tenderloin. It's the dish's star, so investing in a good cut of meat is important.
Sear the beef before wrapping it in the pastry. This will help lock in the juices and prevent the pastry from becoming soggy.
Make sure the mushroom mixture is finely chopped and well-drained. This will help prevent excess moisture from making the pastry soggy.
Chill the pastry before wrapping the beef. This will make it easier to handle and prevent it from shrinking during baking.
Brush the pastry with an egg wash before baking. This will give it a golden, shiny finish.
Let the Wellington rest before slicing. This will help the meat retain its juices and prevent it from becoming dry.
To complement the dish's flavors, serve the Wellington with a sauce, such as a red wine reduction or a creamy mushroom sauce.
Beef Wellington is a delicious and impressive dish perfect for special occasions. With these tips, you can ensure that your Beef Wellington turns out perfectly every time. Remember to use high-quality beef, sear it before wrapping it in the pastry, and let it rest before slicing. By following these tips, you'll be well on your way to making the best-ever Beef Wellington.
(Check it out, Pan Seared Cast Iron)
How to Make Gordon Ramsay's New Beef Wellington
The step-by-step guide below makes this recipe more straightforward than it looks; Beef Wellington makes a great alternative to a Sunday roast. Now gather your equipment, and let's start cooking.
Sear Beef Fillet

Pat filet mignon dry with paper towels and season generously with salt and pepper. Heat a skillet over medium-high heat and add oil. Add the filet mignon and brown on all sides for 1–2 minutes when the oil is hot but not smoking.
Remove from heat and place on a cutting board. Brush Dijon mustard onto the filet and allow it to cool. Place beef aside and preheat the oven to 425°F.

Make Mushroom Duxelles

Add cremini mushrooms and a handful of chestnuts, salt, and pepper to a food processor and process until they are finely minced, forming a rough paste.
In a medium sauté pan over medium heat, add the mushroom paste. Spread the mixture evenly over the surface and cook on medium heat until the paste's moisture mostly evaporates, 15–20 minutes. Remove from heat, stir in the chives, and let cool. The combination has the consistency of a spreadable pâté.

Build Beef Wellington

On a cutting board, lay out a long piece of plastic wrap. In the middle of the wrap, lay out the prosciutto shingle-style to form a large rectangle to encompass the whole filet and spread mushroom duxelles in a thin layer over the prosciutto.
Place the filet on top of the mushrooms. Use the plastic wrap to help roll the beef up tightly in the duxelles-covered prosciutto, tucking in the ends so the beef is completely encompassed. Refrigerate for 20 minutes.

Roll Beef Fillet in Puff Pastry Dough

On a floured surface, gently roll out the puff pastry until it is ¼ inch thick, no thinner. Depending on the pastry sheet's size, two overlapping sheets can ensure the filet will be completely covered and sealed.
Set the beef in the center of the pastry and generously brush the pastry with the egg wash. Bring puff pastry up and around the beef and seal tightly. Pinch the ends closed and trim off any excess puff pastry. Refrigerate for 5–10 minutes to let it firm up again.

Bake Beef Wellington

In a bowl, mix egg yolk and milk. REMOVE Wellington from the refrigerator. Place the Wellington seam side down on the preheated baking sheet. Brush the top of the puff pastry with the remaining egg wash and score it with a sharp paring knife. Sprinkle with sea salt and place the pan in the oven.
Bake for approximately 35 minutes at 425°F or until the steak's internal temperature reaches 120°F for medium-rare. REMOVE from the oven and rest for at least 10 minutes before slicing.