Hey foodies! Let's discuss a dish that'll make your taste buds dance happily: Blackened Steak with Kimchi Fried Rice. I have to share my personal cooking experience with this flavor-packed combo!
Imagine a juicy steak with a crispy outer layer coated in spices that give it a smoky and slightly charred goodness.
Now, pair it with fried rice that's got a tangy kick thanks to the magic of kimchi. It's like a mouth party you won't want to miss!
When I first gave this dish a go, I was like, "Will the strong flavors of the steak overpower the awesome kimchi fried rice?" But guess what? They're a match made in food heaven!
The steak brings a bold and slightly spicy punch, while the kimchi fried rice adds a zesty and fermented tang that'll keep you returning for more. It's a delicious rollercoaster ride for your taste buds!
You can whip up this epic combo for a special dinner night with friends, and trust me, jaws will drop. Or hey, treat yourself on a lazy Sunday. Either way, you'll have people begging for your secret recipe!
Now, here's the best part. You can customize this dish to fit your preferences. Do you want to add some veggies or switch up the spices? Go for it! It's like your food adventure In under 10 minutes.
So, grab your apron, get that steak sizzling, and let the flavors take you on a wild ride. Blackened Steak with Kimchi Fried Rice will make you grin from ear to ear and say, "Mmm, life is tasty!"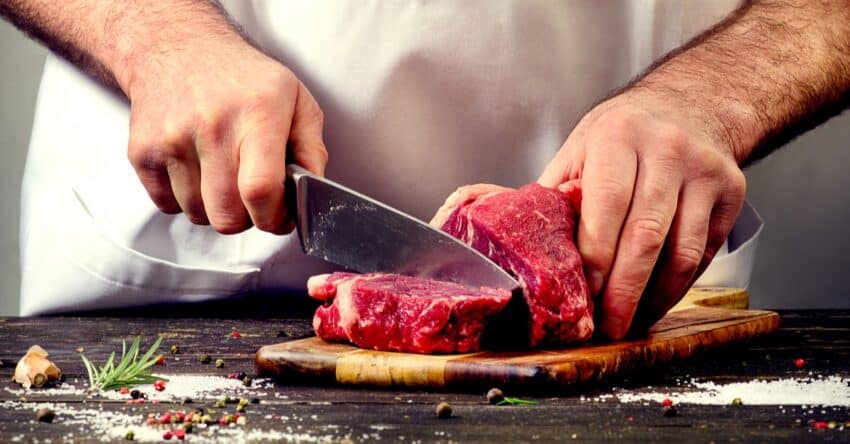 Introducing: Blackened Steak with Kimchi Fried Rice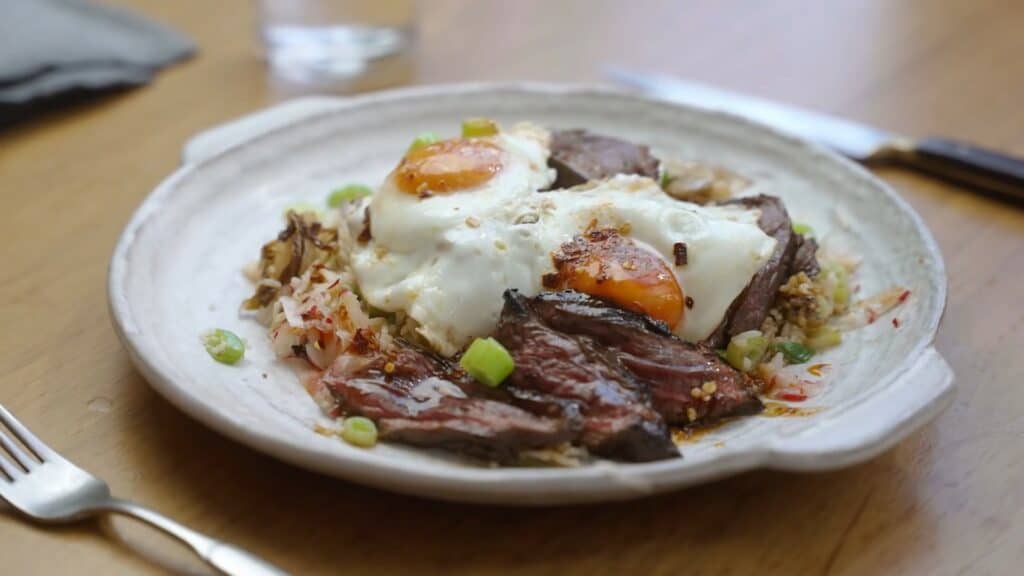 Today, You will learn how to make a delicious dish combining the best Korean and Western cuisine- Blackened Steak with Kimchi Fried Rice. Don't be fooled by its simplicity; this dish is packed with flavor and is sure to impress your taste buds.
Ingredients
You'll need a beautiful flank steak, leftover rice from the weekend, chili, oil, radish, kimchi-buffered eggs, spring onions, hoisin sauce, soy sauce, salt, and pepper.
Preparation
Firstly, take the steak out of the fridge for at least ten minutes before cooking. This will allow it to relax, render the fat, and cook much quicker at room temperature. Generously brush the steak with equal measures of soy sauce, hoisin sauce, and marinade. Season with salt and pepper.
Ensure your pan is hot and cook the steak for six minutes, turning it over and brushing with the marinade throughout. Once cooked, turn off the heat and allow to cool in the marinade.
In a separate pan, add oil and kimchi. Once the kimchi is crispy, let it rest while you crack the eggs into the pan and cook them slowly. Once done, take off the heat and let them sit.
Add the rice, salt, and chili flakes to the same pan as the kimchi. Ensure the rice is crispy, leaving it to cook and flipping it over. Top with spring onions and the grated radish.
Serving
To prepare your dish, begin by slicing the steak and placing it on a plate. Next, pour the leftover marinade on top of the steak. Place the fried eggs on the steak and cover them with the kimchi fried rice.
Finally, add a finishing touch by garnishing with pickled radish. Sit back and enjoy your mouthwatering and impressive creation.
Conclusion
With Ramsay in 10, cooking doesn't have to be a daunting task. These simple yet delicious meals can be made in under 10 minutes, making your taste buds dance joyfully. Don't forget to pick up a copy of Ramsay in 10 for more quick and easy recipes.
FAQs
Q: Can I use a different cut of meat instead of the flank steak?
A: Yes, you can use other cuts such as sirloin, rib-eye, or even fillet.
Q: What type of rice should I use for the fried rice?
A: Any leftover rice you have from the weekend will work, but you can also use jasmine rice or Basmati rice.
Q: Can I make this dish without the kimchi?
A: Yes, you can replace it with other vegetables, such as cabbage or broccoli, but the kimchi does add a unique flavor to the dish.