Gordon Ramsay is known for his work on Hell's Kitchen, Uncharted, and MasterChef; Ramsay has 43 restaurants worldwide and will serve as HexClad brand's ambassador who actively participates in product development, branding strategies, and growth plans.
When Gordon endorses a kitchen essential or a cooking technique, people listen. The celebrated chef is bringing the hybrid cookware to his audience. And, just maybe, these pans could help the home cook master Ramsay's most famous recipes.
A unique feature of Gordon Ramsay approved cookware HexClad is its patent-pending laser etching design, which creates a series of peaks and valleys in the metal surface. According to the company, the peaks are made with stainless steel, and the valleys are made of nonstick materials. In addition to preventing hot spots, the etching also helps to ensure that everything in the pan is evenly cooked.
But does Gordon Ramsay use HexClad at home; read more about it in this HexClad cookware review.
HexClad is The Cookware Gordon Ramsay Uses at Home
Gordon says, "I use HexClad pans at home, and they are unique because they combine stainless steel and nonstick functionality. Hybrid technology allows me to cook my dishes to perfection! It cooks exceptionally well and is highly versatile.
Although performance matters much more than looks, these pans look great too! The laser-etched hexagon-shaped design (hence the name, HexClad) is purposeful and pretty. The finishing touches. Diamond dust is layered in some magical, technological way to increase the pans' durability and adds a dazzling blue shimmer.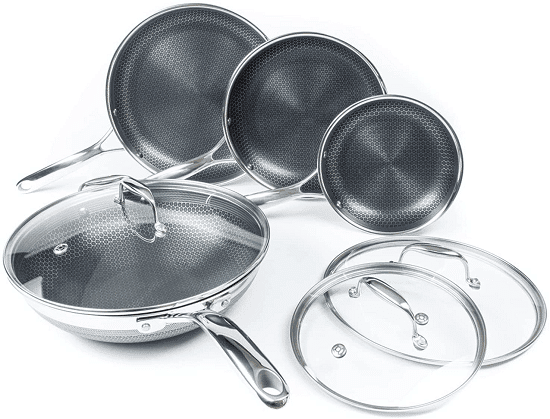 Buy: HexClad 7-Piece Hybrid Stainless Steel Cookware Set at Amazon.
Why Does Gordon Ramsay Say That HexClad Is One Of The Best Nonstick Skillets for Home Cooks?
HexClad caught Ramsay's attention because of its hybrid technology. Ramsay said, "I use the pans at home, and the combination of stainless steel and nonstick functionality is amazing. It's highly versatile and cooks exceptionally well. I'm excited to partner with the HexClad team as we expand the line of beautiful, high-quality products".
In their quest to become a genuinely multifunctional pan, HexClad looks to be the answer. It combines stainless steel and a "nonstick product as a hybrid pan." To put it simply, the idea is to have a pan that conducts heat well yet doesn't have food stick to a pan. The brand is distinguished by its unique hexagon pattern, as well as by its hybrid design. As well as being functional, it makes a visual statement.
"I got addicted to HexClad about a year ago because of its intriguing look and hybrid technology, so I have been using it at home ever since. Its versatility and ability to cook exceptionally well make it an excellent investment since it is highly versatile. Having the opportunity to expand the line of beautiful, high-quality products that HexClad offers, I am very excited to be a part of this team. I enjoy the combination of offers and nonstick features," said Gordon Ramsay.
HexClad Pans and Gordon Ramsay Team Up
Danny Winer, co-founder and CEO of HexClad, added, "With Gordon's culinary genius and global reach, we're excited to introduce our innovative hybrid concept."
Gordon Ramsay and HexClad are a perfect match, uniting the world's most innovative cookware with internationally renowned cooking legend Gordon Ramsay," said Danny Winer. "With Gordon's culinary genius and his global reach, we are thrilled to introduce our innovative hybrid concept."
What are HexClad Features?
HexClad cookware features a tri-ply construction where they sandwich a layer of high-grade aluminum between two layers of high-grade stainless steel as well as;
Non-stick
PFOA Free
Metal Utensil Safe
Dishwasher Safe
Easy Cleanup
Stay-Cool Handles
Is Hexclad Cookware Good?
Yes, HexClad is good cookware; according to Gordon Ramsay, "I use HexClad pans at home; they are unique because they combine stainless steel and nonstick functionality." Also, in a June 19th, 2021 article review from goodhousekeeping.com, HexClad pans took the top spot as the Best Hybrid Non-stick Cookware.
Is Hexclad Cookware Safe?
When appropriately used, Hexclad cookware is undoubtedly safe. HexClad is PFOA-free but contains some PTFE. PTFE is in over 95% of all nonstick cookware, including our ceramic-based nonstick. Hexclad doesn't use PFOA chemicals and chemicals that gave many other nonstick pans a lousy name.
Does HexClad Work on Induction?
Yes, As well as working on gas and electric stoves, I can use HexClad pans on new magnetic induction cooktops. In today's world of cooking pans, HexClad's patented cookware design technology is unmatched when it comes to cookware using a tri-ply, clad style pan.
Buy: HexClad 7-Piece Hybrid Stainless Steel Cookware Set at Amazon.
Treat yourself to the Rolls-Royce of pots and pans that Gordon Ramsay Uses At Home. I can't recommend HexClad enough, regardless of whether you need to reduce the amount of clutter in your kitchen, don't have a lot of stuff, are just starting to build your collection, or want to try something new.
Additionally, let's not forget to mention the price: Compared to other high-end stainless-steel pans or nonstick pans on the market, the HexClad pan is a fair price. On Amazon, a product for a 12-inch pan is $129, while the price of a 7-piece set, which includes three skillets with lids and a wok, costs about $399. In addition, all HexClad pans come with a lifetime warranty.