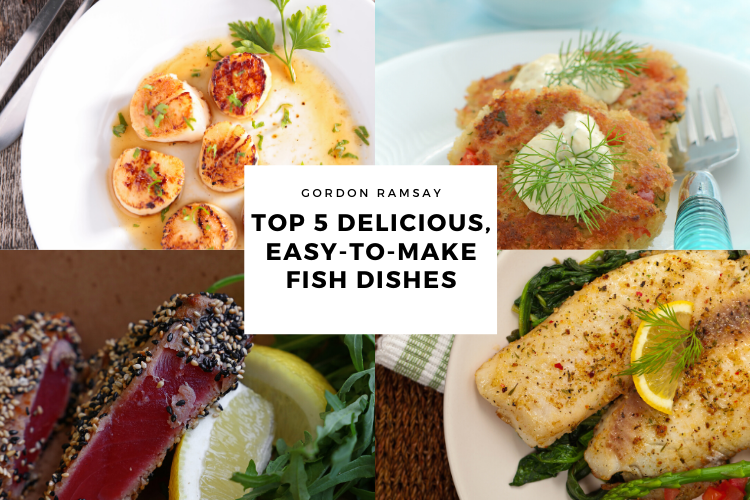 It seems that unless fish comes covered in batter and served with chips on the side, most people don't care for it. That's a shame because fish is one of the simplest and most rewarding foods you can cook. Go out and get yourself a few pounds of fish fillets, cod, sea scallops, or crab meat.
Heat a tablespoon of olive oil in a pan, meanwhile coat the fish in seasoned flour, shaking off excess flour. place the fish down in hot pan with oil. Let it three to four minutes, depending how thick the fillet is, after flipping it over and adding 2 tbsp. of butter into the pan.
Now start basting with spooning the butter over the fish, infusing its flavor as it cooks. A few more minutes and it should be done. Now on to plate, squeeze a little lemon juice over it and have a taste.
These recipes are so simple, yet so utterly delicious. Done in five or six minutes. Give them a try you'll see how easy and simple fish can be, hopefully, these recipes will give you the confidence to cook fish dinners more often.
Gordon Ramsay's Quick and Easy Fish Recipes
They're extremely simple to make at home and less expensive than eating out. We want to get superior pan-seared sea scallops that have been thoroughly brown and crusted and no hint of burnt-flavors…
2. Crab Cakes with Creamed Corn and Asparagus
This is the white sweet crab meat that comes from the body of the crab.  The other meat is "claw meat" and comes from the claws or legs of the crab.  You can use any meat from the crab…
The fish is coated with a beer batter that produces a crunchy and delightful texture, as the internal of the fish is delicate fall apart flaky. One of the features of this fish and chip recipe creates a different from any other…
4. Pan Seared Sesame Crusted Tuna
The tuna is lightly pan seared with a sesame crust when purchasing tuna select labeled with "sushi grade" from a trusted fresh fish market or the fish section of your grocery store. The green tea…
Next time you are shopping look in the fish cases and get some red snapper fillets with the skin still on and pan fry the snapper for a simple and delightful light dinner. Red Snapper sautés…
Related:
Best 10 Hell's Kitchen Chicken Recipes
Best 10 Hell's Kitchen Fish Recipes
Best 5 Hell's Kitchen Risotto Recipes
Best 3 Hell's Kitchen Mashed Potato Recipes