Soba noodles colored and flavored with green tea, known as cha soba, make a unique presentation, and the contrasting color of the rare pink tuna makes this dish a memorable one. As the tuna is just lightly seared and not fully cooked, make sure to purchase tuna labeled "sushi grade" from a trusted fishmonger or the fish section of your grocery store. Green tea soba noodles/cha soba can be found at Asian markets; if unavailable, you may substitute regular buckwheat soba noodles or get adventurous and try one of the lesser-known sobas such as hegi soba, flavored with seaweed; mugi soba, flavored with mugwort; or jinenjo soba.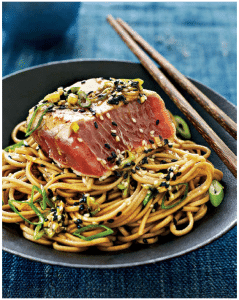 Pan-Seared Tuna Tataki with Green Tea Soba Noodles
2016-04-23 09:47:12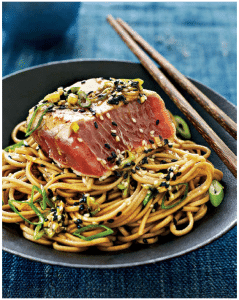 SESAME DRESSING
1 ¼ tablespoons soy sauce
¼ tablespoon rice vinegar
1 teaspoon honey
1 teaspoon fresh minced ginger
1 ½ tablespoons vegetable oil
½ tablespoon sesame oil
1 tablespoon sliced scallions, plus more for garnish
GREEN TEA SOBA NOODLES
6 ounces green tea soba noodles or other dried soba noodles (the green tea variety are also called cha soba and available at specialty Asian markets)
1 tablespoon mixed toasted white and black sesame seeds
TUNA
1–2 tablespoons grapeseed oil
1 pound sushi grade tuna, cut into four 4- ounce blocks
FOR THE SESAME DRESSING
Combine the soy sauce, rice vinegar, honey, and ginger, whisking to combine.
Whisk in the vegetable and sesame oils until well emulsified. Fold in the sliced scallions.
Separate 1 tablespoon of dressing and set aside to drizzle over tuna.
FOR THE TUNA
Heat the oil in a large sauté pan over medium-high heat. Add the tuna and sear it on all sides, about 30 seconds per side.
Remove the tuna from the pan and let it rest. Slice the tuna.
Notes
Divide the soba noodles among 4 plates. Top with sliced tuna and drizzle with sesame dressing. Garnish with more sliced scallion.
Hell's Kitchen Recipes http://hellskitchenrecipes.com/
[AdSense-B]