Lobster is one of the few foods we bring home live from the store to kill and cook ourselves. If you're up for the challenge, it's very easy to do. Just plunge the crustaceans into boiling water and in minutes they'll be out of their misery and onto your plate, nestled into your pasta all buttery, sweet, and tender. For your personal safety, just remember to keep the bands around the claws until after they've been cooked (a luxury not afforded in a Season 3 challenge where contestants were also tasked with creating three lobster dishes in one hour). To declare your lobster done, watch for its color to turn bright red and pull off a small leg; if it comes off easily, it's time to take it out of the pot. That's how Season 8's Nona Sivley worked her lobster into this perfectly executed spaghetti dish for a successful dinner service. For an all-pasta menu, see the Pasta Party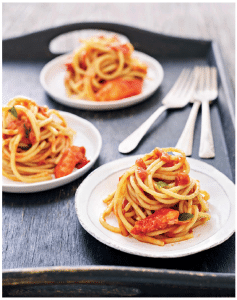 Lobster Spaghetti
2016-04-17 19:52:27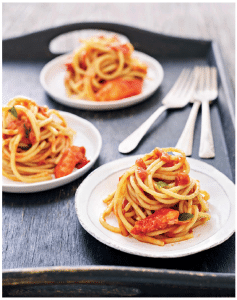 Ingredients
Two 1¼-pound live lobsters
12 ounces spaghetti
4 tablespoons extra virgin olive oil, plus more for garnish
3 garlic cloves, finely chopped
1 large shallot, finely chopped
⅛ teaspoon crushed red pepper flakes, or more to taste
½ cup dry white wine
8 ounces tomato sauce, homemade or store-bought
½ cup plus 2 tablespoons vegetable broth
Kosher salt and freshly ground black pepper
2 tablespoons chiffonade fresh basil, plus more for garnish
2 tablespoons chopped fresh parsley, plus more for garnish
½ plum tomato, cut into small dice (optional)
Instructions
PREPARE a large bowl of ice water. In a large pot of boiling water, cook the lobsters for about 10–12 minutes.
Remove the lobsters from the water and transfer to the bowl of ice water to stop the cooking process.
WHEN cooled, remove the meat from the tails, claws, and knuckles. Discard the shells and chop the lobsters into bitesized pieces.
BRING a large pot of salted water to a boil.
Add the spaghetti and cook until al dente, stirring often to prevent the pasta from sticking together.
WHILE the pasta is cooking, heat 3 tablespoons olive oil in a 12-inch sauté pan over moderate heat.
Add the garlic, shallot, and crushed red pepper flakes and sauté until soft and lightly brown, about 3 minutes.
Add the white wine and reduce to one-third. Stir in the tomato sauce and ½ cup vegetable broth, season to taste with salt and pepper, and simmer for 5 minutes.
Add some of the remaining vegetable broth if the sauce is too thick.
Then add the lobster to the sauce and heat for 1 minute.
DRAIN the pasta and add it to the sauce. Transfer the pasta to a serving bowl and garnish with fresh basil, chopped parsley, tomato (if using), drizzle with the remaining tablespoon olive oil, and a few turns of black pepper.
Hell's Kitchen Recipes http://hellskitchenrecipes.com/
The Hell's Kitchen Cookbook: Recipes from the Kitchen