Brick chicken, or "chicken under a brick," is your ticket to chicken that's crisp on the outside, tender on the inside, and cooked in half the time as it takes to roast it in the oven. To brick chicken, you'll first employ a technique called spatchcocking, which is simply removing the chicken's backbone. Then the chicken goes into a hot pan skin side down and is topped with heavy weight if you don't have a brick or two handy, a second heavy skillet will work just as well. The weight enables the skin to crisp, with the fats and juices that are rendered cooking the flesh into succulent and juicy deliciousness. Gremolata is a classic herb condiment using lemon peel, garlic, and mixed herbs. It is traditionally served with veal, as in the classic Italian dish ossobuco. You might also try it with a simple seafood dish to add a note of brightness.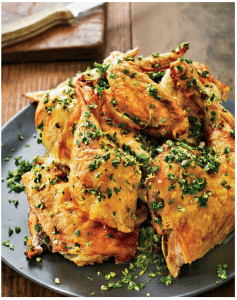 Brick Chicken with Herb Gremolata
2016-04-24 09:08:23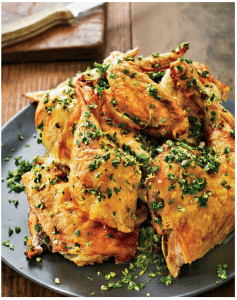 GREMOLATA
1 tablespoon finely minced lemon peel
¼ cup finely minced parsley
1 tablespoon fresh tarragon
2 teaspoons finely minced garlic
BRICK CHICKEN
1 whole 3- to 4-pound chicken, backbone removed, trimmed of excess fat, rinsed, and dried
Kosher salt and freshly ground black pepper to taste
2 tablespoons extra virgin olive oil, divided
1 lemon, cut into quarters
FOR THE GREMOLATA
Mix ingredients in a small bowl and set aside.
FOR THE BRICK CHICKEN
Preheat the oven to 500°F.
Mix1 tablespoon olive oil and salt and pepper together in a small bowl.
Place the chicken on a cutting board, skin side down.
Using your hands, press down firmly on the breastbone to flatten the breast.
Brush the chicken on both sides with the olive oil mixture.
Heat an ovenproof skillet (preferably nonstick if you have one) large enough to hold the flattened chicken over medium high heat for about 3 minutes.
Put remaining olive oil in the pan and wait about 30 seconds for it to heat up.
Place the chicken in the skillet, skin side down; weight it with another skillet
or with one or two bricks wrapped in aluminum foil.
The idea is to flatten the chicken by applying weight evenly over its surface.
Cook over medium-high heat for 5 minutes, then transfer to the oven.
Roast for 15 minutes more.
Take the pan out of the oven and remove the weights; turn the chicken over and roast 10–15 minutes more, or until the juices run clear or an instant-read thermometer inserted into the thickest part of the thigh registers 165°F.
Notes
SERVE the chicken topped with herb gremolata and lemon wedges on the side (or cut the chicken into parts and serve with herb gremolata and lemon wedges).
Hell's Kitchen Recipes http://hellskitchenrecipes.com/
[AdSense-B]