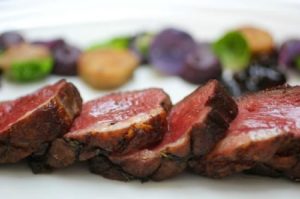 Duck pairs very well with fruity sauces and the strawberries paired with red wine really makes for a comforting combination, perfect for autumn.
Breast of Muscovy Duck Breast with braised cabbage, golden raisins and a port wine reduction
2018-02-11 12:45:51
Ingredients
2 muscovy duck breasts cleaned and scored
0.5 head Red Cabbage shredded
0.5 cup Golden Raisin
0.5 cup brown sugar
2 tablespoons whole Butter
1 tablespoon toasted Cashew chopped
0.5 cup raspberry Vinegar
2 cups ruby port wine
1 cup dark chicken demi glace
Olive Oil for sautéing
Salt
Pepper
Select all ingredients
Method
In a small roasting pan combine the cabbage, brown sugar, raisins, whole butter, vinegar and salt and pepper.
Cover with foil and bake for on hour at 350F.
When finished check the seasoning and keep hot.
In a hot sauté pan with olive oil, cook the duck breast skin side down to render the fat.
When there is a lot of fat in the pan drain it off and return to the stove.
Continue this process until the skin is crispy.
Turn the breast over and cook from the other side.
Repeat this process until cooked medium, approximately 8 to 10 minutes depending on the size of the breasts.
Remove from the pan and allow to rest for 5 minutes.
Drain the fat from the pan and add the port wine.
Reduce to 1/3 and add the dark chicken demi and simmer.
Taste and check the seasoning.
Place the cabbage in the center of the plate.
Slice the duck in thin slices against the grain.
Arrange the slices on top of the cabbage.
Pour the sauce on top of the duck and a small amount around and sprinkle with chopped cashews.
Hell's Kitchen Recipes http://hellskitchenrecipes.com/